This Vegetable Hakka Chow Mein recipe is simple, quick and delicious. It's a definite crowd pleaser and can easily be adjusted to suit your tastes. I kept it vegetarian since I had a wonderful stock of fresh veggies in my fridge and served it alongside some Honey-Garlic Chicken Wings. If you're up for it, toss in some sliced chicken or shrimp to take this a step further.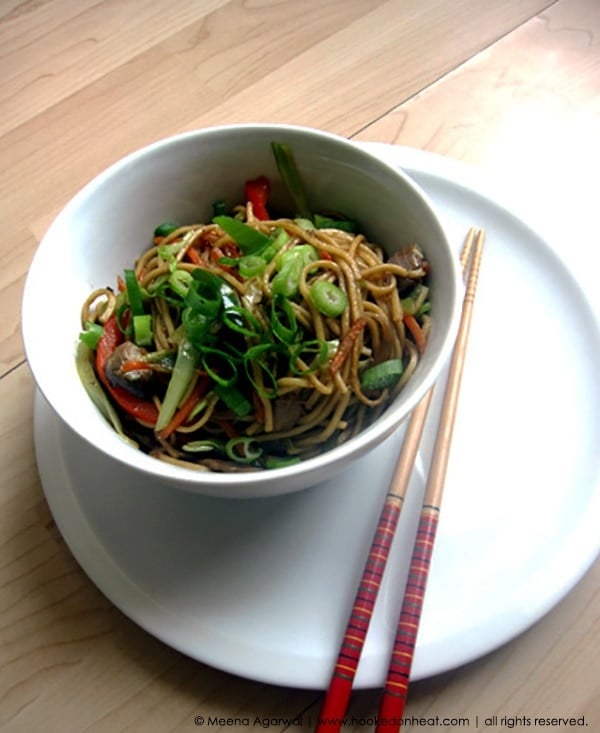 Until a few years ago, I adored Indian-Chinese cuisine. So much so, that I would gladly stop by our nearby Hakka joint to pick up an order of Gobi Manchurian, Vegetable Chow Mein, Chilli Chicken and Spring Rolls, every other week. But over the past two years or so, nothing I've tried from their menu has seemed to tantalize my taste buds. I don't blame the particular restaurant, however, since I've had the same disappointing feeling no matter which Hakka joint we go to – and no matter how highly recommended it comes. Almost anything we've ordered has been a flavourless, salty plate of mush.
I've come to realize that since I've started to reduce our salt intake through healthier cooking and eating habits, a lot of the take-out options we used to love don't quite appeal to us anymore. Just goes to prove that if you reduce the amounts of oil and salt in many of these fast-food items, there's not much left to be desired.
Now that Baby Dear is an independent 'lil brat who chooses to entertain himself by nosying around the house, I find myself with enough time to whip up a delicious wholesome dinner almost every evening. Almost. The last couple of weeks had been a whirlwind of hot summer days outside, impromptu BBQs, and lawn maintenance. So when this past weekend rolled by as a long one for Canada Day, we were delighted to take it slow and make full use of the heat advisory warning by chilling indoors with the AC cranked up and a bunch of fun movies.
It was the perfect excuse and occasion for me to spend some quality time in my kitchen. Baby Dear is a big fan of noodles made anyway, and we were craving some Hakka food ourselves – that definitely called for some wok time!
I kept the heat level on this Hakka Chowmein recipe on the mild side since Baby Dear was eating it as well; but if you'd like a slight kick, then add in some finely chopped green chillies. On a lazy weekend afternoon or a busy weeknight, this would make a wonderful meal served by itself. Try it, and I hope you enjoy it as much we did.
Vegetable Chow Mein – Hakka-style
Servings: 4
Ingredients
1/2 lb dried chowmein noodles boiled acc. to package instructions and soaked in cold water
2 tbsp light cooking oil
1 tsp sesame oil
1 tbsp finely chopped ginger
1 tbsp finely chopped garlic
1 small onion thinly sliced
1 cup thinly sliced mushrooms
1/2 cup julienned carrots
1 cup shredded cabbage
1/4 cup thinly sliced green bell pepper
1/4 cup thinly sliced red bell pepper
1/2 tsp white pepper powder
2 tbsp light soy sauce
1 tbsp dark soy sauce
salt & pepper to taste
finely chopped spring onions for garnish
Instructions
Heat oil in a deep wide wok and saute ginger, garlic and onions till they get lightly brown. Add in mushrooms and fry for a few minutes till all the moisture evaporates and it starts to brown slightly.

Toss in carrots, cabbage and peppers, and stir-fry for a few minutes. Add in white pepper and toss well.

Drain noodles from the cold water, and add it into the wok along with sauces and salt & pepper. Toss well so that the noodles, veggies and sauces are well mixed.

Garnish with spring onions and serve warm.
If you enjoyed this Vegetable Hakka Chowmein recipe, you will surely love my Gobi Manchurian, Chilli Potatoes and Chilli Chicken recipe as well.
You can find the web story to this Hakka Chowmein recipe here. To watch more of my other recipe web stories, click here.
Tried this recipe? Leave a Comment and let me know, also Rate it by clicking the number of stars on the recipe card. Want to share your version with me? Tag me on Instagram @hookedonheat