This Indian Masala Omelette recipe is a delicious spiced up version of the classic breakfast favourite that it quick and easy to whip up any time of day. Flavoured with basic spices, onions, tomatoes and fresh cilantro, this Indian Omelette recipe is a perfect pairing with some toast.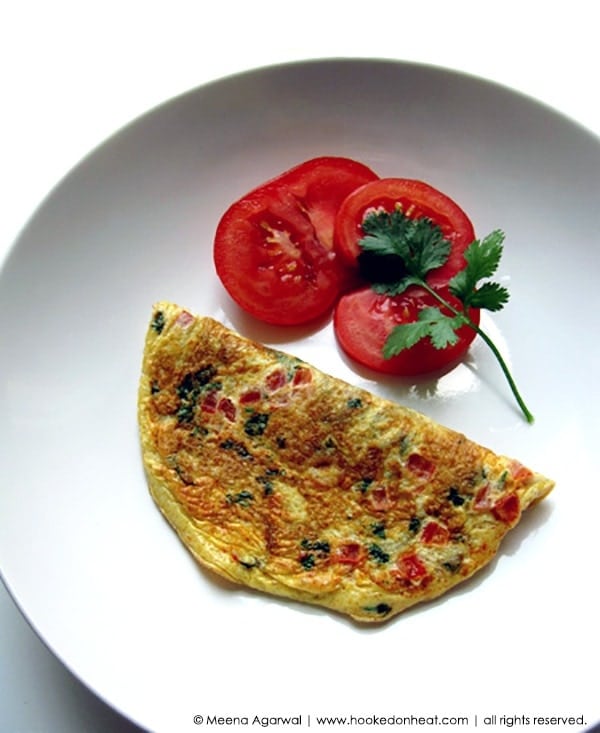 The year I turned 15, my Mom decided it was time I learnt the basics of cooking. If nothing else, she figured I could at least make myself breakfast – like this Indian Masala Omelette recipe, without having to yell for her when I was hungry.
Like many Asian moms of her generation, she believed that to equip one's offspring with the knowledge of how to cook an egg in at least three different ways would enable them to overcome all of life's challenges. According to her, if you have eggs and a bowl of rice, you're all set to have a hearty, somewhat nutritious meal even in the hardest of times. Hence, it was the dreaded egg that I was made to master before I could even think of trying my hand out with other ingredients.
I kid you not when I say that during that one month, our daily consumption of eggs grew 10-fold. Not because we ate them all. Quite the contrary. Most of them landed on the floor, by my feet or on my clothes. Some, however, did manage to make it into the mixing bowl – but not without a ton of crushed shell mixed in.
You see, no matter how hard I tried, I could never manage to crack the egg without completely destroying it. In hindsight, I think the actual problem was that I was trying too hard – I literally banged the egg with all my might on the edge of the bowl instead of lightly tapping it. Well, in my defence, my light tap hardly ever caused a crack on the shell, so I tapped harder – which of course, led to disaster. Each. And. Every. Time.
It was a moment of triumph not just for me, but my mom as well, when I finally managed to crack the egg just right and break it open onto a hot pan. The sound of that sizzle meant that she didn't have to set aside a separate budget for eggs anymore. I still look fondly to that very day when I fried an egg on my own. Since then, there was no stopping me; and although I didn't actually begin to really start to cook regularly until much, much later, eggs were something I knew I could make a delicious meal out of. And this Indian Masala Omelette recipe definitely tops my list.
INDIAN MASALA OMELETTE
Servings: 1
Ingredients
2 large eggs
1 tbsp finely chopped onions
1 tbsp finely chopped tomatoes
a huge pinch of finely chopped cilantro leaves
a pinch red chilli powder (add more if you like it spicier)
salt & pepper to taste
1 tsp light cooking oil
Instructions
Break the eggs in a bowl and add in all the ingredients, except oil. Beat vigorously with a fork to mix it all well.

Heat a non-stick pan with the oil and pour in the egg mixture. Let it cook on one side on medium-low heat for a minute or two, before flipping the egg.

Cook on the other side for another minute or so and serve warm.
If you like this recipe, then you will surely like my Masala Scrambled Eggs (Egg Burji).
Tried this recipe? Leave a Comment and let me know, also Rate it by clicking the number of stars on the recipe card. Want to share your version with me? Tag me on Instagram @hookedonheat