This Banana Cake is as simple as it gets – no nuts, no choco-chips, no fuss! Just pure, unadulterated warm banana bliss!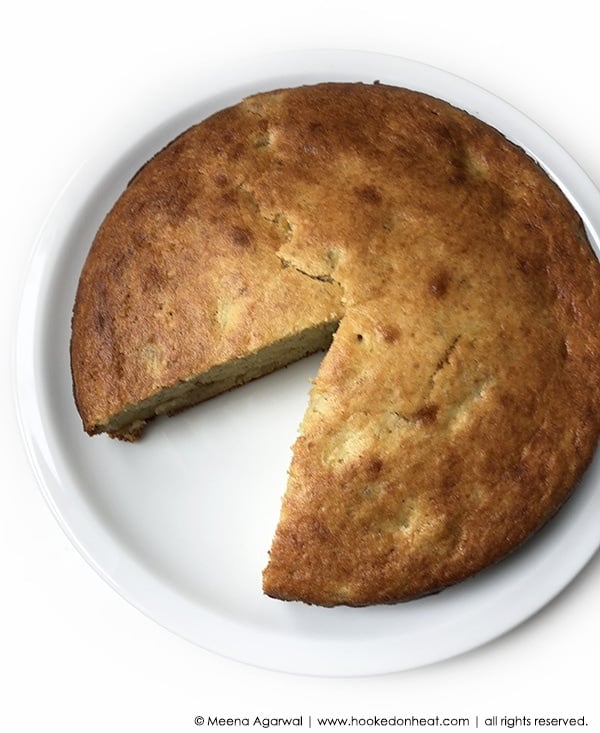 I grew up eating this simple Banana Cake throughout my childhood, long before it was hip to call it Banana Bread. It was a cake my Mom would make every few weeks, 'coz no matter how hard we tried, there would always be a few bananas leftover that were ready to call it a day. This recipe was her saving grace – it turned the humble, not-so-valued fruit into a treat we all loved and fought for.
I woke up yesterday to a dull, gloomy morning – a kind of morning that funnily enough, perks me up and sets the mood for a calm, relaxing day ahead. As I walked downstairs to the kitchen, ready to fire up the Cappuccino machine we've been loving to death the past couple of months, I had this strong desire to bake. I had this urge to fill up the house with the aroma of a baked Banana Cake and I knew exactly the one recipe I wanted to use.
I haven't made this Banana Cake recipe or even eaten it for that matter, in the longest time, but something in me suddenly craved it. The recipe is easy enough to remember for rainy days like these, and can almost always find all the ingredients waiting and ready in the pantry.
Simple Banana Cake
Servings: 8
Ingredients
2 medium-sized over-ripe bananas mashed
3 eggs beaten
1/2 cup melted butter
1/3 cup sugar
1/2 tsp vanilla essence
1 cup all-purpose flour
1 tsp baking powder
Instructions
Preheat oven to 375 degrees.

In a large bowl, mix mashed bananas, eggs, melted butter, sugar and vanilla essence, to form a smooth batter.

Mix in flour and baking powder well, and pour the batter into a greased baking tin – either an 8-inch round pan or an 8-inch square pan.

Bake for 20-25 minutes till the cake a cooked through. You can poke a toothpick into the center of the cake, and if it comes out clean, that means it's cooked through.
If you enjoyed this recipe, you will surely like my Banana Pancake Balls and Chocolate Chip Banana Bread recipe as well.
You can find the web story to this Simple Banana Cake recipe here. To watch more of my other recipe web stories, click here.
Tried this recipe? Leave a Comment and let me know, also Rate it by clicking the number of stars on the recipe card. Want to share your version with me? Tag me on Instagram @hookedonheat