It had come to my notice a few days ago, when I was strongly craving this Coconut Curry Noodle Soup, that I was spending a lot more time cooking than actually eating. This is not to say that I have been burdening myself with tedious and slow-cooking meals. In fact, it was quite the contrary. While my meals have been loaded with quick and simple salads, soups and the occasional sandwich, it seemed strange to me that I was eating in less than half the time I took to prepare the meal at hand.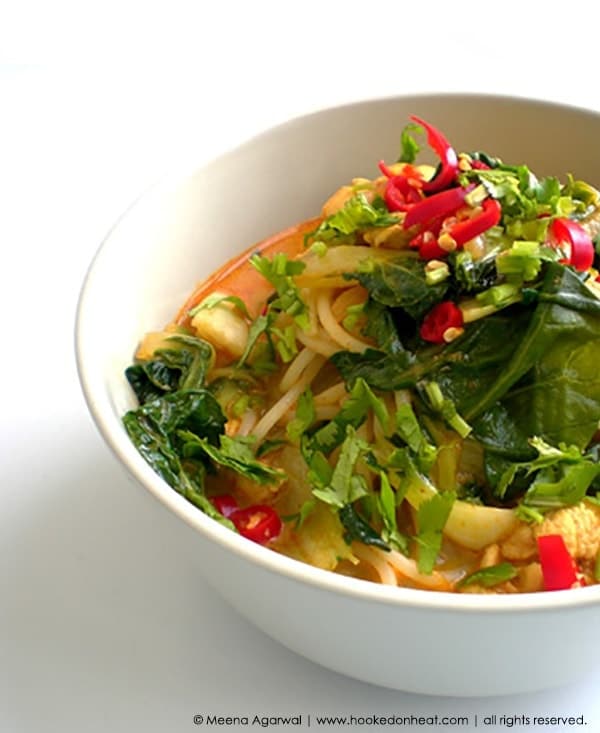 I have recently begun to have lunch at my desk if only to try and get as much work done as I possibly could cram into my day. With my food sitting on my right and my laptop on the left, it's almost impossible for me to sit back and actually take a moment to even look at my plate, let alone enjoy it. Something as delicious as this Coconut Curry Noodle Soup certainly did not deserve to be treated that way! And this is what has been bugging me since the time I started doing it.
There are piles of emails flagged for responses, a ton of article ideas bookmarked for research, a growing tower of books (which I now use as a side table to hold my morning cup of coffee) for review, and the odd request or two for help with a menu plan, that are all screaming for my undivided attention. Well, what can I say but that it's hard trying to balance your work and hobby at the same time! Even harder when they both are interlinked, like in my case. That was until I found Rachael Ray.
I was first introduced to the great RR a few years ago with her show 30-Minute Meals. Like many, I thought she was too perky to be sane. I thought it was crazy of her to bang pots and pans to flatten meat and create acronyms like EVOO and GB (which I must add is a wonderful trick I learnt from her!). But what I did admire was her penchant to get really creative in the kitchen and make everyday food seem exotic and exciting.
A few days ago, as I got ready to take my lunch into my home office, I had the sudden urge to stop and see what was on TV. A quick scan and I found myself taking a seat with The Rachael Ray Show. She was just as I remembered her: quirky, overly excited and bubbly. But even then, I found myself grinning at her silly jokes. She passed around the 'snack of the day' to her audience as I took the first bite of my lunch. By the end of the episode, I had polished my plate, relishing every bite and enjoying what I ate. I tried doing the same the next day. And the day after. And the day after that.
It's been more than a week since, and my lunches – like this Coconut Curry Noodle Soup, though take hardly any time to cook, seem to take a whole hour to be eaten. And not to mention, enjoyed. All thanks to the Queen of Quick!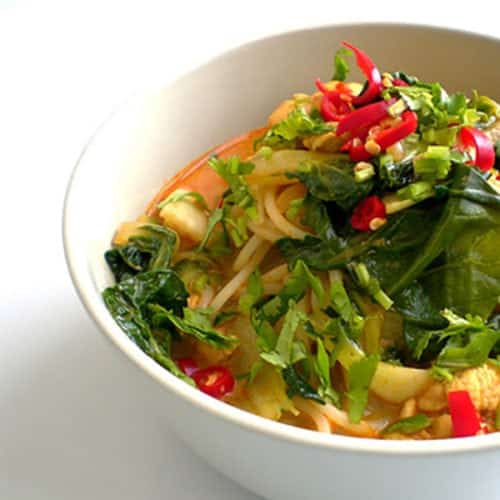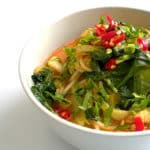 Print Recipe
Coconut Curry Noodle Soup
Ingredients
1

tbsp

light cooking oil

1

tbsp

finely chopped garlic

1

tbsp

curry paste (red or yellow)

1

small onion

thinly sliced

1

cup

boneless chicken/tofu

cubed

1

cup

coconut milk

3

cups

chicken/vegetable stock

1

stalk

lemongrass

bruised and cut into 2-inch pieces

1

cup

sliced mushrooms

1

lb

noodles of choice

2

cups

chopped bok choy

salt & pepper

to taste

fresh coriander leaves

for garnish

finely chopped chillies

for garnish

lemon wedges

for garnish
Instructions
Heat oil in a deep pan, and sauté garlic and curry paste till fragrant. Add in onions and chicken/tofu, and saute till lightly browned.

Add in coconut milk, stock and lemongrass, and let it come to a boil on low heat. 

Add in mushrooms and noodles, and cook covered till noodles are tender and done. Stir in bok choy, cover and cook for 5 minutes.

Season with salt and pepper, add garnish with coriander leaves, chillies and a dash of lemon juice. Ladle in large bowls and serve piping hot.
If you enjoyed this recipe, then you will surely love my Thai Curry Noodle Soup with Tofu & Veggies recipe as well.
Tried this recipe? Leave a Comment and let me know, also Rate it by clicking the number of stars on the recipe card. Want to share your version with me? Tag me on Instagram @hookedonheat