This quick and easy Peanut Noodles with Tofu and Mango recipe is an extremely forgiving one! It's the perfect solution for a busy weeknight when you're low on time and energy, yet want something comforting. You can always prep the sauce and noodles early on and then take a peek into your fridge and pantry for anything that you might want to use up.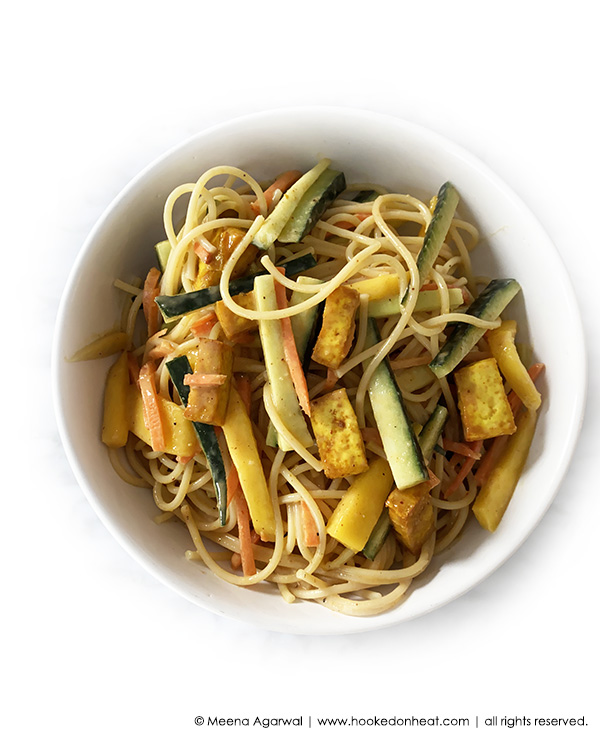 I used to teach 'What's for Dinner' classes at the Loblaws PC Cooking School and this Peanut Noodles recipe was always a crowd pleaser. The classes were about an hour-long, wherein I demonstrated 2-3 quick and easy recipes perfect for any busy weeknight. I often tried to club recipes that go together to make a complete, well-balanced and delicious meal. Throughout these classes, what I looked forward to the most is the interaction with the guests. I loved hearing about the challenges they face with cooking a weeknight dinner – it helped me plan out my menus to address some of these concerns accordingly.
At one of my those classes, I had a guest tell me that although she often plans her weeknight menus in advance, she's always left with bits and bobs of ingredients desperately waiting to be used up by the end of the week. A light bulb suddenly flashed in my head! Don't we all face this issue come Thursday night?
I keep a Tupperware box in my fridge for all the remaining pieces of veggies that I use during the week. By the end of the week, the box is often filled with half a pepper, a quarter of an onion, a few slices of tomato, maybe a boiled potato – it's always a surprise medley of colourful produce that greets me and I'm pretty sure I'm not alone!
Once you've got the sauce made, and the noodles cooked an ready, you should then raid your fridge and pantry for anything that you would like to or need to use up. I've added in wilted greens, leftover salad mixes, all sorts of veggies and even a boiled egg once it always comes out delicious!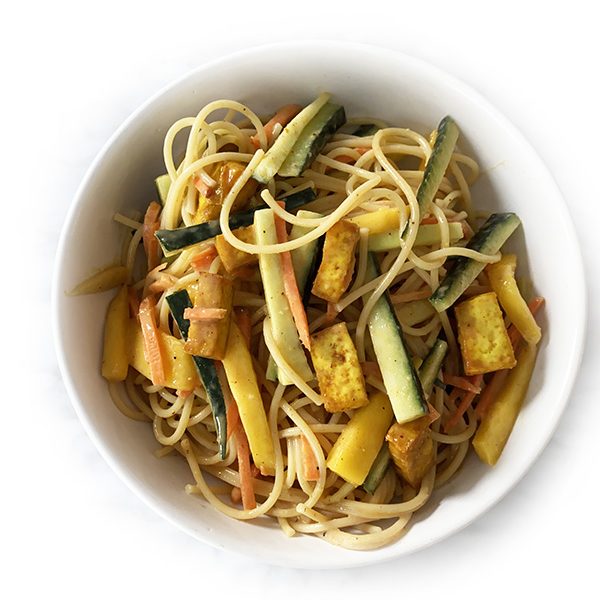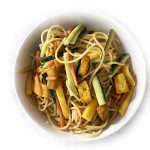 Print Recipe
Peanut Noodles with Tofu and Mango
Servings: 4
Ingredients
2 cups bite-sized cubed tofu
1 tsp light cooking oil
1 large mango sliced into thin strips
1 large cucumber sliced into thin strips
1 large carrot sliced into thin strips
3 cups cooked noodles of your choice cooked according to package instructions and drained
a handful of finely chopped fresh coriander leaves for garnish
fresh lime wedges for garnish
For the Peanut Sauce
1 cup peanut butter
1 cup warm water
2 tbsp fresh lime juice
1/2 tsp red chilli powder
1/2 tsp garlic powder
salt to taste
Instructions
Mix all the ingredients for the peanut sauce in a microwave-safe bowl and heat for a minute or two, stirring occasionally until the peanut butter softens and blends well with the water. Whisk to remove any lumps. Set aside.

Mix the tofu pieces with the oil and air-fry for 2-3 minutes on high until the edges start to crisp up.

In a large bowl add in the air-fried tofu, mangoes, cucumbers, carrots and noodles. Slowly stir in the peanut sauce and mix well to coat.

Garnish with fresh cilantro and lime wedges and serve.
This post was originally published in November 2019 and has been recently updated.
If you like this recipe, you will surely like my Curry Noodle Bowl.
Tried this recipe? Leave a Comment and let me know, also Rate it by clicking the number of stars on the recipe card. Want to share your version with me? Tag me on Instagram @hookedonheat