It was a Sunday, not like any Sunday! We were tired (from a really late Saturday night), a bit lethargic, and the pouring rain outside didn't help liven up our spirits. While Hubby Dear and me love to keep our Sundays free of any commitments, there are times when we wish we were doing something adventurous – really adventurous. Even if it just concerns our palates. And this Chilli Chicken with Gravy recipe gave us just what we needed!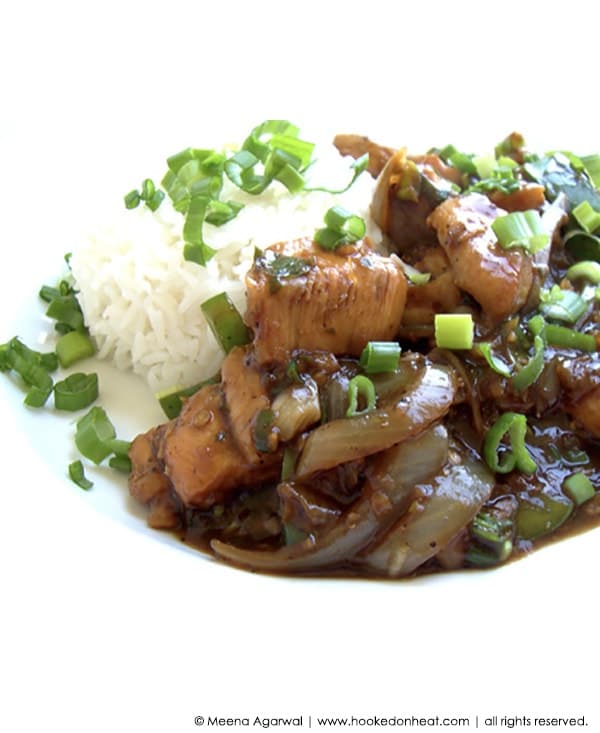 I've always talked about my love and appreciation for Indo-Chinese fusion cuisine, so much so that friends often come over expecting it to be served for dinner. While we craved for the spicy goodness that it offers on this rainy droopy day, we were in no mood to drive through the bad weather to get a bite. No matter how strong a craving, I always feel that there must be a solution to it. And on this day, I found it in my kitchen with this Chilli Chicken with Gravy recipe.
Not one to be let down by the weather, I decided to brave the challenge and attempt to create my very own version of our favourite Indo-Chinese spicy fare. Aah, I could already taste the flavours. Simple enough, I thought. And boy was I right! Don't believe me? Well then, you'll just have to try this Chilli Chicken recipe out then!
Chilli Chicken with Gravy
Servings: 4
Ingredients
2 tbsp light cooking oil
1 tsp finely chopped green chillies
1 tbsp finely chopped ginger
1 tbsp finely chopped garlic
1 medium-sized onion thinly sliced
1/2 tsp red chilli powder
1/2 tsp black pepper powder
2 large boneless chicken breasts cut into 1-inch cubes
2 tbsp light soya sauce
1 cup water
salt to taste
1 tbsp corn starch mixed in with 2 tbsp water
finely chopped green onions for garnish
Instructions
Heat oil in a large non-stick wok and saute chopped green chillies, ginger and garlic till fragrant. Add in sliced onions and fry till lightly brown.

Add in spices and chicken pieces, and stir-fry for 3-5 minutes till chicken starts to brown along the edges. Add in soya sauce and stir-fry for another minute or two.

Add water, season with salt, and allow it to come to a slight boil.

Stir in the corn starch slurry and cook for a couple of minutes till the sauce thickens. Garnish with chopped green onions and serve warm.
Serve over warm steamed rice or with a side of Fried Rice. Need to warn you though – eat with caution, for this can be very, very spicy!
Tried this recipe? Leave a Comment and let me know, also Rate it by clicking the number of stars on the recipe card. Want to share your version with me? Tag me on Instagram @hookedonheat