Kadai Chicken or Chicken Karahi is probably one of the simplest dishes that's quick to cook and yet packs a punch! It's a North Indian classic recipe and is often found in many restaurant menus.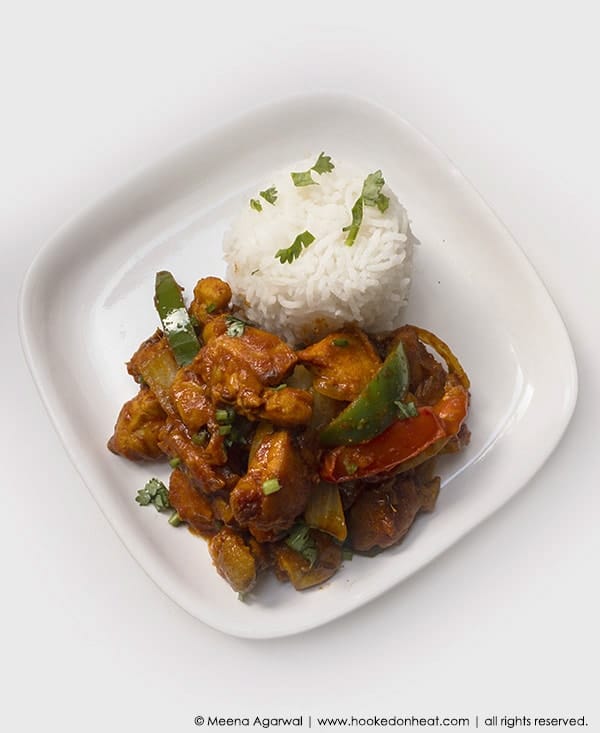 We had showers pouring in non-stop yesterday. All that drowsy weather left us blue and craving for some soul food. One quick look into my fridge and I just knew the peppers I bought over a week ago were going to go bad soon. Another quick peek into the freezer and pantry, and the ball was set to roll. Hubby Dear was all too happy to hear what was on the menu – his favourite Kadai Chicken!
A quick few minutes later, we had a hearty lunch waiting to be devoured!! On a day like this when all I want to do is lounge around and relish good 'ol home-cooking, I need something quick and simple. But what if you crave something that's not quite so simple in taste, but just as easy to prepare? Well, then I just take out some chicken and get cooking!
When I say quick and easy chicken in minutes, I mean something delicious like this classic Chicken Karahi recipe!
But wait, what is that you say? Chicken? Quick? Simple? Well, yes! And I'm not talking throwing in a batch of carelessly chopped onions and can of diced tomatoes and waiting for it to brew into a delicious curry. Oh no! Take out that kadhai (Indian wok) and let's get working on that age-old oh-so-famous deliciously-mouth-watering-finger-lickin'-good Kadai Chicken!! Yup, you heard me! It IS that easy!!
I have made this recipe so many times that I can easily find my way blindfolded! Loaded with crisp peppers and onions, and a simple blend of spices, this dish is definitely a mouthful and an easy contender to my ever-growing list of everyday comfort foods.
Kadai Chicken (Stir-fried Chicken with Peppers)
Servings: 4
Ingredients
2 tbsp light cooking oil
1 tsp whole cumin seeds
1 tbsp finely chopped ginger
1 tbsp finely chopped garlic
1/4 tsp turmeric powder
1/2 tsp red chilli powder
1 tsp cumin powder
1 tbsp coriander powder
1 tbsp tomato paste
3 large boneless chicken breasts cut into 1-inch pieces
1 large-sized onion sliced
1 medium-sized green pepper sliced
2 medium-sized tomatoes cut into wedges
salt to taste
roughly chopped fresh cilantro leaves for garnish
squeeze of lemon
Instructions
Heat oil in a large non-stick wok and fry cumin seeds, ginger and garlic for a few seconds till fragrant. Add in spices and tomato paste, and mix well.

Add in chicken pieces, and stir-fry with the spices for 2-3 minutes till lightly browned along the edges.

Add in the onions and stir-fry for 2-3 minutes till the onions start to soften. Now add in the peppers and tomatoes, season with salt, and mix well. Let it cook covered for 5-6 minutes till the chicken is completely cooked through.

Garnish with fresh cilantro leaves and a squeeze of fresh lemon juice and serve warm.
Notes
To make a vegetarian version like Kadhai Paneer, simply substitute chicken pieces with cubes of paneer. 
This post was originally published in January 2006 and has been recently updated.
If you enjoyed this recipe, you will surely love my Chilli Chicken – Hakka-style, Dahiwali Chicken Curry and Homestyle Chicken Curry as well.
Tried this recipe? Leave a Comment and let me know, also Rate it by clicking the number of stars on the recipe card. Want to share your version with me? Tag me on Instagram @hookedonheat