This Chicken Pulao recipe I'm sharing with you today made in an Instant Pot is one that I fall back on very often. It's a family favourite, crowd-pleaser, and works very with any combination of ingredients. It's perfect for a Friday night when you want something gourmet-ish but can't bother to go out and just want to chill with Netflix.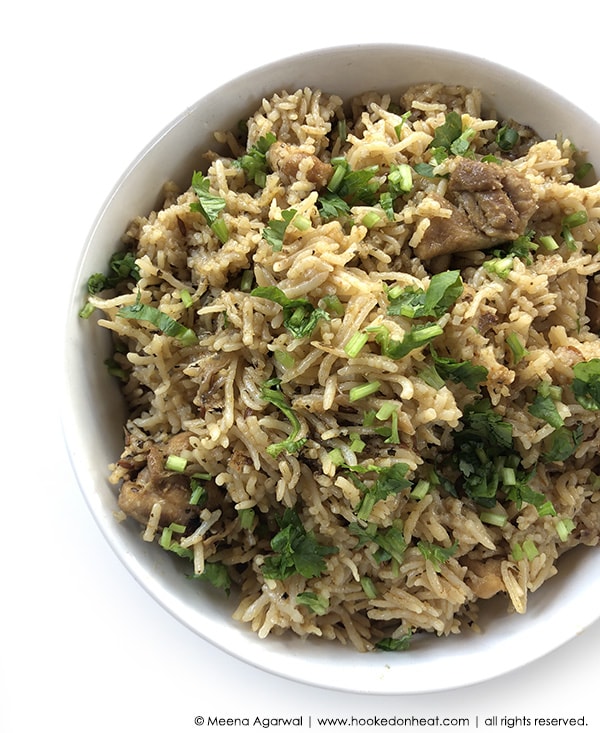 I often get a ton of emails asking for help with meal planning and readers wanting to know if and how I do it. Well, to be honest, I do meal plan and have been doing so for the past 15 years. It has helped me immensely on days when I'm completely bogged down and can't bother to even come up with an idea for dinner. Knowing that I've planned and shopped for at least six meals, including this quick and easy Chicken Pulao recipe, makes it so much easier for me to simply pick one that would suit my mood and the time I have on hand on any given day.
I always get ask asked what I cook and feed my family on a daily basis. Truth be told, like most moms, I'm often at a loss come dinner time. I've found that having a meal plan ready helps me overcome the 5 o'clock stare-into-the-fridge-blankly symptom and also prevents us from getting unhealthy fast food. I consider myself to be really lucky that Little Dude can give any food connoisseur a run for his money. Truly, I shudder when I hear stories of how some kids won't eat anything green; or even worse, how they will ONLY eat chicken nuggets and pasta.
My almost-10-year old on the other hand, prefers spinach, artichoke & goat cheese on his pizza; will only eat a cheese quesadilla if it's accompanied by tomatillo salsa on the side, and enjoys his grilled chicken marinated with exotic flavours. Nope, just "salt & pepper" on his food won't work. Add in a dash of rosemary, some garlic and maybe even a splash of fish sauce, and he's a happy camper! It's no wonder that this Chicken Pulao recipe is always a hit at dinnertime!
I need to confess though – I have a love-hate relationship with making a meal plan. There have been weeks where I find myself all put-together: completely balanced meals planned for the entire week in advance, a grocery list filled with healthy food choices and snacks, and my grocery budget in check. Then there are weeks in between where I endlessly stare at my open fridge and pantry slowly shaking my head at the lack of options to throw down a good dinner, Baby Dear wailing and tugging at my pants for attention, and a frantic call is made to Hubby Dear to pick up something, anything on his way home for dinner. And most often than not, it's the dreaded tasteless fast food that walks in the door with him in tow.
For the past few weeks, I've been trying to slowly get our household on track. It takes time and effort for me to plan meals ahead that are not only nutritious but also a delight to eat. Thank heavens, Little Dude has been a trooper thus far – eating anything and everything we put in front of him. Except for eggplant that is – which just happens to be MY favourite vegetable (speaking of which, have you tried my Baingan Bharta recipe? It's to die for!) – the mere sight of me getting ready to wash and chop one makes him gag.
Can someone please enlighten me on how a child who can scarf down such gourmet creations as Chicken Marsala, Lamb Biryani and Malaysian Chicken Curry feels like throwing up just looking at an eggplant? Well, I can't really complain. I mean, how many almost-10-year olds do you know that happily eat such strong vibrant flavours anyway? This is exactly why I take this weekly meal planning gig more seriously than other chores.
My philosophy is simple: plan well-balanced dinners and include a variety of flavours & textures, and this Quick Chicken Pulao recipe made in an Instant Pot is just perfect! Lunches are generally leftovers, and snacks are mainly fruits, cheese & crackers, veggies & dips, or any baked goods and other treats we may have on hand for that given week. I'd love to hear about how you meal plan and what you'll be having, so please do share in the comments below!
One of the strategies I always use while planning ahead is to make sure I have a very well-stocked pantry, fridge and freezer. My pantry is neatly stacked with jars of many different kinds of grains and pasta, cans of various types of beans, jars of sauces, seasonings and spices. These are my helpers on days when I only have an hour or so to spare before I need to rush back to my computer to meet my many deadlines.
I love cooking an extra batch of rice/pasta/any grain and keeping them in the fridge/freezer to use later. Almost every week, I marinate a few chicken breasts, cook them up in the Air Fryer, and store them in the fridge to use up in salads and sandwiches for the next few days. I usually plan out simple and quick dinner for weeknights – like this Quick Chicken Pulao recipe made in an Instant Pot , and leave the slow simmering and attention needing recipes for weekends.
I'd serve this with some cool Raita and a chopped salad on the side for a perfectly well-balanced meal.
Instant Pot Chicken Pulao
Servings: 4
Ingredients
6 boneless & skinless chicken thighs cut into 1-inch pieces
1/2 cup plain yogurt
pinch of turmeric
2 tbsp light cooking oil
1 tsp whole cumin seeds
1 cinnamon stick
4-5 whole green cardamom pods
1 medium-sized onion thinly sliced
1 tbsp finely chopped ginger
1 tbsp finely chopped garlic
1/2 tsp red chilli powder
1 tbsp coriander powder
salt to taste
3 cups Basmati rice rinsed and drained
5 cups water
fresh chopped cilantro leaves for garnish
Instructions
Marinate the chicken pieces with yogurt and turmeric and set aside for 10-15 minutes while to prep the other ingredients.

Set the Instant Pot to Saute mode and add in the oil. Once the oil starts to heat up, add in cumin seeds, cinnamon stick and cardamom pods.

As soon as the whole spices start to sizzle, add in the onions, ginger and garlic and fry for a few minutes till they start to lightly brown.

Add in the spices and salt, and fry for a few seconds before adding in the chicken with all the marinade. Mix well with the spices and let it cook for 3-4 minutes, stirring occasionally to prevent it from burning.

Add in the rice and water, and mix well. Close the lid and set to Manual Pressure mode for 5 minutes.

Let the pressure release naturally. Carefully open the lid and fluff the rice with a fork carefully. Garnish with cilantro leaves and serve warm.
If you enjoyed this Chicken Pulao recipe, you will surely love my Mushroom and Peas Pulao and Paneer Biryani recipe as well.
Tried this recipe? Leave a Comment and let me know, also Rate it by clicking the number of stars on the recipe card. Want to share your version with me? Tag me on Instagram @hookedonheat