Dahi Vada or Dahi Bhalla, for those who don't know, is sort of a snacky dish of fried lentil dumplings topped with cool creamy yogurt, a dollop of tangy tamarind chutney, and a sprinkle of mixed spices. It's an absolute delight to the senses and a party in your mouth!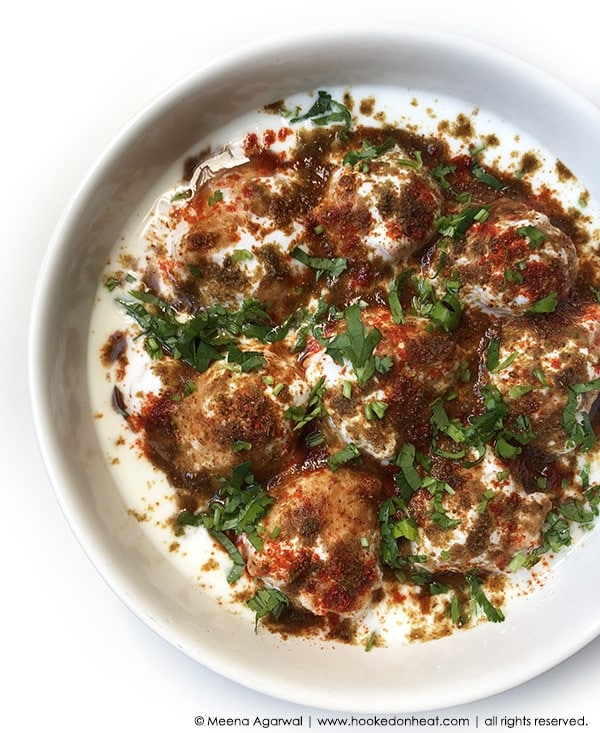 This recipe for Dahi Vadas, also popularly known as Dahi Bhalla, was created in partnership with Hamilton Beach Canada, as one of their brand ambassadors. All opinions, as always, are my own. I only write about and recommend products I use and love myself.
I clearly remember the very first Diwali party Hubby Dear and I threw together as a married couple. We had invited a bunch of our closest friends – about ten in total and ordered them to dress up in their finest traditional Indian outfits. We spent hours decorating our apartment with lights and flowers. And true to my nature, I pondered over tons of recipes, including this Dahi Vada recipe, for days on end deciding on the perfect menu.
I wanted to serve a traditional festive feast, making sure that I had most of the regular favourites – a variety of Chaats, Samosas, Chole-Bhature and of course, a large platter of Dahi Vada, also popularly known as Dahi Bhalla.
Growing up, we usually always had Dahi Bhalla as one of the dishes on our Diwali menu – even if we weren't entertaining and it was just us at home, which is why I usually associate it to be perfect to serve at any festive or celebratory gatherings. It was no surprise then, that I wanted it to take center stage on my dining table at our Diwali party. Except, the cook that I was then was so much different than the cook I am now.
The me at that time had little experience cooking fancy meals. But what I did have to my advantage, however, was a strong idea of how to 'just wing it' in the kitchen. We had just gotten married a couple of months prior, and I was still finding my way around many aisles at the grocery store – this was years before I started this blog. Although I managed to cook pretty decent meals for us on a regular basis, it was one of the first few times where I would be cooking for a crowd.
I remember how proud I was of the Dahi Vadas I had served that day – even though it completely broke my blender while trying to make a smooth fine batter for the dumplings! I vaguely remember dragging Hubby Dear to the store right before closing time just so we could pick up a new, slightly stronger blender – only to have it give up on me a few months later. Oh well, you learn something new every day!
When the kind people at Hamilton Beach Canada told me they were sending me the new Professional Juicer/Mixer/Grinder to test out, I just knew that Dahi Vada HAD to be the first recipe that I would try. The dumplings in Dahi Vadas are actually supposed to just melt in your mouth, and grinding them into a thick batter with very little water is what does the trick.
I have ruined way too many blenders in the past trying to grind the pre-soaked lentils to a smooth fine paste by adding as little water as possible. But now, I can't wait to make this again for Diwali this year. Then again, with this powerful device at my fingertips I don't really need to wait for Diwali now, do I?
Here's wishing all my readers a Very Happy and Prosperous Diwali! For more special Diwali recipes, please click here.
Dahi Vada or Dahi Bhalla (Fried Dumplings in a Yogurt Sauce)
Servings: 4
Ingredients
3 cups plain yogurt
1 cup water
salt to taste
1/2 cup tamarind chutney store-bought will work fine
1 tbsp garam masala powder
1 tbsp cumin powder
1 tbsp red chilli powder
1 tbsp chaat masala powder
finely chopped fresh cilantro for garnish
For the Vadas (Lentil Dumplings)
1 cup urad dal (huskless split black lentils) soaked overnight
2 tbsp water
1 tsp grated fresh ginger
salt to taste
Instructions
Mix yogurt and water really well till smooth. Season with salt and set aside.
For the Vadas (Lentil Dumplings)
Drain and rinse the soaked lentils well. Grind them with two tablespoons of water to form a really thick and smooth batter.

Add in the grated ginger and salt, and mix well.

Heat oil in a deep pan, and slowly add in about a tablespoon of the batter into the hot oil and deep fry till golden brown and crisp. Try not to overcrowd the pan and only fry a few at a time.

Drain the fried dumplings onto paper towels to soak any excess oil, and then add them into the yogurt sauce. Let them soak in the yogurt sauce for a few minutes.
To assemble the Dahi Vadas
For each individual serving, add 4-6 of the dumplings soaking in yogurt into a bowl and top with some more of the yogurt sauce.

Sprinkle a tablespoon or two of the tamarind chutney, as well as a heavy pinch of each of the spices. You can easily adjust the amounts according to your preference.

Garnish with fresh cilantro leaves and serve immediately.
If you enjoyed this recipe, you will surely love my Alu Dahi Puri and Papdi Chaat recipes as well.
Tried this recipe? Leave a Comment and let me know, also Rate it by clicking the number of stars on the recipe card. Want to share your version with me? Tag me on Instagram @hookedonheat