This Hakka Chilli Chicken recipe is fairly simple, and a breeze to whip up on a busy weeknight when you need a pick-me-up and want to avoid take-out. It's also a much healthier version than those you get at restaurants – no deep frying of the chicken, and most importantly, NO MSG!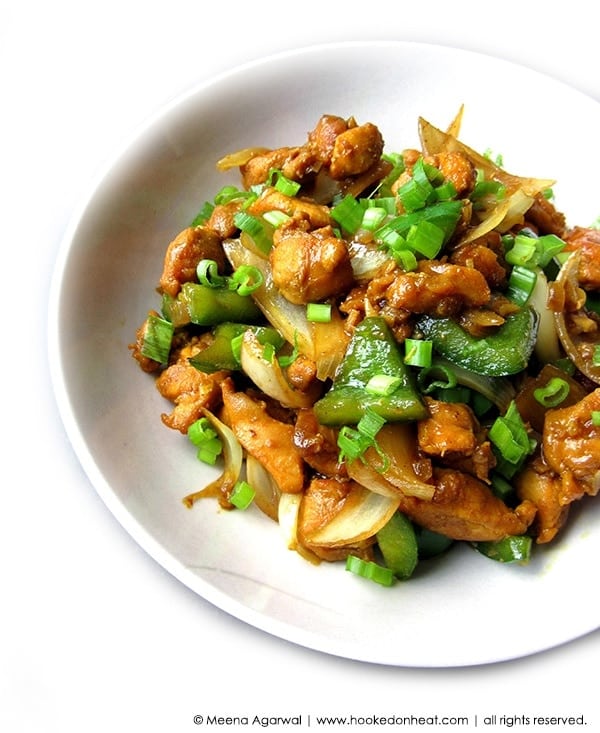 Baby Dear has a low tolerance to spicy food. Well, almost all spicy food except maybe, Biryani. And Chicken Curry. And kebabs. And definitely, Chilli Chicken. Okay, let me rephrase that – Baby Dear won't tolerate spicy food except if it's something that he likes. And I mean, really, really likes. Then his low tolerance just gets thrown out the window, and countless glasses of cold water take its place instead! I'm starting to get a feeling that this kid will always be one to bend the rules to suit his needs.
Hubby Dear and I are strong advocates of always feeding Baby Dear the same things (or at least, a part of it) that we eat. So it obviously is no surprise that the little guy has been exposed to a variety of cuisines and eating habits ever since he got his two front teeth. I can't even begin to tell you how awesome it is to travel with him and not have to worry about finding kid-friendly meals that would appeal to his palate. Because believe it or not, he'll eat just about anything – as long as it's tasty. Yup, I think we hit the jackpot with this one!
Both me and Hubby Dear have always been die-hard fans of Indo-Chinese, or desi-style Hakka cuisine. Chilli Chicken, Chilli Paneer, Gobi Manchurian, Hakka Chowmein… you name it, and we love it! So much so, that 7 times out of 10, our Friday night dinners would always begin with a call to the local Hakka take-out joint right by our house. So it was only a matter of time that Baby Dear would start requesting his favourites to order to.
While crisp Spring Rolls and a bowl of flavourful Fried Rice is always his first pick, the kid just can never refuse a platter of Chilli Chicken. I mean, who can blame him? Tender pieces of chicken tossed in with crisp fried onions and peppers, all coated in a lip-smacking sauce – what's NOT to love? But as the name states, the recipe does start with throwing in a handful of fresh chopped chillies into a hot wok; and as much as I love watching my baby enjoy the same meals as we do – I hate it when the spice level restricts him from enjoying it to its fullest. So what else is a mom to do than step into the kitchen, heat up her trusty wok and create magic?
So what are you waiting for? Get to it and watch your family lick their plates clean with this Hakka Chilli Chicken recipe! I know mine will.
Hakka Chilli Chicken (Dry version)
Servings: 4
Ingredients
1/4 tsp turmeric powder
1/2 tsp red chilli powder
2 tbsp light cooking oil
500 gms boneless chicken thighs cut into bite-sized cubes
1 tbsp finely chopped ginger
1 tbsp finely chopped garlic
2 medium onions cubed
1 medium green bell pepper cubed
1 tsp white pepper
2 tbsp low-sodium soy sauce
1 tsp dark soy sauce
salt and pepper to taste (add in extra pepper for that zing)
a handful of chopped green onions for garnish
Instructions
Mix in the turmeric and chilli powder with the chicken pieces to coat well. Heat 1 tbsp oil in a large non-stick wok and stir-fry the chicken till slightly browned along the edges. Remove from the wok and set aside.

Heat the remaining oil in the wok and add in ginger and garlic. Fry for a few seconds till fragrant before adding in the diced onions and peppers. Stir-fry on high heat, tossing continuously for a minute, and then add in the white pepper and both the sauces.

Season with salt and pepper, add in the pre-cooked chicken and stir-fry for 2-3 minutes till everything is mixed well.

Garnish with chopped green onions and serve warm.
If you enjoyed this recipe, you will surely love my Chilli Potatoes, Chilli Paneer and Ginger Shrimp Stir-fry recipe as well.
Tried this recipe? Leave a Comment and let me know, also Rate it by clicking the number of stars on the recipe card. Want to share your version with me? Tag me on Instagram @hookedonheat