This Quick & Easy Coconut Fish Curry is simple and quick, with only a handful of ingredients. And if that's not good enough, it's all made in one pot. Now, what could be better than a one-pot meal!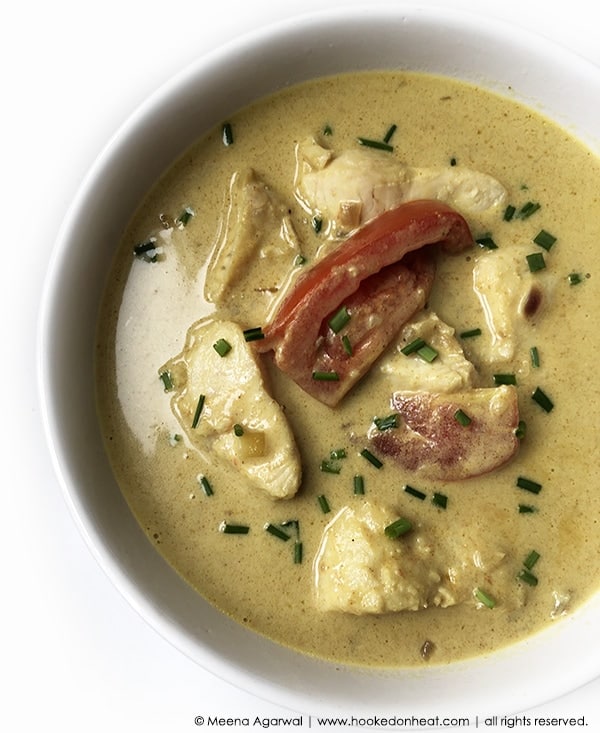 One area where I always seem to excel as someone who could have organization as their middle name, would be in making sure my fridge, freezer and pantry are always well-stocked – just what I need to make this Coconut Fish Curry at the drop of a hat! This might surely have something to do with the fact that I may be a compulsive list maker. Yes, I love making lists. In fact, I make so many lists within the span of one day that I sometimes even have to make a list of the lists I've made. Confusing? Tell me about it!
Although I am not always successful in crossing out everything on my day's schedule, my grocery list is one that can be easily counted on. I always have a freezer stocked with a few pounds of chicken, a huge bag of fries and a couple of packets of frozen veggies. My fridge never runs out of eggs, bread and milk, and not to mention the staples like veggies and fruits. And my pantry – oh what can I tell you about my pantry, except that if ever we were locked in our house with no way to getting out whatsoever, I could easily survive with five other people for an entire month, with a couple more days added to it! Yes, my husband does comment on the size of my pantry, but hardly ever do I see him complain when I dish out a perfect meal, like this Coconut Fish Curry, after he refuses to head to the grocery store in the midst of a huge snowstorm!
Truly, my pantry serves me well. I always make sure I have enough rice, flour, and a few different kinds of pasta to serve me when I call for them. I also like to stock on various sauces, lentils and beans. And it's in times like these where I can happily fall back on my tried and tested stack of recipes. Most of them can be made within a few minutes with ingredients coming entirely from pantry staples, while a few may need a little help from something fresh or frozen.
Speaking of frozen, I like to have a pack or two of some of my favourite seafood always on hand, and fish is definitely one of them. I like buying them pre-cleaned and pre-cut, which then only requires them to be defrosted and cooked to my liking. Take for example this Coconut Fish Curry.
Now, what could be better than a one-pot meal left to simmer by itself while you tend to a few emails?
Quick & Easy Coconut Fish Curry
Servings: 4
Ingredients
2 tbsp light cooking oil
1 tbsp minced garlic
1 large onion finely chopped
1/2 tsp red chili powder
1/4 tsp turmeric powder
1 tbsp coriander powder
1/4 tsp cumin powder
2 cups coconut milk
salt and pepper to taste
4 bones fish fillets (any white fish) cut into 1-inch pieces
2 medium-sized tomatoes cut into wedges
a handful of finely chopped coriander leaves for garnish
Instructions
Heat oil in a pan and sauté garlic and onions till lightly browned and tender. Add in spices, and fry for a few seconds.

Add in the coconut milk, season with salt and pepper, and let it come to a slight boil.

Add in the the pieces of fish and tomatoes, and let it simmer for another 6-7 minutes till the fish is completely cooked through.

Garnish with coriander leaves and serve with a side of plain rice and a tossed salad.
This post was originally published in February 2007 and has been recently updated.
If you enjoyed this recipe, you will surely love my Coconut Shrimp Curry, Coconut Chicken Curry and Malay-style Fish Curry recipe as well.
Tried this recipe? Leave a Comment and let me know, also Rate it by clicking the number of stars on the recipe card. Want to share your version with me? Tag me on Instagram @hookedonheat