This Bhuna Chicken recipe or Chicken Bhuna Masala, found in many Indian restaurant menus, is one that I promise you will keep coming back to! It is a definitely crowd pleaser and pairs well with both rice or any kind of Indian bread.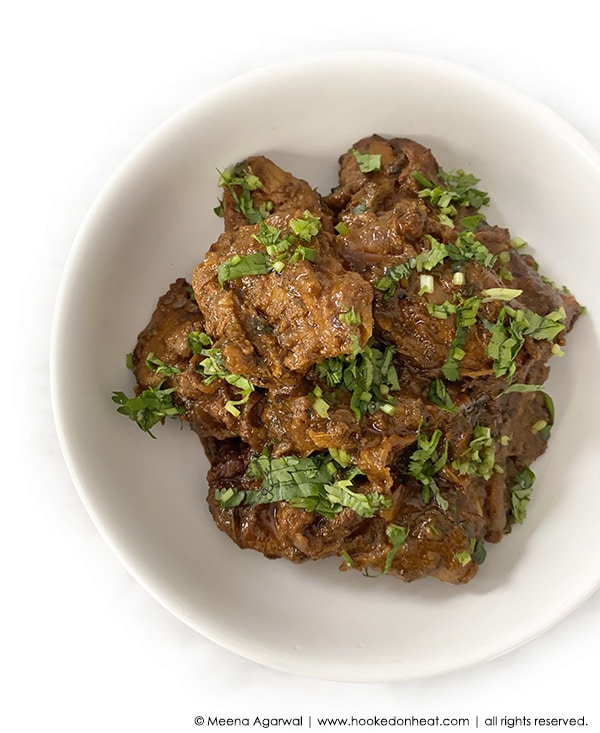 Bhuna is a technique of cooking in Indian cuisine, which simply means to fry the flavour base or masala really well on low heat until it starts to caramelize and give out oil along the sides. This method of cooking ensures a robust burst of flavour in the dish and the end result is always a warm, comforting bite. It does take a bit of extra time and a watchful eye to make sure that the masala cooks well without getting burnt. The secret to this, I believe, is low and slow. Keep the heat low and stir slowly every now and then.
This Bhuna Chicken recipe is perfect for a weekend meal when you have the time and mood to putter about in the kitchen with nothing much else to tug at your attention. It also tastes even better the next day since the spices and flavour will have had enough time to penetrate and mingle through. Because of this, I love to serve this Chicken Bhuna Masala at dinner parties when I know I can cook it either the previous night or early that morning. Other than the little bit of extra time it takes to bhuno the masala, this recipe is fairly simple and a treat to eat.
Bhuna Chicken (Chicken Bhuna Masala)
Servings: 4
Ingredients
2 tbsp light cooking oil
1 tsp cumin seeds
1 tsp coriander seeds
1 tsp fennel seeds
4-5 whole green cardamom pods
6-8 whole black peppercorns
1 large onion thinly sliced
1 tbsp finely chopped ginger
1 tbsp finely chopped garlic
1/2 tsp red chilli powder
1/4 tsp turmeric powder
1 tbsp coriander powder
1 tsp garam masala
3 tbsp tomato paste
6-8 skinless chicken thighs cut into halves
water as required
salt to taste
a generous pinch of kasoori methi
handful of finely chopped cilantro leaves for garnish
Instructions
Heat oil in a large deep pan on medium heat and add in the cumin, coriander and fennel seeds, along with cardamom pods and peppercorns. As soon as they start to sizzle, add in sliced onion and fry for 2-3 minutes until lightly browned.

Add ginger, garlic and spices, and fry for a few seconds until fragrant. Stir in the tomato paste and combine well with the onion and spices.

Add in the chicken, season with salt and cook covered for 7-8 minutes on low heat. If you prefer a slightly saucy consistency, add in some water and bring it to a slow simmer.

Add in kasoori methi, give it good mix and let it cook covered on low heat until the chicken is cooked through. Remember to keep stirring in between to prevent it from burning.

Garnish with fresh cilantro leaves and serve hot with fresh made rotis or a side of rice.
If you like this recipe, you will surely like my Palak Chicken Masala and Kadai Chicken as well.
Tried this recipe? Leave a Comment and let me know, also Rate it by clicking the number of stars on the recipe card. Want to share your version with me? Tag me on Instagram @hookedonheat