This recipe for my Indian-style Keema Pasta has ground chicken added to it but you can easily substitute that with other kinds of meat. For a vegan or vegetarian option, skip the meat altogether and bulk up on the vegetables. I've even made this recipe using ground soy protein instead and it was equally delicious! For a gluten-free version, simply opt for gluten-free pasta instead.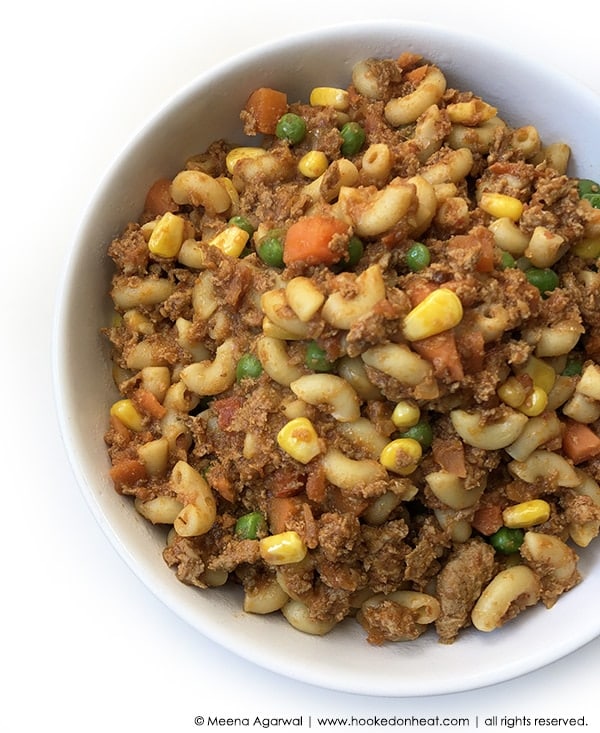 As we're slowly getting used to being home and easing into a routine that works for us, I find myself starting to get more creative with the meals I plan for dinners throughout the week. With the summer here in full force, there is only so much time I want to spend sweating over a hot stove and so, I've succumbed to making a ton of one-pot meals. One-pot meals are always a win-win situation in my books – the cooking gets done faster, there are lesser dishes to clean and meal times are less stressful when you don't have a variety of options to nitpick on. It is no wonder then that this Indian-style Keema Pasta recipe is one that finds its way into our meal plan every couple of weeks!
Pasta is one universal pantry staple that pretty much works for any kind of family dynamic or diet plan. I love to jazz mine up with different flavour profiles depending on my mood and the kind of food I'm craving at the moment. Add in olives and feta and you have a Greek-inspired dish. Throw in some coconut milk and a dollop of store-bought curry paste and you can transform it into a Thai-inspired one. Or my favourite – jazz it up with some spices, like this Keema Pasta, and even a traditional Indian Dad like mine who can't live without his dal-roti, will happily clean his bowl!
Growing up, we rarely if ever, had the traditional Spaghetti Bolognese or Fettuccini Alfredo. In fact, the most common kind of spaghetti I remember eating was either this Indian-style Spaghetti or this Malay-style Mee Goreng. And trust me when I tell you, I still enjoy those two recipes today and will usually pick them over any other kind! There's definitely something very comforting about digging into a big bowl of pasta – even better when it is laden with flavours reminiscent of your childhood.
I love to add a variety of different vegetables and protein to my pasta, and that usually depends on what I have on hand. This Indian-style Keema Pasta recipe is very similar to the one I grew up eating a child. You can easily experiment with different flavours and cooking styles and come up with a recipe that your family will enjoy. Serve it along with a simple chopped salad and you'll have a quick, simple and not to mention, fantastic meal ready in a matter of minutes.
Indian-style Keema Pasta
Servings: 4
Ingredients
2 tbsp light cooking oil
2 medium-sized onions finely chopped
1 tbsp minced garlic
1/4 tsp turmeric powder
1/2 tsp red chilli powder
1 tbsp coriander powder
2 tbsp tomato paste
salt to taste
2 large-sized tomatoes finely chopped
1 lb lean ground chicken
1 tsp dried oregano
2 cups frozen mixed veggie thawed
2 cups small-sized pasta, like elbow macaroni cooked according to package instructions, drained and set aside
finely chopped fresh cilantro for garnish
Instructions
Heat oil in a large deep pan and sauté onions and garlic till soft and lightly brown. Add in spices and tomato paste, and fry for a few seconds.

Season with salt and add in the chopped tomatoes. Cook for a few minutes till tomatoes start to pulp.

Stir in ground chicken and let it cook covered for a few minutes, stirring occasionally, till chicken completely cooks through.

Mix in dried oregano and the veggies and cook for another 2-3 minutes.

Now toss in the pasta, and mix well to combine with the sauce. Garnish with fresh cilantro and serve warm.
If you enjoyed this recipe, then you will surely love my Indian-style Spaghetti and my Masala Macaroni recipe as well.
Tried this recipe? Leave a Comment and let me know, also Rate it by clicking the number of stars on the recipe card. Want to share your version with me? Tag me on Instagram @hookedonheat