Diwali came and went in a blur this year. We had just moved a few weeks earlier and were deep in the midst of settling down in our new neighbourhood. In the midst of unpacking, getting Baby Dear adjusted into his new school, Hubby Dear's new work schedule and all, a lavish celebration was the last thing on our minds. All we wanted to do was take the time to be thankful for everything that we had. A nice quiet meal, family time together, and lots of love and laughter were all we needed to bring in the festival of lights. And something sweet of course – like these Raspberry Yogurt Muffins. After all, what is Diwali if not for the sweets?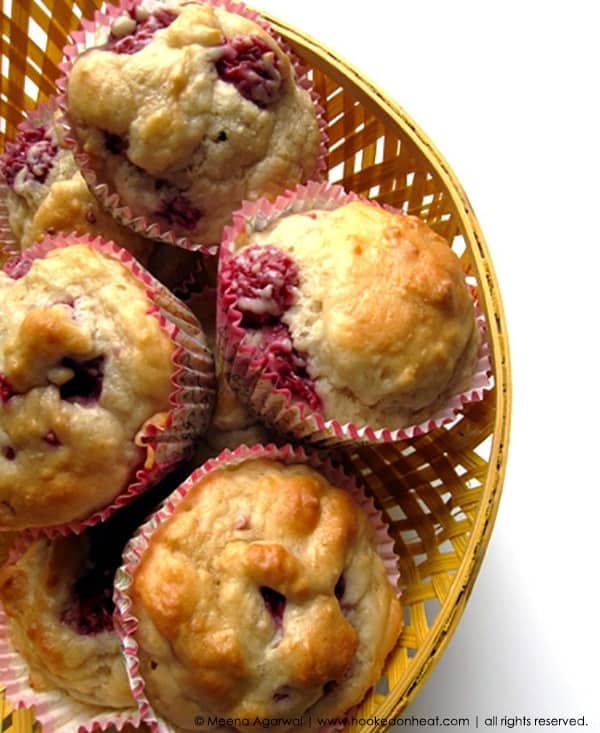 While traditionally, people tend to make the classic Indian desserts loaded with ghee, milk and dried fruits, I for one, never cared for them. I find them cloyingly sweet for my taste and often just give them a pass after a bite or two. This year, however, I wanted to try something different. So I decided to make do with something unconventional.
What can I say, fusion is definitely my thing and love what a mix of cultures can bring to the table. I got started on the baking, and by the time I was done, I had managed to pack neat little baskets filled with an assortment of Brownies, Muffins and Chocolate Cake that I could then share with our new neighbours and friends.
This recipe for Raspberry Yogurt Muffins is a simple and delicious one. What makes it a definite keeper in my book it surely the fact that it contains hardly any fat or sugar, and makes a sizeable batch for our family of three! Since I first tried it, I've made it a few times already, each time changing up the berries; and they've all been equally good. I now make sure I have a batch in the freezer, ready to warm up in the microwave and serve with a cup of steaming coffee on cold, lazy Saturday mornings. Try it, I promise you won't regret it!
Raspberry Yogurt Muffins
Servings: 8 muffins
Ingredients
1 large egg
3/4 cup plain yogurt
1 tbsp melted butter
1/2 tsp vanilla extract
2 tbsp sugar
1 cup all-purpose flour
1/2 tsp baking soda
1/2 tsp baking powder
1 cup fresh raspberries
Instructions
Preheat oven to 375 degrees.

Mix the egg, yogurt, butter and vanilla extract with the sugar. Slowly add in the flour, baking soda and baking powder, and mix well to form a smooth batter.

Gently fold in the raspberries, and fill a greased muffin tray three-fourths full.

Bake for 15-20 minutes, till muffins are done and a pricked toothpick comes out clean.
Tried this recipe? Leave a Comment and let me know, also Rate it by clicking the number of stars on the recipe card. Want to share your version with me? Tag me on Instagram @hookedonheat