As I sat through my umpteenth screening of the esteemed love triangle, I felt a sudden pang hit me. No, I could swear it wasn't butterflies in my stomach as Shahrukh and Kajol romanced around trees. It was something much greater, much more dignified. A quick glance at the clock and my fears were confirmed. Yes, hunger pangs, that's what they were - and this Asam Pedas fish curry was calling out to me! But I was too into the better half of the movie to trot into the kitchen and make myself a bite. Then, like any miracle that never fails to take your breath away, I heard the all-too-famous tune crop up in the background. Yes! The two love birds were about to break into a song-and-dance number. Thank goodness for good 'ol Bollywood movies where love is not love until the fat lady (or in Bollywood's case, anyone) sings!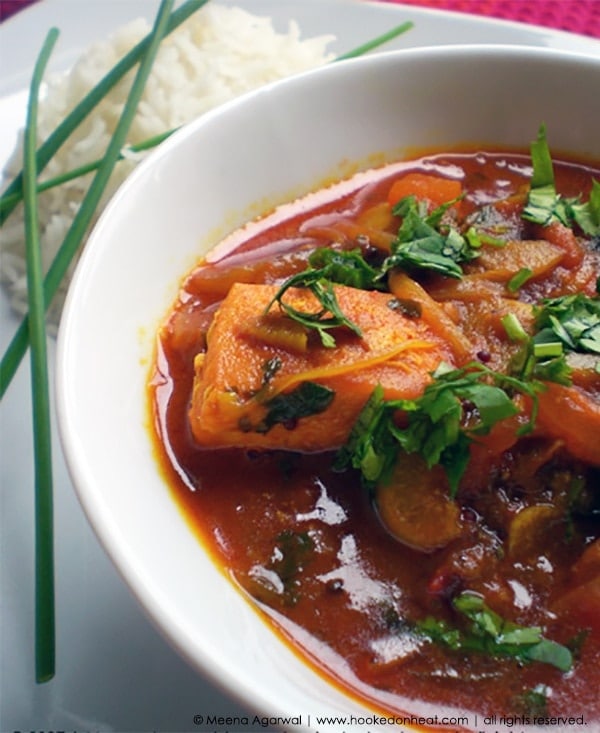 Okay then, so I had myself five minutes to fix me up a meal or worse yet, work through one, considering how long it would take the two to declare their love through sweet melody. With only a few minutes to spare, I had to pace myself well. Whatever I was going to do had to be fast, and with the use of as limited ingredients as possible. A quick peek into my fridge and I knew just what I wanted! It was perfect. I was sure I could wing it. I would do the chopping as the fish sat in a quick marinade. Then I would let it rest and do its own thing until the next song, which as per my calculation, should come up in the next ten minutes. Perfect. Just perfect.
Speaking of perfection, this Asam Pedas, which is a Malay-inspired fish curry is definitely one of my favourites.
So much so, that it was sure to be on the menu whenever I would come home for the holidays during my days in college. With just a few ingredients and even lesser of an effort, it's amazing how wonderfully delicious this dish is. Trust me, you'll want to make extra since no one, and I mean NO ONE, can resist asking for seconds!
Coming back to the meal at stake, just as expected, I was about to sprint back into the kitchen after 10 minutes and continue with the cooking process. Another movie break while it simmered, and by the time Shahrukh broke into another jig, I served myself a big bowl. Now, whoever said multi-tasking was hard to achieve, definitely never tried it my way!
Asam Pedas (Malay-style Hot & Sour Fish Curry)
Ingredients
3

tablespoon

light cooking oil

¼

teaspoon

black mustard seeds

5-6

fresh curry leaves

2-3

garlic cloves

finely sliced

1

medium

onion

thinly sliced

¼

teaspoon

turmeric powder

½

teaspoon

red chilli powder

½

teaspoon

coriander powder

2

medium

tomatoes

finely chopped

salt

to taste

water

as needed

3

boneless tilapia fillets (or any other firm white fish of choice)

cut into 1-inch cubes

1

tablespoon

tamarind paste

fresh cilantro leaves

finely chopped for garnish
Instructions
Heat oil in a deep pan and add mustard seeds, curry leaves, and garlic and let it start to sizzle. Add in sliced onions and let brown slightly.

Toss in spices, chopped tomatoes and salt, and stir-fry for a few minutes till tomatoes begin to soften and pulp.

Add in a cup of water, cover with a lid and let it come to a slight boil. Add in fish pieces and continue to cook for a few more minutes till fish is almost cooked through.

Stir in tamarind paste and cook covered for another 3-4 minutes till the fish has soaked in all the flavours. You can add in a bit water at this point depending on the consistency of the curry you'd prefer.

Garnish with chopped coriander and serve warm over steamed rice.
This post was originally published in April 2007 and has been recently updated.
If you enjoyed this recipe, you will surely love my Shrimp Sambal, Coconut Fish Curry and Ginger Shrimp Stir-fry recipe as well.
Tried this recipe? Leave a Comment and let me know, also Rate it by clicking the number of stars on the recipe card. Want to share your version with me? Tag me on Instagram @hookedonheat