In my quest to dismiss the myth that Indian cooking is not for the faint-hearted and to help spread my knowledge on some simple and traditional Indian food recipes, I have started this series called Indian Cooking 101. To make it more interactive and as helpful as I can for my readers, I welcome you to email me any questions that you may have in the process. I will try and respond to the questions personally through email, or in the next part if it's connected to what I have already planned to discuss.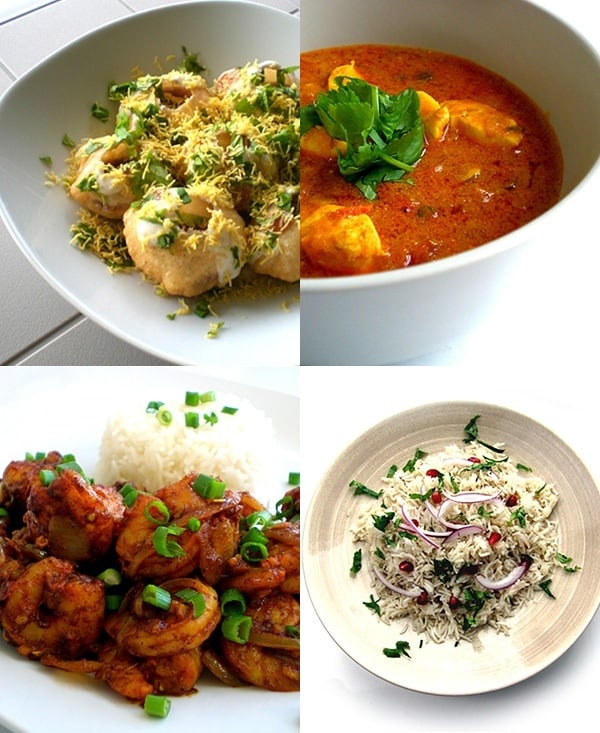 Of all the things I hear about Indian food, these are the few that often top the list:
Indian food is spicy!
No, it's all the time! There are tons of mild options to choose from that are absolutely delicious – the ever-popular Butter Chicken tops this list! There also tons of other tasty options like Rajma, Chana, Kadhi, Dals, home-style Chicken Curry, Pulaos and a wide array of vegetable side dishes. And if you can't be too sure about the spice level of a certain dish when ordering it at a restaurant, simply ask for it to be cooked less spicy. The heat in the chillies do not dominate the flavours of cooking, it's the aromatic warm spices that do.
Curries can be made by adding copious amounts of a yellowish substance called Curry Powder to a can of coconut milk and letting it come to a slow simmer.
Whatever people may like to think, curry powder is not really a solution to making a quick curry. In fact, until and unless it's a blend from an actual Indian location, like say, Madras curry powder, or Malabar curry powder, then it probably won't and can't even taste anything close to the Chicken Curry you ravished for dinner at the nearby Indian restaurant. The pale yellow curry powder found on the shelves of many grocery stores hardly taste anything like the real deal. For a quick solution, make sure you have the 5 most basic spices at hand – red chilli powder, coriander powder, turmeric, garam masala and cumin powder. When you have less time to spare, just add about half a teaspoon of each of them, adjusting the chilli powder to your taste of course, before stirring in the yogurt or coconut milk. I promise you, you won't regret it.
Add ketchup to get that luscious red colour reminiscent of many Indian dishes.
In no case, and I mean NO case, should you add ketchup while making curry. The classic reddish tinge in most Indian curries come from the mix of fresh tomatoes and spices. If you're short of time for chopping tomatoes, run them through a food processor to puree. If that's still not an option, then please, at least use canned tomato paste.
Stir in a tablespoon of all-purpose flour to thicken a curry.
No matter what happens, DO NOT add flour to thicken your gravy. Stir in some yoghurt, or better still, a tablespoon or two of cashew/almond paste/powder. The results will be delicious, without being lumpy and looking a mess.
Indian food gives you heartburn!
Let me start by saying that yes, if you eat Indian takeaway too often, you can and will get heartburn. And that's with most cuisines since everyone knows that restaurants are usually quite generous with adding in fat and spices to their food. Home-cooked Indian food is a different story altogether. If you don't believe me, then please any of my recipes here and I promise you, you won't be sorry!