This recipe for Bharwaan Bhindi is a popular dish in many North Indian home kitchens. Tender okra is stuffed with a tangy spice mix and stir-fried. This is recipe is perfect to add as a vegetable side along with some Dal, and Rice or Rotis.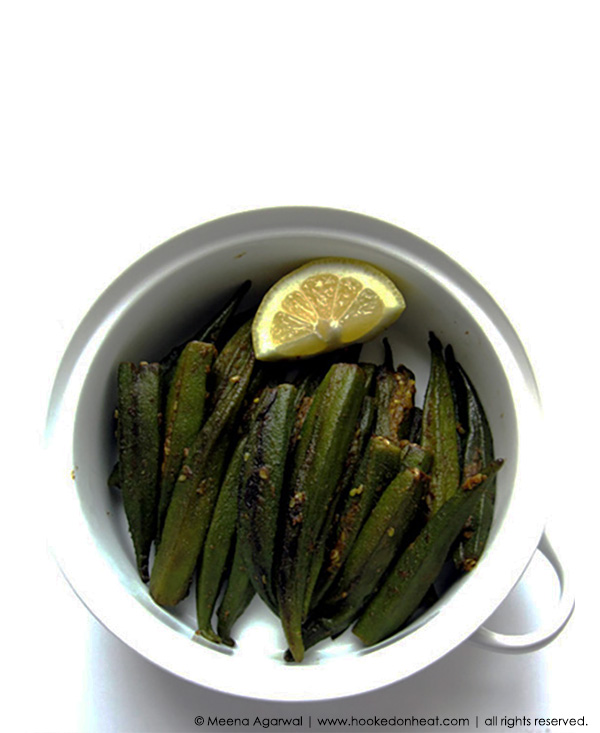 Bhindi, or Okra as we all know it, is quite a tricky vegetable when it comes to cooking. Although it certainly is one of the most popular vegetables in an Indian vegetarian menu, there are a huge chunk of us who wring our noses on its slimy characteristics. Hubby Dear loves this dainty vegetable to death and can eat it at any meal, but serve it up even with the slightest of moisture in it and he's off! I'm the same way. For me, the okra must always be cooked absolutely dry, with lots of spices added in. A quick way to cook bhindi is by stir-frying the chopped pieces with lots of onions and some spices. My tried and tested trick to get rid of any trace of slime while cooking is to add in a hefty pinch of amchoor powder.
Today's recipe is another way to jazz up this humble vegetable and create a dish that's perfect for entertaining. Bharwaan simply means stuffed and in this recipe, the addition of amchoor powder also known as dried mango, takes the spice stuffing to whole other level. In my book, this recipe is an absolute win since it's simple to prep, easy to cook and a definite crowd pleaser. Because this is a pretty dry vegetable side dish, I would suggest pairing it up with a side of Curry or Dal served alongside some Rice and Rotis.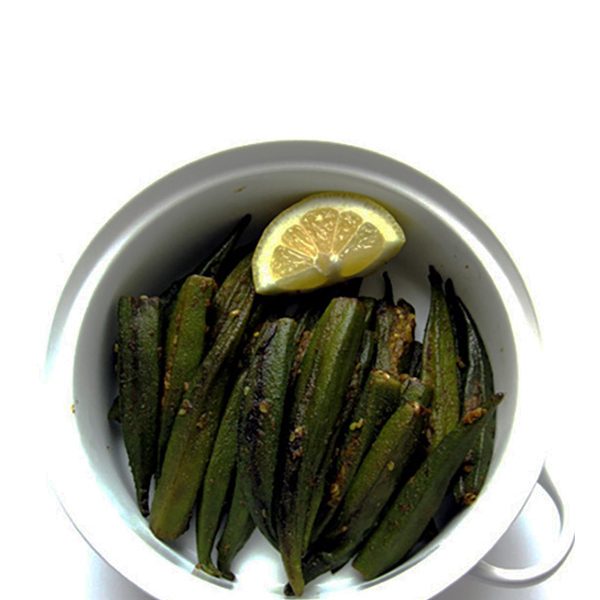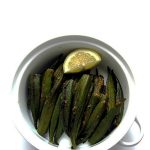 Print Recipe
Bharwaan Bhindi (Spice Stuffed Okra)
Servings: 4
Ingredients
25-30 medium sized okra washed, dried and tops cut off
1/2 tsp red chilli powder
1/4 tsp turmeric powder
1 tbsp coriander powder
1 tsp garam masala powder
1 tsp amchoor powder
salt to taste
2 tbsp light cooking oil
Instructions
Slit each okra halfway through the middle length-wise to open it up to enable stuffing.

In a bowl, prepare the stuffing mix by combining all the spices and salt. Stuff each orka with a generous pinch of the spice mix and set aside.

Heat oil in a large frying pan on medium heat and carefully add in the stuffed okra. Let it cook covered for 8-10 minutes, stirring occasionally so that the okra does not burn.

Once the okra has softened and cooked through, it's ready to serve!
This post was originally published in May 2014 and has been recently updated.
If you enjoyed this Bharwaan Bhindi recipe, you will surely love my Aloo Baingan and Masala Mushroom recipe as well.
Tried this recipe? Leave a Comment and let me know, also Rate it by clicking the number of stars on the recipe card. Want to share your version with me? Tag me on Instagram @hookedonheat