Before I get to today's recipe of Mediterranean Chicken Burgers, there is something I need to say. Hooked on Heat has always been more than just a hobby for me. Since the fall of 2005, when I wrote my first post, this blog has been my outlet to voice my creativity. What started out on a whim one lazy day, gave me the opportunity and freedom to finally realize my dream that I had been nursing since I can even remember. As it grew in readership, I grew along with it; breathing in every slice of good fortune that it brought my way. The icing on the cake, of course, was my first cookbook published in the spring of last year.
Then, life took its toll. I was creatively burnt out for a while after creating over 100 new recipes for the book in the span of just a few months. Then we got busy planning and preparing for Baby Dear's arrival. And once the darling 'lil monster was here, well, let's just say that I now consider a 5-minute shower every morning to be a luxury! I'll be honest here, life has been a crazy roller coaster the last few months. And it's only just getting started!
We recently found out that Baby Dear is severely allergic to wheat. We have yet to test his tolerance to gluten on the whole, but wheat and it's by-products, for now, is absolutely off limits! We've been told that most kids grow out of these kinds of allergies in a few years, so we're keeping our fingers crossed. This has dramatically changed the way Hubby Dear and I look at food now.
Over the past few weeks, I've been busy scouring speciality food stores and trying many new gluten-free products. If you haven't already realized, most of my recipes are naturally gluten-free; save for any bread and baking related ones. I've also been busy coming up with creative dinners that would create a wholesome, balanced meal. I'm not a fan of eating rice with every meal, and since we have completely eliminated Indian bread (or ANY bread, for that matter!) from our dinner plates, it's been a fun challenge to come up with comforting, satisfying results.
Although I have so far taken a positive outlook to this one drawback in Baby Dear's diet plan, I find myself sometimes saddened by all the delicious goodness he would miss that I enjoyed as a child. Crispy puris dunked in a rich potato curry, piping hot Samosas and stuffed parathas; all the delicacies he won't be able to savour. To this, all Hubby Dear says is that everything happens for a reason. And he truly believes that's the reason I do what I do, so that Baby Dear won't be deprived of any flavour in life. Because his mama will create all that and more for him. And for that, I am truly grateful.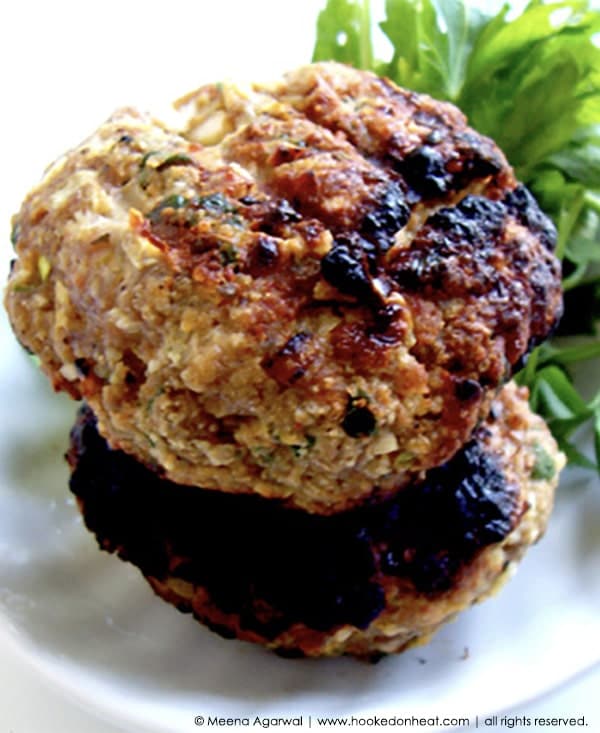 Ever since Hubby Dear invested on a great BBQ grill last fall, we have been basking in its glory. I can't even begin to count how many times we've gone outside and enjoyed our dinners fresh off the grill like these Mediterranean Chicken Burgers. While most times we love having friends and family over for deliciously grilled dinners, we also love to indulge ourselves with some quality together-time – just the three of us, by the fire. We've had some yummy taco/fajita nites, evenings filled with kababs and spicy tikkas, and even the humble-but-surprisingly-delicious grilled corn on the cob! But one of our personal favourites just has to be our big burger nights, and these Mediterranean Chicken Burgers top our list! Deliciously thick and juicy burgers, sandwiched between toasted buns and topped with your choice of veggies. Sounds good? Then what are you waiting for? Hop on and let's get grillin'!!
Mediterranean Chicken Burgers
Servings: 4
Ingredients
1 lb lean ground chicken
1 medium onion finely chopped
1 tbsp finely chopped fresh garlic
2 tbsp finely chopped fresh parsley
1 tsp dried mint
1 tsp cumin powder
1 tsp coriander powder
1/2 tsp red chilli powder
1 tbsp fresh lemon juice
1 egg beaten
2 tbsp olive oil
salt and pepper to taste
Instructions
Mix all the ingredients in a large bowl to incorporate well. You can set it aside in the fridge for a few hours or even overnight to intensify the flavours.

Divide the meat into eight equal portions and form into patties. You can also stretch out the portions to form mini sliders if desired.

Grill till chicken is cooked through and both sides have a slight charring effect.

If using an oven, bake in preheated 375 degrees for 20-25 minutes, turning once in between.
This post was originally published in July 2011 and has been recently updated.
If you liked this recipe, then you will surely enjoy my Chicken Kebabs and Vegan Shami Kebabs as well.
Tried this recipe? Leave a Comment and let me know, also Rate it by clicking the number of stars on the recipe card. Want to share your version with me? Tag me on Instagram @hookedonheat