Baingan Masala or Aubergine Curry is one of those quick and easy no-fuss recipes that's a great addition to your dinner party menu. Tender baby eggplants are cooked in a medley of mild spices and flavoured with onions, tomatoes, garlic and ginger.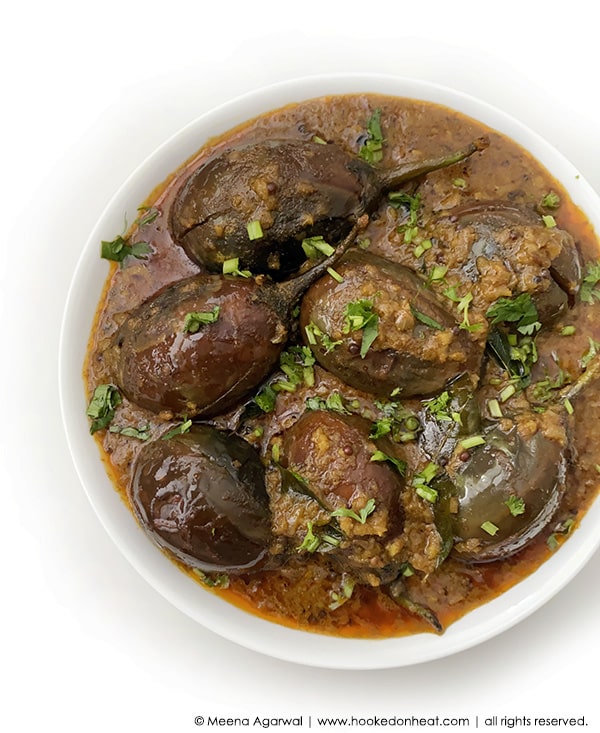 Eggplants are one of the most versatile vegetables that can be made to take on pretty much any kind of flavors. As the eggplant slowly cooks, the spice blend penetrates through the eggplant making it succulent and extremely flavourful on the inside. This dish is best enjoyed when served with a side of freshly made warm rotis and a light chutney. You can also serve it alongside a flavorful rice dish like this Matar Pulao and some salad.
What kind of Eggplants to Use in this Baingan Masala recipe?
When picking eggplants to use for this Baingan Masala or Aubergine Curry recipe, opt for tiny baby eggplants that are commonly found at most ethnic grocery stores. A good substitute to the baby eggplants would be the slightly bigger Italian eggplants. When slicing the eggplants through the middle, avoid cutting completely through and make to leave about half an inch space from the head. This will help the eggplants stay whole throughout the cooking process.
How to Prep the Eggplants?
Once you have slit the eggplants, soak them a large bowl of cold water for a couple of minutes to get rid of any bitterness they may have. Letting them soak in water will also slow down the discoloration of the slit eggplants while you prep the rest of the ingredients.
I often make this recipe when I need an extra side dish to complement my dinner menu. My favorite is to serve this with along side a rich chicken curry and some naans, but you can also serve it up with some Dal and rice for a quick weeknight dinner. This dish can come together in a pretty short amount of time, and is perfect for busy weeknights. I love to serve this Baingan Masala with a quick Dal and some rice or rotis on the side.
Any leftovers of this dish can be easily stored in the fridge for use a day or two later. The leftovers also tend to taste much better the next day, since as with most curries, the flavors have had enough time to blend in and penetrate through the dish.
Baingan Masala (Aubergine Curry)
Servings: 4
Ingredients
2 tbsp light cooking oil
1 tsp cumin seeds
1 tbsp finely minced ginger
1 tbsp finely minced garlic
1 medium-sized onion finely chopped
1/4 tsp turmeric powder
1/2 tsp red chilli powder
1 tbsp coriander powder
1 tsp amchoor powder
1/2 tsp garam masala powder
salt to taste
2 tbsp tomato paste
2 medium-sized tomatoes finely chopped
8-10 small round eggplants slit lengthwise, halfway through the middle
water as required
finely chopped fresh cilantro for garnish
Instructions
Heat oil in a deep non-stick pan and in cumin seeds. Once it starts to sizzle, add in ginger, garlic and onions. Fry till the onions for a few minutes until they become tender and start to lightly brown along the edges.

Stir in the spices, salt and tomato paste to mix well.

Add in tomatoes and stir-fry for 4-5 minutes till they begin to soften and break down.

Add in the eggplants and carefully give it all a good mix to coat well with the spices. Cover and cook for another 4-5 minutes until the eggplants are completely cooked through. If the eggplants and spices start to stick to the pan, then add in a splash of water and give a quick mix to prevent it from burning.

Garnish with fresh cilantro and serve warm.
If you enjoyed this Baingan Masala recipe, you will surely love my Baingan Bharta and Aloo Baingan recipe as well.
You can find the web story to this Baingan Masala (Aubergine Curry) recipe here. To watch more of my other recipe web stories, click here.
Tried this recipe? Leave a Comment and let me know, also Rate it by clicking the number of stars on the recipe card. Want to share your version with me? Tag me on Instagram @hookedonheat