Aloo Masala literally translates to Potato with Spices. In most Indian households, pantry staples like onions, tomatoes and potatoes, along with some basic spices are what people often depend on when they're short on time or creativity. And it is no surprise that just with these, you can create a pretty hearty meal to feed the whole family.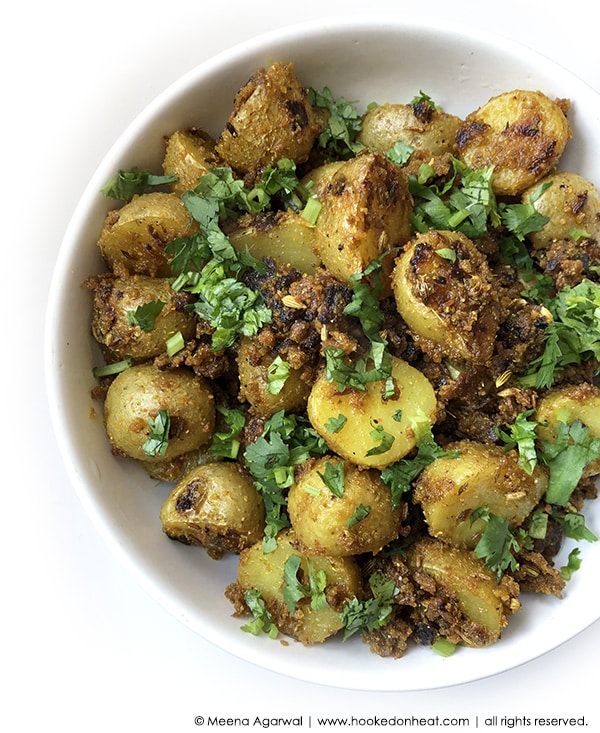 On most days, by the time we all get home in the evenings, we are starving and craving for a warm home-cooked meal. And more often than not, I am too tired to whip up anything extra than a quick one-pot meal. Since Hubby Dear has been out of town since the past two weeks, I've found myself spending much less time in my kitchen. Little Dude and I take it easy when it's just the two of us, and we can be just as happy opening up a pack of instant noodles or having a grilled cheese sandwich for dinner.
But last night, as we were huddled indoors amidst a wild snow storm, I started craving a good home-cooked Indian meal. Something wholesome, fulfilling and delicious – like this Aloo Masala recipe. And not to mention, quick! Oh yes, it just had to be quick. We were tired and hungry, and really just wanted to wrap ourselves in our blankets in front of the blazing fireplace and catch up on our current k-drama episodes. Yes, in case I haven't mentioned it – we're kdrama addicts. Thank you pandemic!
As I set my favourite Dal to cook in my trustly Instant Pot alongside some steaming rice, I thought of making a really quick side dish. No guesses as to what it would be made of. I walked into my pantry and found them – a nice big bowl of baby potatoes, perfect for this Aloo Masala recipe!
Potatoes are easily one of the staples of a classic Indian meal. It is also one of the most versatile and beautiful vegetables I know and love. I let a batch of them boil just until tender and the stage was then set for a wonderfully delicious and fulfilling dinner!
Aloo Masala (Sauteed Potatoes with Spices)
Servings: 4
Ingredients
2 tbsp light cooking oil
1 tsp whole cumin seeds
1 tbsp finely chopped ginger
1 tbsp finely chopped garlic
1 medium-sized onion finely chopped
1/2 tsp red chilli powder
1/4 tsp turmeric powder
1 tbsp coriander powder
1/2 tsp garam masala powder
1 tbsp tomato paste
15-20 baby potatoes boiled until tender, and halved
salt to taste
a handful of fresh cilantro finely chopped, for garnish
Instructions
Heat oil in a large non-stick pan on medium-high heat and add in the cumin seeds. As soon as they start to sizzle, add in ginger, garlic and onions, and stir-fry for a couple of minutes until the onions start to brown along the edges.

Mix in the spices and tomato paste, and stir-fry for a few seconds to mix everything.

Add in the potatoes and salt, mix well and let it cook for another 5-6 minutes on medium-low heat until the potatoes start to crisp along the edges.

Garnish with fresh cilantro and serve warm.
This post was originally published in July 2006 and has been recently updated.
If you enjoyed this recipe, then you will surely love my Jeera Aloo, Crispy Chilli Potatoes and Aloo Baingan recipe as well.
Tried this recipe? Leave a Comment and let me know, also Rate it by clicking the number of stars on the recipe card. Want to share your version with me? Tag me on Instagram @hookedonheat