Over the past few years, it has almost become a tradition in our home to have this Paneer Bhurji recipe as one of our festive meals. You can also use it as a filling for sandwiches or wraps, scoop it up with tortilla or pita chips, or serve it as a side with some fresh warm rotis or naan.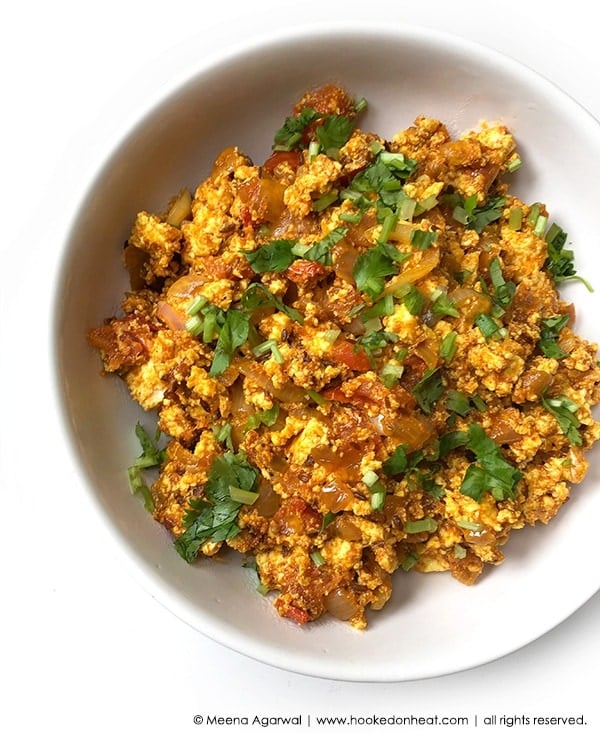 For as long as I can remember, I have always been a muncher. You know, the kinds who can nosh through meal times over little bites of delicious finger food. Growing up, I clearly remember warm summer afternoons, or even cold winter ones for that matter, where we would often substitute our dinner for a platter of the most guilt-ridden snacks. Lovely fritters deep-fried till crisp and drowned in a tangy chutney, smoky char-grilled tikkas and kebabs, scrumptious sandwiches with the most amazing fillings – like this Paneer Bhurji recipe, and of course, my personal favourites of deliciously spiced street foods.
As I grew older, my love for noshing grew wider, incorporating in it varied flavours, from every cuisine I ever had a go at. Friday nights for me meant junk night – wherein, strictly avoiding a proper 3-course meal for dinner, I would instead opt for a plateful of wings, fries, or on many occasions, samosas. It was the only way I knew how to have a Friday night meal. Anything else seemed totally hideous.
When I first met Hubby Dear, I was super excited to know that like me, he too grew up in a household where good food, and noshing was of high priority. Truly, matches are made in Heaven, but I'd like to believe that ours was cooked up in a 5-star kitchen filled with all things a culinary goddess could only dream of having.
With Little Dude in tow now, our Friday nights are not much different from those of a few years ago. There's no denying the kid is a foodie, and good, tasty food like this Paneer Bhurji is just what gets him going! This past weekend, for Diwali, I wanted to indulge in something that wouldn't leave me feeling guilt-ridden – and this Paneer Bhurji recipe was just perfect!
PANEER BHURJI (SCRAMBLED PANEER)
Servings: 4
Ingredients
2 tbsp light cooking oil
1 medium onion, thinly sliced
1/2 tsp turmeric powder
1/2 tsp chilli powder
1 tsp coriander powder
1 medium tomato, finely chopped
400 gms paneer, grated fine
salt, to taste
fresh coriander leaves, finely chopped for garnish
Instructions
Heat oil in a non-stick wok on medium-low heat and saute onions till tender and lightly browned. Add in spices, and fry for a few seconds till fragrant. Be careful not to let it burn.

Add in chopped tomato, and fry till it starts to soften. Add in paneer, season with salt, and stir fry till paneer is completely blended with the spices.

Garnish with cilantro leaves and serve.
If you liked this recipe, you will surely like my Masala Egg Bhurji.
Tried this recipe? Leave a Comment and let me know, also Rate it by clicking the number of stars on the recipe card. Want to share your version with me? Tag me on Instagram @hookedonheat