The countdown to Diwali has already begun and our home is getting decorated as I type this – with a steaming cup of coffee and bowl full of Masala Mathri by my side. This year, unlike years past, I've made more festive treats from scratch than I can ever remember. It was also the first time in a long, long while where I actually made use of all the gadgets I have in my kitchen. Needless to say, that was what made all this possible.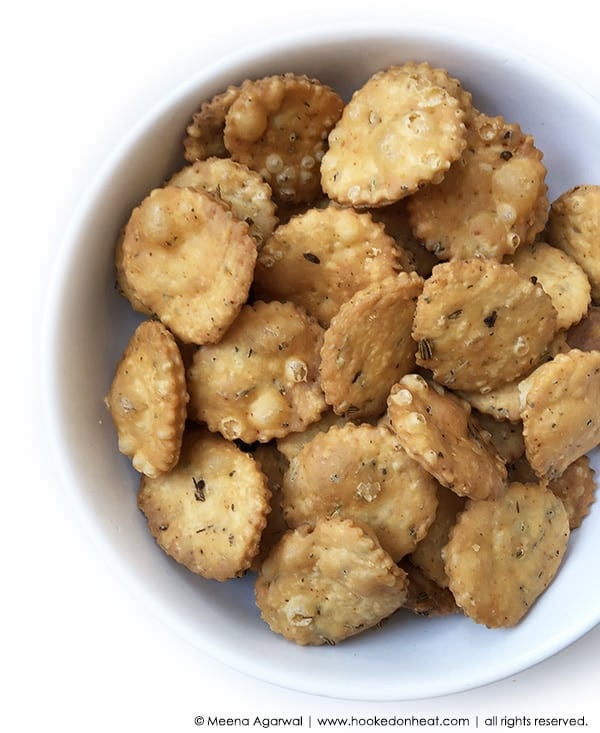 Each year, during the week before Diwali, my kitchen automatically gets converted into a mini snack shop – producing quantities of savouries large enough to feed my entire neighbourhood. And then some. Requests start pouring in from Hubby Dear and Little Dude a month in advance – they have their favourites and it rarely changes.
One special request from Hubby Dear this year was Masala Mathri – crisp fried spicy cookies. They're absolutely addictive and no one can really stop at one! These lovely treats can be stored in an air-tight container for about 2-3 weeks. That is if you resist them that long!
If you're just getting started with your Diwali prep and would like some quick and recipes to treat your family to, I have a quite a few of them that you can find if you click here. Here's wishing all my readers a Very Happy and Prosperous Diwali!
Masala Mathri (Spiced Fried Cookies)
Ingredients
2 cups all-purpose flour
1 tbsp fennel seeds
1 tbsp kasoori methi
1/2 tsp red chilli powder
1/4 tsp salt
1/3 cup light cooking oil
water as needed
oil for deep frying
Instructions
Mix flour, spices, salt and a 1/4 cup of oil with enough water to make a smooth firm dough. Let it rest for at least 20 minutes.

Heat enough oil in a deep wok or pan for deep frying.

Divide the dough into fist-sized balls, and each ball of dough, roll it out into a circle of about 0.5 cm thickness and prick all over with a fork to prevent the cookies from puffing up while frying.

Using a cookie cutter, cut the rolled out dough into circles about 5cms in diameter.

Fry the cut out cookies in hot oil till they turn golden brown and crisp on both sides. Remove on a paper towel to drain excess oil, allow to cool, and enjoy!
Notes
These cookies can be stored in an air-tight container for about 2-3 weeks. That is if you can resist them that long!
If you looking for similar festive snacks like this Masala Mathri, then I'm sure you'll love my Namak Pare and Shakkarpare recipes as well.
Tried this recipe? Leave a Comment and let me know, also Rate it by clicking the number of stars on the recipe card. Want to share your version with me? Tag me on Instagram @hookedonheat