It's very rare that I ask Hubby Dear to run into the grocery store to pick up anything I need, but I had to when I thought of making this Jeera Rice. When it does happen, however, it's never without strict and detailed instructions of what I want, where he can find it, and how to pick the best one. Even then, he has never entered a store without giving me at least one call to have me remind him of all that I said a few minutes ago. It's hard to believe then that he still comes home with something wrong in some way.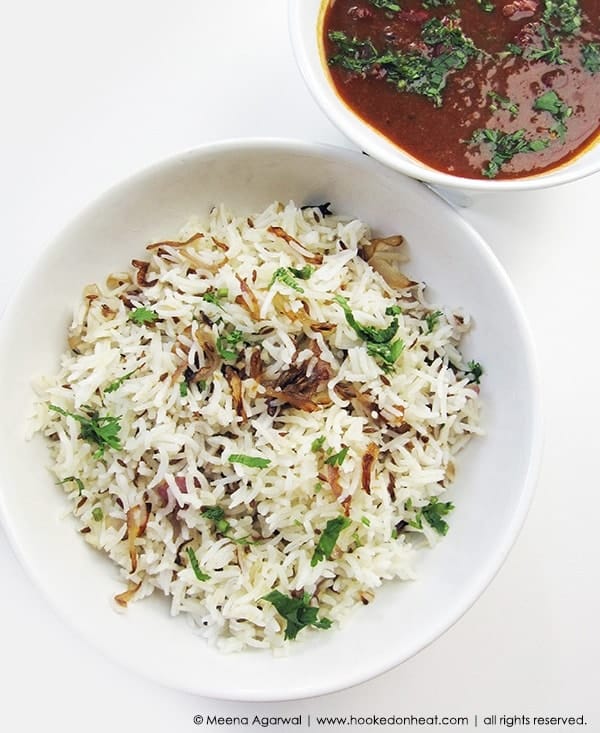 There was this one time, over 10 years ago, when I had asked him to stop by the Indian grocery store on his way home and pick up a bag of cumin seeds, which I needed to make some Jeera Rice. He happily obliged and was actually quite proud of himself for getting the 2 lbs bag which was way, way cheaper than the 1/2 lb one that I had asked for. In his mind, cumin seeds are mostly always used in Indian cooking and we'd easily go through the big bag quite quickly. Fair enough. Except, that what he handed me wasn't cumin seeds at all, but instead a ginormous bag of carom seeds – what we call ajwain. Now, ajwain is not used regularly in Indian cooking. In fact, I only use a tiny pinch of it while making puris or parathas. Which again, I rarely ever make. I used as much of it as I could in the next 6 years, even taking it along to the two houses that we've moved into since until I finally made peace with the fact that I would always be left with some to take with me to my grave. Then I tossed it into the bin!
A couple of weeks ago, while I was frantically trying to get a huge Indian menu together for a dinner party, I realized that I was suddenly out of ginger. Luckily for us, we live a stone's throw away from a 24/7 grocery store that caters to your every whim and fancy. I rushed Hubby Dear out the door with strict instructions to buy me some just enough to last the coming week. To my horror, he came back a few minutes later with what seemed like enough ginger to last me the entire month. And then some.
It's Hubby Dear's birthday in a couple of weeks and we're having family over for a lavish dinner. So while I go and test out recipes that could use a heavy hand of ginger, I'm leaving you today with a recipe of Jeera Rice – a restaurant favourite of the man himself. It's ridiculously simple and not to mention delicious. Serve it alongside any curry of your choice, or even some Raita if you're pressed for time. Whatever you do, do say a silent prayer for all the ajwain that I bid farewell to – for somewhere out there there's a recipe that's calling its name.
JEERA RICE (CUMIN RICE)
Servings: 4
Ingredients
2 tbsp light cooking oil
1 cinnamon stick
1 star anise
1 tbsp cumin seeds
1 medium onion thinly sliced
3 cups cooked Basmati rice cooled to room temperature
salt to taste
handful of fresh cilantro leaves finely chopped
Instructions
Heat oil in a non-stick pan on medium-low heat and add in cinnamon, star anise and cumin seeds. Once they start to sizzle and become fragrant, add in onions, and fry for a few seconds till lightly browned. Be careful not to let it burn.

Stir in cooked rice, season with salt and stir-fry for a couple of minutes till rice warms through.

Garnish with cilantro leaves and serve warm.
If you like this recipe, then you will surely like my Jeera Pulao (Cumin Pilaf).
Tried this recipe? Leave a Comment and let me know, also Rate it by clicking the number of stars on the recipe card. Want to share your version with me? Tag me on Instagram @hookedonheat