I recently made this quick and simple Thai Curry Noodle Soup over the weekend and immediately remembered the last time I had it, which was quite a while ago! Just before the end of last year, I taught my first hands-on cooking class to a small group of food enthusiasts. The class was called 'Tasty Bites', and comprised of mainly finger foods and appetizers – perfect for the upcoming holiday season and also my absolute favourite kind of meal to enjoy with company! Some of the recipes we worked on during the class included Skewered Chicken Tikkas with a cool Beetroot Raita, Roasted Red Pepper Hummus with Zaatar Spiced Pita Chips, Mint Kebabs with Tzatziki and one of the most popular recipes on this blog – Ginger Shrimp served alongside a Tangy Corn Salsa.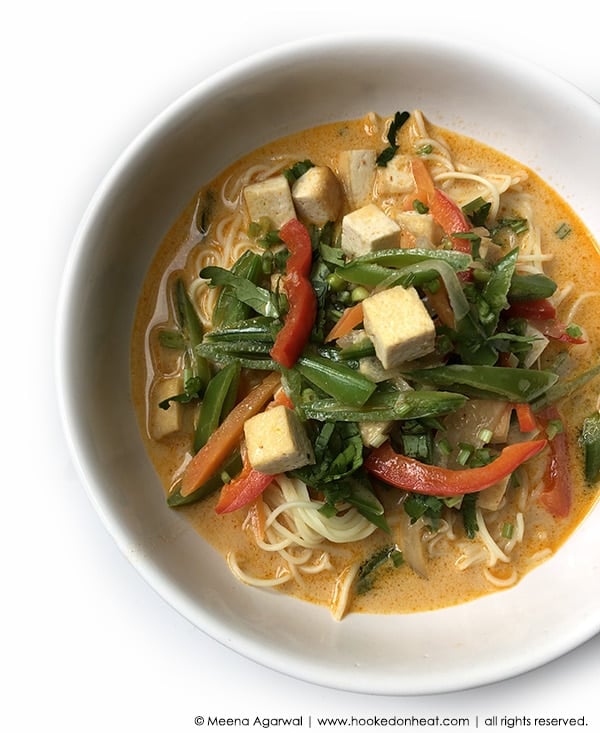 Throughout the class, as I was giving tips and tricks on how to cook a quick, healthy and delicious meal on a busy weeknight, it suddenly dawned on me that it would be very easy to turn any one of the recipe pairings being taught in the class into a complete and nutritious meal. For example, the Mint Kebabs could be rolled into a pita with a dollop of Tatziki and some lettuce and tomato, to make a delicious Mediterranean-inspired sandwich. The Chicken Tikkas could be served along side some rice and Raita, for a delicious Indian flair. Throw in some chopped cucumbers and tomatoes into the Corn Salsa, top it with the Shrimp and you'll have a filling and tasty salad in a jiffy. The best part in all of this though, is that each and every recipe does not take more than 30 minutes from start to finish – prep time included!
It was fun watching the guests getting busy in their work stations, eager to perfect the recipe picked out for their respective table. I've taught a number of cooking classes, all in the format of a demonstration, but never a hands-on class where people follow the recipes and make it themselves. All in all, it was a fun time had by all – the food was devoured, cooking techniques were learnt and perfected, wine was paired with every course, and I came home with a happy heart and not to mention, a rumbling tummy.
All through my drive home as it started to lightly snow, I couldn't get the thought of a big comforting bowl of Thai Curry Noodle Soup out of my mind.
Taking a cue from all the wisdom I had just shared a few minutes ago, I decided to make myself a quick and simple version of Thai Curry Noodle Soup. The noodles were set to boil while the sauce simmered and the veggies were being chopped. Twenty minutes in, I was snuggled on the couch with my feet up, enjoying my well-deserved hot dinner.
Thai Curry Noodle Soup with Tofu & Veggies
Servings: 4
Ingredients
1 tbsp light cooking oil
1 tbsp finely chopped garlic
2 tbsp Thai red curry paste
1 small-sized onion thinly sliced
2 cups cubed extra-firm tofu
1/2 cup julienned carrots
1 cup thinly sliced green beans
1 cup thinly sliced red peppers
2 cups coconut milk
3 cups vegetable stock
salt & pepper to taste
1 lb thin noodles of choice boiled according to package instructions and drained
fresh coriander leaves for garnish
lime wedges for garnish
Instructions
Heat oil in a deep pan, and sauté garlic and curry paste for a few seconds till fragrant. Add in onions and tofu, and saute till tofu gets lightly browned along the edges.

Add in the veggies, coconut milk and vegetable stock, and let it come to a slow boil on low heat.

Season with salt and pepper, add in the cooked and drained noodles and garnish with coriander leaves and a squeeze of lime juice. Ladle in large bowls and serve piping hot with lime wedges on the side.
If you enjoyed this recipe, then you will surely love my Coconut Curry Noodle Soup, Mee Goreng, and Garlic Tofu Noodles recipe as well.
Tried this recipe? Leave a Comment and let me know, also Rate it by clicking the number of stars on the recipe card. Want to share your version with me? Tag me on Instagram @hookedonheat