Chilli Potatoes is one of those recipes that's quite simple to make, uses limited ingredients and needs to be enjoyed fresh off the stove! This dish tastes best just when it comes off the heat – while the potatoes are still crisp along the edges with the flavourful sauce permeating through it.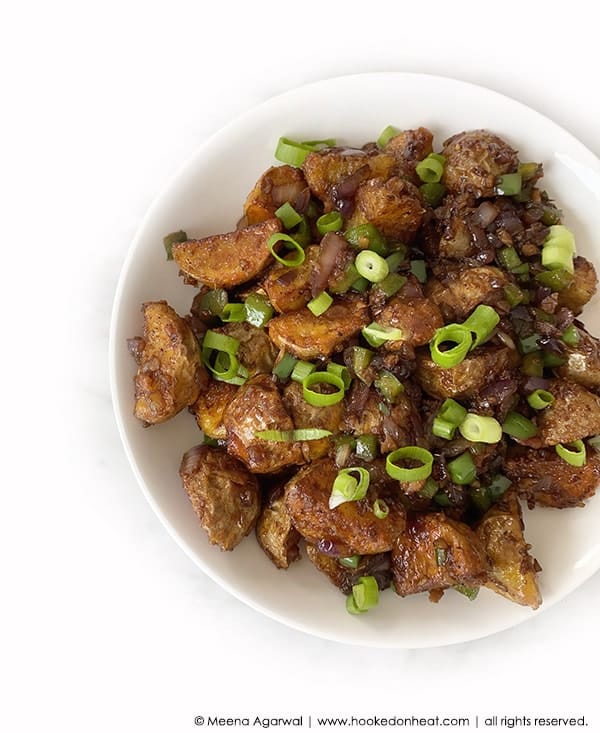 If you know me at all, then you'd know that Indian Hakka – or more explicitly, Indian-style Chinese, is one of my favourite cuisines to indulge in! I absolutely love the robust, aromatic flavours and can never get enough of them! Over the years, I've shared quite a few of my staple Indo-Chinese recipes on this blog – Chilli Chicken, Gobi Manchurian, Chilli Paneer and Fried Rice, to name a few. And this recipe for Crispy Chilli Potatoes is another crowd-pleaser added to that long list.
One of my favourite things about Indian-style Chinese or Hakka cuisine is the mix of spices and sauces from both regions. India and China are each so diverse in their food options and marrying the two together is just pure genius, in my opinion! Whoever came up with this idea to do so – hats off to you!
If you plan on serving this for a crowd, I'd suggest keeping the sauce ready and tossing in the fried potatoes just when you're about ready to eat.
You can serve this alongside some Fried Rice or Noodles. Add in a side of Chilli Chicken and Gobi Manchurian to make a complete Hakka meal, or serve it on its own as a lip-smacking snack or appetizer. Enjoy!
What's your favourite Hakka dish?
Crispy Chilli Potatoes (Hakka-style)
Servings: 4
Ingredients
oil for deep frying
12-15 baby potatoes cut into quarters
3 tbsp light cooking oil
1 tbsp finely chopped ginger
1 tbsp finely chopped garlic
1/2 cup finely chopped onions
1/2 cup finely chopped green bell pepper
1/4 tsp red chilli powder
1/2 tsp white pepper powder
2 tbsp soya sauce
salt to taste
finely chopped green onions for garnish
Instructions
Heat enough oil in a deep pan and deep fry the potatoes till crispy and cooked through. Set aside.

Heat 3 tbsp oil in a large non-stick wok and add in ginger and garlic. Fry for a few seconds till fragrant before adding in the chopped onions and peppers. Fry for couple of minutes till the onions start to lightly brown.

Add in the spices, soya sauce and salt, and mix well.

Toss in the fried potatoes and stir-fry to combine well with the sauce.

Garnish with chopped green onions and serve.
Notes
You can substitute the potatoes with fried cubes of paneer or tofu for a change. 
If you enjoyed this Crispy Chilli Potatoes recipe, you will surely love my Chilli Chicken – Hakka-style, Chilli Paneer and Ginger Shrimp Stir-fry recipe as well.
You can find the web story to this Crispy Chilli Potatoes recipe here. To watch more of my other recipe web stories, click here.
Tried this recipe? Leave a Comment and let me know, also Rate it by clicking the number of stars on the recipe card. Want to share your version with me? Tag me on Instagram @hookedonheat