A couple of days ago, I found myself in a rare moment. I was alone at home, it was pouring cats and dogs outside, and I had my favourite book in hand. The first thought that came to my mind? A cup of steaming hot coffee and some crispy Palak Pakoda on the side would seal the deal right there!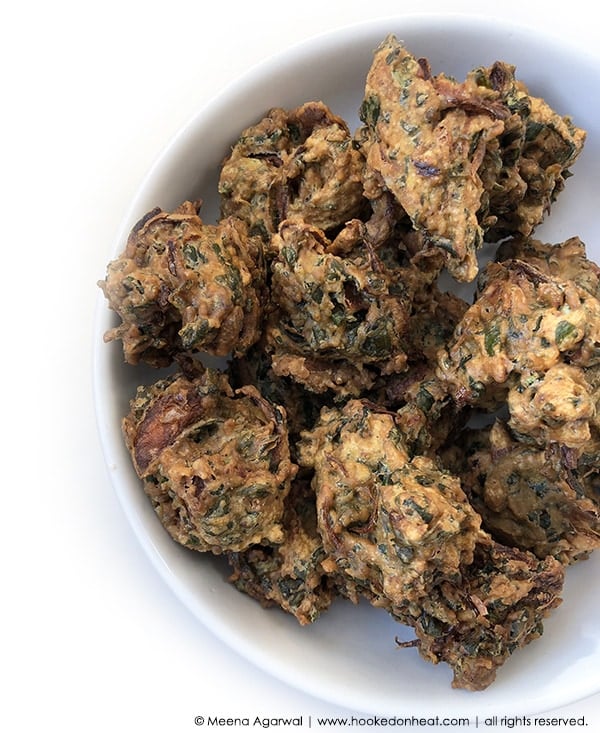 Monsoon, or the rainy season in India, is always greeted with open arms alongside copious amounts of chai and pakoras. For me though, tea has never been the caffeine of choice. I'm a java girl all through – so much so, that I've even converted the once tea-loving Hubby Dear who now swears that his morning can't begin without a sip of coffee! But Palak Pakoda?
I believe that rainy days and deep-fried food, like this Palak Pakoda recipe, can make any food lover swoon at its combination!
Some of the classic types of pakodas include dunking bite-sized veggies like potatoes, cauliflower, chilli peppers, onions and eggplant into a thick batter of chickpea flour and spices. Another street vendor favourite is the stuffed bread pakora that's made by coating a spiced mashed potato sandwich in the batter before deep frying. I've even once, a long time ago, tried some made with chicken – the meat was deliciously tender and delicately seasoned.
Pakodas come in all shapes and sizes and can be made with almost anything you can imagine – so let your mind run wild, starting with this Palak Pakoda recipe!
Since the past few years, we have an unwritten but understood rule in the kitchen – no deep fried foods except for very, very special occasions. Like Samosas and Puris on Diwali. Or Gobi Manchurian on Hubby Dear's birthday week. And pakodas, when I just can't stop thinking about them! We love pakodas of any kind, but are definitely much more partial to the ones with spinach and onions. These babies are best enjoyed piping hot dunked into some Green Chutney or just good ol' tomato ketchup.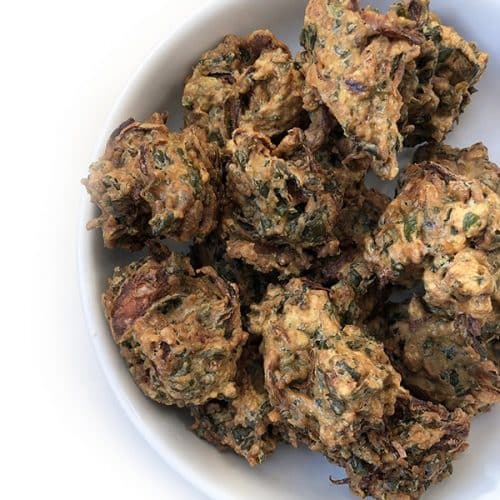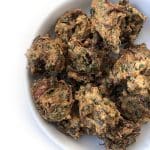 Print Recipe
Palak Pakoda (Indian-style Crispy Spinach Fritters)
Ingredients
2

cups

finely chopped fresh spinach

1/2

tsp

fennel seeds

1/2

tsp

red chilli powder

1/4

tsp

cumin powder

1/4

tsp

chaat masala

salt

to taste

1

cup

chickpea flour, also known as besan

water

as needed

light cooking oil

for deep frying
Instructions
Mix everything except the water and oil in a large bowl until well incorporated. Slowly add in water to form a thick, pancake-like batter.

Heat enough oil in a deep wok for deep frying. Gently add in a tablespoon of the batter to make the fritters. Try and not crowd the wok by adding too many at a time.

Deep fry for 6-8 minutes on medium heat, turning them over to ensure that they brown and cook on all sides. Once the fritters are golden brown and crisp, remove them on paper towels to soak up any excess oil. Serve hot with some Green Chutney or ketchup on the side!
This post was originally published in July 2014 and has been recently updated.
If you enjoyed this recipe, then you will surely love my Onion Pakoda (Onion Fritters) recipe as well.
Tried this recipe? Leave a Comment and let me know, also Rate it by clicking the number of stars on the recipe card. Want to share your version with me? Tag me on Instagram @hookedonheat