This Mung Bean Salad recipe is a classic Indian-style tangy salad made with green mung beans, usually served as an evening snack or as a side with your meal. The dish literally takes minutes to bring together, but what I've realized with time is that if you let it sit for a couple of extra minutes, the flavors simply intensify.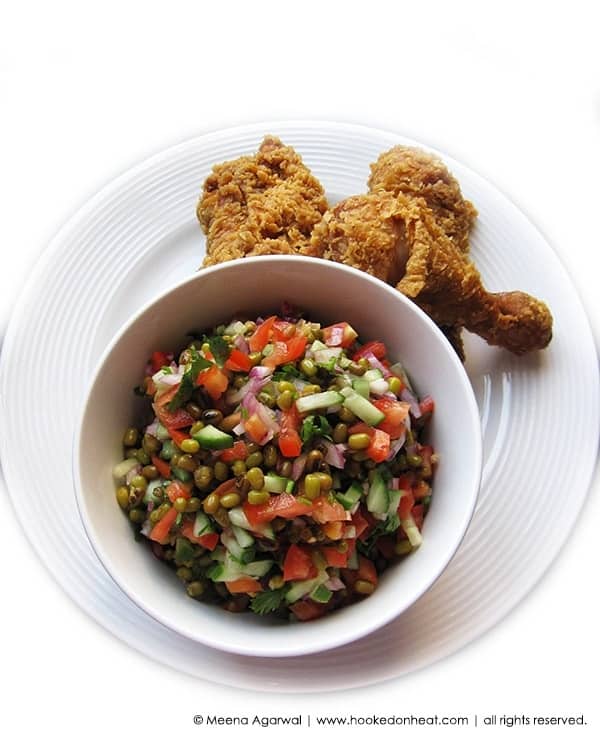 A few days ago I came across a jar of dried mung beans sitting forgotten in my pantry. I always make sure that my pantry is stocked with a variety of dried beans and lentils at any given time. They're an easy, vegetarian/vegan source of protein and are chock full of wonderful nutrients. Really, you can never go wrong with them! They work well as a main course, a side and even in salads. They blend well with most flavours and are delicious.
This Mung Bean Salad recipe is one that I often crave on warm summer days when I want a light, filling lunch that also packs a punch! Tender cooked mung beans are tossed with chopped cucumbers, tomatoes, onions, herbs and spices with a generous sprinkling of lemon juice on top. This salad is a summer staple in many Indian homes and is often seasoned with different spices, depending on preference.
You can add finely chopped fresh green chilies to this recipe to give it a stronger kick. Street vendors in India usually have bowlfuls of chopped chilies from which they liberally add according to the customers' discretion. If you're still looking to turn up the heat but don't want to set your palate on fire, try using fresh green jalapenos instead. Although they are fairly hot in heat level, they are still a touch milder as compared to the classic green chilies.
I knew I wanted a nice, quick, hearty salad to pair with my dinner – and this Mung Bean Salad worked wonderfully alongside the warm Tomato Pulao.
MUNG BEAN SALAD
Servings: 4
Ingredients
1 cup dried mung beans soaked overnight and boiled till cooked through
1 small onion finely chopped
1 large tomato finely chopped
1 medium seedless cucumber finely chopped
a handful of fresh cilantro leaves finely chopped
1/4 tsp red chilli powder
1/2 tsp cumin powder
1 tsp chaat masala powder
2-3 tbsp fresh lemon juice
salt & pepper to taste
Instructions
Mix all ingredients together in a large bowl and serve.
Tried this recipe? Leave a Comment and let me know, also Rate it by clicking the number of stars on the recipe card. Want to share your version with me? Tag me on Instagram @hookedonheat