Before I get to my recipe for Keema Alu Matar, here is an email I received over the weekend from a long time reader:
Hi Meena,

I was wondering if you could help me. My husband and I LOVE north Indian food and I've cooked many recipes of yours that have been huge hits with us. Now, I want to start introducing my two girls to the flavours we both so love. The thing is, they'll eat almost anything with ground meat in it, and so I thought that starting them off with a dish of ground meat cooked in the Indian way might give me a positive response from them. Any chance you have a kid-friendly recipe that I could try out for them? We love chicken as a family, but ground beef and lamb would work for us too.

Karen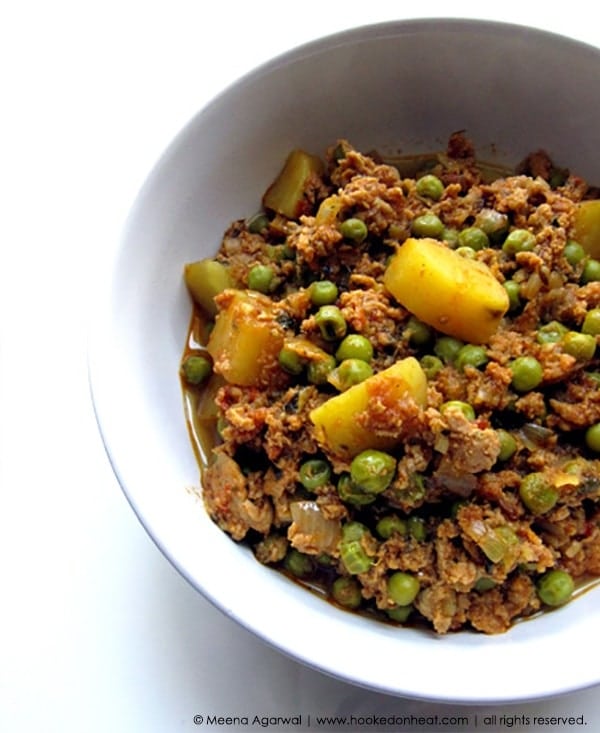 Well Karen, first off let me start by saying how pleased I am that you and your husband are enjoying my recipes cooked at home. Nothing makes me happier than knowing that someone stepped into their kitchen and cooked an Indian meal. Also, hats off to you for trying to introduce your kids to new flavours by bringing in something that they already enjoy. That's a wonderful way to open them up to something different, yet similar.
Keema Alu Matar is a wonderfully simple, yet comforting dish that you can definitely try out with kids.
It's quite mild in taste, yet has a deliciously well-rounded robust flavour that is often expected from Indian food. It's reminiscent of Chili or Sloppy Joes, and you can surely serve it alongside some bread to avoid diverting from familiarity all together. The addition of peas and potatoes should also go well with kids. I hope you give this recipe a try and I'd love to hear back on how the girls liked it.
Here are a few other recipes that might help in introducing kids to Indian flavours: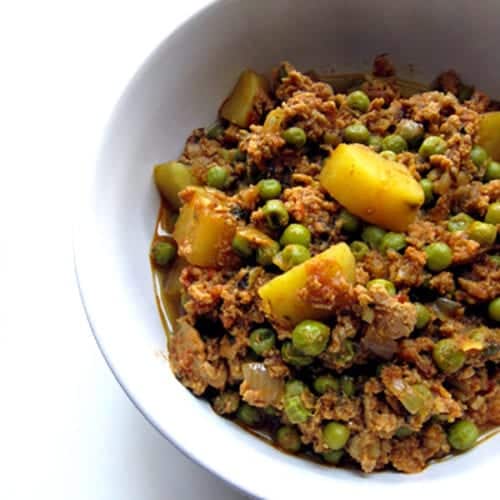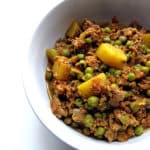 Print Recipe
KEEMA ALU MATAR (GROUND MEAT WITH POTATOES & PEAS)
Ingredients
2

tbsp

light cooking oil

1

cinnamon stick

2

large black cardamom

1

star anise

2

bay leaves

1

tsp

cumin seeds

2

medium onions

finely chopped

1

tbsp

ginger paste

1

tbsp

garlic paste

1/2

tsp

red chilli powder

1/4

tsp

turmeric powder

1

tbsp

coriander powder

1

tsp

garam masala powder

2

tbsp

tomato paste

2

medium tomatoes

finely chopped

1

lb

lean ground chicken

2

medium potatoes

cubed

1

cup

frozen peas

thawed

salt

to taste

water

as needed

a handful fresh coriander leaves

chopped for garnish
Instructions
Heat oil in a large non-stick pan and add in the cumin seeds, cinnamon, cardamom, star anise and bay leaves. As soon as they begin to sizzle, add in chopped onions, and fry for 3-5 minutes on medium-high heat till it starts to brown a bit and turn soft. Add in ginger and garlic pastes and sauté for another minute or two till fragrant.

Add in spices and tomato paste, and fry for a couple of minutes to blend well. If it starts to dry out and stick to the bottom of the pan, add in a splash of water.

Mix in tomatoes, and cook covered for a few minutes till well incorporated. Add in the ground chicken and potatoes, mix well and let it cook covered on low heat for another 10 minutes. Add in a splash or two of water if the meat starts to dry out and stick to the pan. Season with salt and slowly mix in the peas and cook covered again for a few more minutes till potatoes are fork-tender.

Garnish with freshly chopped coriander leaves and serve piping hot with a side of rotis or rice, and a salad.
Tried this recipe? Leave a Comment and let me know, also Rate it by clicking the number of stars on the recipe card. Want to share your version with me? Tag me on Instagram @hookedonheat