Fried Tofu is a popular snack dish served all over Malaysia. It's crispy, flavourful, and packs a punch nutrition-wise. The highlight of this dish, however, is the spicy peanut dipping sauce.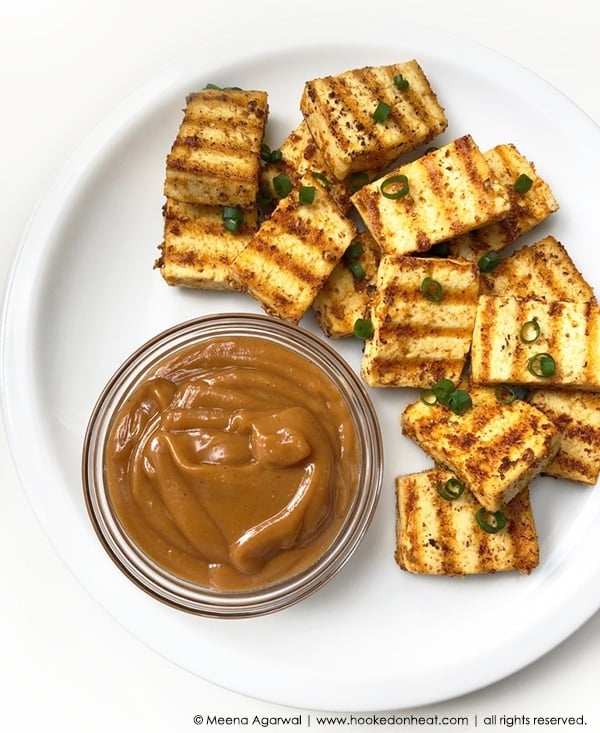 This recipe for Fried Tofu with Peanut Sauce was created in partnership with Hamilton Beach Canada, as one of their brand ambassadors. All opinions, as always, are my own. I only write about and recommend products I use and love myself.
For those of you who know me, also know that I'll go to pretty much any length to duplicate my favourite flavours but at the same time, struggle to create a much easier and simpler version of the recipe in question. Conquering the Peanut Sauce to pair up with the Fried Tofu was one such daunting task. Never having been witness to its cooking process, all I had to help me with were the familiar flavours and a bunch of off-the-web recipes. The taste was still fresh in my mind, the recipes, on the other hand, I winced at. Some I thought had weird ingredients, most others had listed enough to feed an army.
They say a woman has a sixth sense when it comes to just knowing things, something of a hunch. So, as always, I turned to my ever-growing spice cupboard, threw caution to the wind and just followed my instinct. Works every time!
Fried Tofu & Peanut Sauce
Servings: 4
Ingredients
500 gms extra firm tofu cut into 20 equal pieces
2 tbsp light cookingoil
2 tbsp fresh lime juice
1 tsp garlic powder
1 tbsp coriander powder
1/2 tsp turmeric powder
1/2 tsp red chilli powder
salt to taste
For the Peanut Sauce
1 cup peanut butter
1/2 cup hot water
1/4 tsp garlic powder
1/4 tsp red chilii powder
squeeze of fresh lime juice
Instructions
Marinade the tofu with allthe ingredients for 15-20 minutes

Heat a grillpan and fry up the tofu pieces for about 2-3 minutes on each side, so you get nice grill marks.

Serve warm with Peanut Sauce and sliced cucumbers.
For the Peanut Sauce
Warm up the peanut butterin a microwave for a few seconds so that it softens.

Add in the spices, andslowly stir in the hot water till you get a smooth saucy consistency.

Squeeze in lime juice andstir to mix well.
If you enjoyed this recipe, you will surely love my Peanut Noodles and Ginger Shrimp Stir-fry recipe as well.
Tried this recipe? Leave a Comment and let me know, also Rate it by clicking the number of stars on the recipe card. Want to share your version with me? Tag me on Instagram @hookedonheat