Cooking during the summer months is a whole new ball game for me – and this Coconut Shrimp Curry is a winner all the way! I've never been a big fan of summer, and honestly, having a birthday in a month that sort of inaugurates this season is a bummer. I'm the kind of person who breaks into a sweaty mess even at the slightest glow of the sun, so being outdoors in the heat just simply does not appeal to me.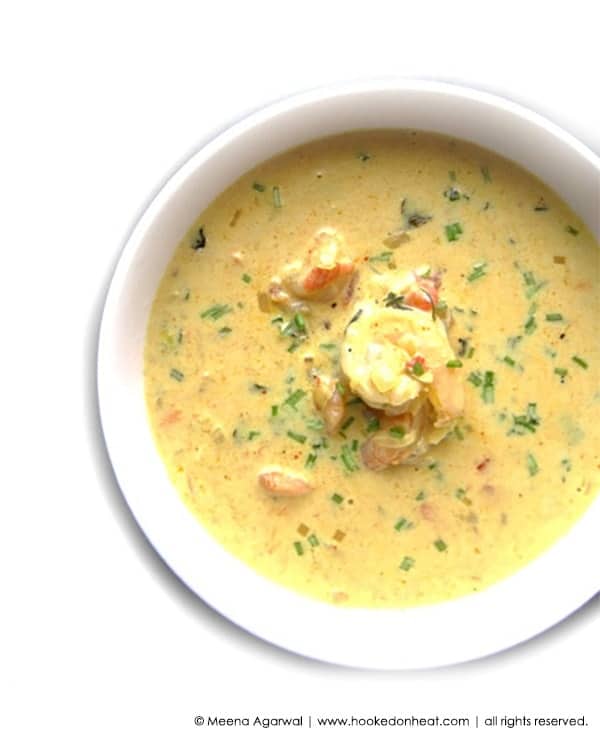 Since the kitchen can often turn into a furnace with the stove running, our everyday meals tend to change up quite a bit. The oven is almost never turned on. Slow simmering soups, stews and curries give way to quick stir-fries, one-pot meals and fresh, crisp salads and sandwiches. In short, summer is the time when I spend the least time in my kitchen and a whole lot more time buried in books with the AC cranked up pretty high!
Although gorging on quick and light meals, like this Thai Basil Chicken, is a welcome respite from the heat and humidity, there are evenings when we do crave a big hearty bowl of some curry drowned rice. And during these times, I will always bring out some of my best creations – a quick curry made with readily available pantry staples, just like this Coconut Shrimp Curry. These recipes are tucked away in my back pocket ready to be dished out in times of need. They are simple, quick and delicious, and perfect for a busy weeknight.
Coconut Shrimp Curry
Servings: 4
Ingredients
2 tbsp light cooking oil
1 tbsp minced garlic
1 large onion, finely chopped
1/2 tsp red chili powder
1/4 tsp turmeric powder
1 tsp coriander powder
1 large tomato, finely chopped
12-15 large shrimp, shelled and deveined
2 cups coconut milk
1 tsp kasoori methi (dried fenugreek leaves)
salt & pepper, to taste
a handful of finely chopped coriander leaves, for garnish
Instructions
Heat oil in a pan and sauté garlic and onions till lightly browned and tender. Add in spices, and fry for a few seconds. Now add in the chopped tomatoes and fry for a minute or two to blend well with the spices.

Add in the shrimp and stir-fry for a minute to coat the shrimp well with the spice mix. Add in coconut milk and kasoori methi, season with salt and pepper, and let it simmer for another 5-7 minutes.

Garnish with coriander leaves and serve with a side of plain rice and a tossed salad.
If you enjoyed this recipe, then you will surely love my Quick & Easy Coconut Fish Curry, Coconut Chicken Curry, and Sweet Potato & Chicken Coconut Curry recipes as well.
Tried this recipe? Leave a Comment and let me know, also Rate it by clicking the number of stars on the recipe card. Want to share your version with me? Tag me on Instagram @hookedonheat