This recipe for Spicy Stuffed Peppers was created in partnership with Philips, who provided me with an Airfryer to experience and review. All opinions, as always, are my own. I only write about and recommend products I use and love myself.
I remember being introduced to Spicy Stuffed Peppers many years ago while I was renting a room in a family home during my college years. We had worked out a deal wherein the lady of the house would provide me with dinner every night for a very nominal fee. My breakfasts and lunches (let's be honest, most times it was just brunch) would often be something quick and cheap that I grabbed from the cafeteria – for lack of both, money and time. So it was simply wonderful to come back after a long day of lectures and lab work to a freshly made home-cooked meal.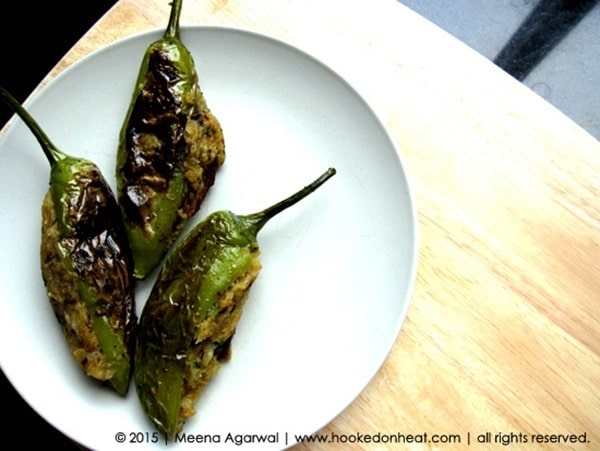 Being strictly vegetarian, and a typical Indian mom of that generation, the meal would often comprise of some kind of lentil/bean preparation (like dal, rajma or chana), a vegetable or two, some rice and rotis. There was also always a generous helping of her homemade mango pickle, which to this day makes me salivate just thinking about it! Most nights, dinner was quite simple and wholesome. But there were days in between when she would feel indulgent, and there would be a feast waiting for me. My favourites were when she would make an array of chaat (popular Indian street food) or serve me a plate of crispy veggie stuffed parathas. She wasn't a great cook, but she was definitely creative and found some wonderful ways to jazz up some not-no-fun-to-eat vegetables.
This Spicy Stuffed Peppers was one such recipe and is completely inspired by her creation. At the time, I wouldn't be caught dead looking at such a spicy pepper, let alone eat it. But the way she served it to me alongside some melt-in-your-mouth whole wheat parathas and a mung bean salad, made me want to dive right. And I haven't looked back since!
Normally, I would cook the Stuffed Peppers in a bit of oil in a wide Non-stick Wok, covered on low heat, turning them at intervals. However, since I've been dying to bust out the Airfryer, this seemed like the perfect recipe, to begin with!
BHARWAAN MIRCHI (STUFFED PEPPERS)
Servings: 4
Ingredients
2 medium potatoes, boiled and mashed
1 medium onion, finely chopped
1/2 tsp turmeric powder
1/2 tsp red chilli powder
1 tsp coriander powder
1/2 tsp amchur powder
salt, to taste
2 tbsp finely chopped coriander leaves
8 banana peppers (use jalapenos for an extra-spicy kick)
1 tsp light cooking oil
Instructions
In a large bowl, mix the mash potatoes with the onion, spices, salt and chopped coriander leaves.

Slit each pepper lengthwise through the middle and hollow it out by taking out the ribs and seeds. Fill each hollowed out pepper with equal portions of the potato stuffing mix.

Meanwhile, lay a piece of foil on the wire rack of the Airfryer and preheat it to 180C.

Lightly oil the peppers on all sides. Lay the stuffed peppers on the foiled surfaced and air-fry at 180C for 6-8 minutes, depending on the size of the peppers.

Serve warm.
Notes
To cook on the stove-top: Heat about 2 tbsp of oil in a deep non-stick wok and slowly add in the stuffed peppers, one at a time. Cover, and let the peppers cook on low heat – turning them occasionally, to let them brown on all sides.
If you like this recipe, then you will surely like my Crispy Spicy Fried Chicken.
Tried this recipe? Leave a Comment and let me know, also Rate it by clicking the number of stars on the recipe card. Want to share your version with me? Tag me on Instagram @hookedonheat