Here is a recent email I received from a reader:
Hi Meena,

I'm a vegan and have recently started trying my hand at cooking Indian food at home. I love the aromas and flavours that Indian cooking offers and it's also one of the best cuisines I've enjoyed since becoming a vegan 3 years ago. I enjoy eating most vegetables, but potatoes just happen to be my absolute favourite. I will anything if there is even a slight trace of potato in it. I was wondering if you could share a few vegetable recipes that also include potatoes in them. Thanks in advance and keep those delicious recipes coming!

– Donna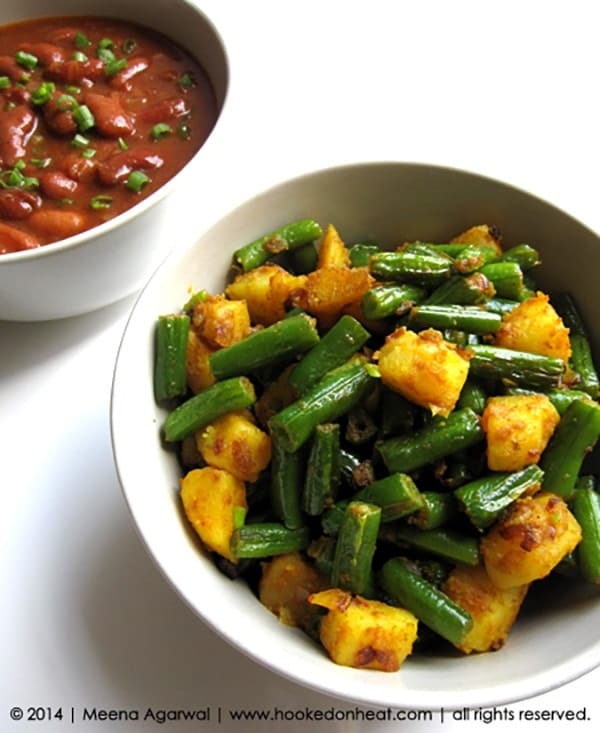 Hey Donna! I completely agree with you that Indian food is definitely one of the best cuisines for a vegan/vegetarian to enjoy. The flavours are robust, varied and you have a million options to choose from! To be honest, I generally feel that potatoes often take the cake in Indian vegetarian cooking. It's one of the cheapest vegetables found in India, and is a sure staple in many homes. It's usually hard to find an Indian who does not enjoy the spud in some form or the other. So aren't you in luck!
Since potatoes are great in taking on any flavorings added to them, you can easily get away with throwing in a few pieces to almost any dish that you cook. They work great when cooked with peas, carrots, cauliflower or any kind of greens that you fancy. This Alu Palak recipe is one such example. Below, is another quick recipe that works great as a side to some Dal and Rotis/Rice.
ALU BEANS SABZI (BEANS & POTATO STIR-FRY)
Prep time: 10 min | Cooking time: 20 min | Serves: 2 as a main, 4 as a side

Special equipment recommended:

Ingredients:

2 tbsp light cooking oil
1 tsp ginger-garlic paste
1 medium onion, finely chopped
4 cups chopped green beans
1 large potato, diced into bite-sized cubes
1/2 tsp turmeric powder
1/2 tsp red chilli powder
1 tsp coriander powder
1/4 tsp cumin powder
salt, to taste

Directions:

Heat oil in a deep non-stick wok and sauté ginger-garlic paste and onions till lightly browned. Add in beans and potatoes, and stir-fry for 2-3 minutes.

Add in the spices, season with salt and mix well. Cook covered for another 6-8 minutes till the beans are done and potatoes are cooked through. Make sure to check in between and give it a mix to prevent the vegetables from burning and sticking to the bottom of the pan.
Tried this recipe? Leave a Comment and let me know, also Rate it by clicking the number of stars on the recipe card. Want to share your version with me? Tag me on Instagram @hookedonheat