Given a choice, Baby Dear can happily live on Biryani alone! I always get asked by other moms how and when I introduced Baby Dear to spicy food through Indian cooking. The truth is, I never did. It is widely known in our family and friends circle that Baby Dear shies away from spicy food. It is also understood, however, that the kid will eat anything that's tasty. Anything. Even if does happen to fall on the hotter side.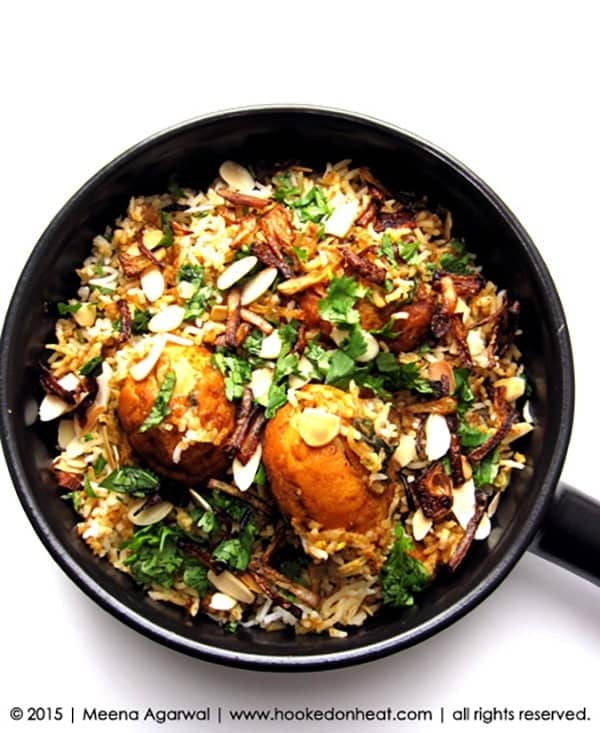 This kind of erratic behaviour of his reminds me of this one particular incident back when I was in college. It was the peak of summer, and although our classes were out, some of us still went in to work on the various projects we had to complete before the school year ended. I, of course, was one of them. On this particular day, I had planned to spend the entire day at the lab and told my mom that I wouldn't be coming home for lunch. But one thing led to another, and I surprised her at the door with my sweaty, irritated-with-the-sweltering-heat, and absolutely-famished-dying-of-hunger self.
Since Mom wasn't expecting me to share the meal, she had made it extra spicy – being the chilli fanatic that most true-bred Malays are known to be! Needless to say, lunch for me was unbearable. My mouth felt like it was in flames and I filled myself with jugs of water. Even more irritated, and being the spoilt brat that I was, I stomped off into my room and went to nap. My Mom felt so bad, that she woke me up a while later, and handing me some money, asked me to go out and get myself a boatload of chaat from down the street. Now for those that know me personally, can vouch for the fact that I can eat chaat anytime, anywhere, no matter how spicy! And spicy I did eat. One sniff of my plate had my mom reeling in anger. Of course, the chaat was way spicier than the lunch she had cooked. I'm still reminded of this incident every time I question her on how many chillies she's added to her curry.
Like they often say, the apple doesn't fall too far away from the tree. It's the same with Baby Dear and his Biryani. A platter of the spiciest Biryani from the nearby Pakistani joint gets devoured with glasses of water. But heaven forbid he sees a couple of deseeded pieces of chilli floating in my Dal, he runs miles away, never to even attempt to eat it again!
This Biryani recipe is something that Mom and I created together when she was visiting. My Mom makes one of the best Biryanis I've ever had, but her method is a tedious and long one. We wanted to come up with something quick and simple that would make it easy to give into Baby Dear's frequent craving.
EGG BIRYANI (QUICK VERSION)
Prep time: 15 min | Cooking time: 25 min | Serves: 4

Special equipment recommended:

A non-stick heavy bottomed pan or a Dutch Oven

Ingredients:

6 large eggs, hard boiled
3 tbsp light cooking oil
1 cinnamon stick
2 bay leaves
2 black cardamoms
5-6 cloves
5-6 green cardamoms
1 tbsp minced garlic
1 tbsp minced ginger
2 medium onions, thinly sliced
1/4 tsp turmeric powder
1/2 tsp red chilli powder
1 tbsp coriander powder
1 tsp cumin powder
1 tsp garam masala powder
1 tsp dried mint
1 tbsp tomato paste
1 large tomato, thinly sliced
salt, to taste
2 1/2 cups basmati rice
4 cups water
a handful of toasted sliced almonds and chopped fresh cilantro leaves for garnish

Directions:

Add about a tbsp of oil into the pan and stir-fry the boiled eggs till they turn golden on all sides. Keep aside

Add the remaining oil and whole spices to the pan. Once the spices start to sizzle and become fragrant, stir in the garlic and ginger. Fry for a few seconds till lightly browned.

Now add in the onions and fry for a few minutes till the start to brown and crisp along the edges. Mix in the spices and tomato paste, anf fry for a minute or two. Add in the tomatoes and salt, and stir-fry till the tomatoes start to pulp.

Season with salt, and add in the rice and water. Let the water come to a boil, and as soon as it does, lower the heat and let the rice cooked covered till all the water has evaporated.

Now turn off the heat, add in the fried boiled eggs, sliced almonds and chopped cilantro. Cover again, and let the rice continue to cook in the steam for another 8-10 minutes. Serve with a side of cool Raita.