The Chilli Paneer recipe I have for you today is perfect for this slightly chilly, damp weather. It's quick, tasty and fits the bill in giving you that warm, cosy feeling in your tummy on a rainy day like today.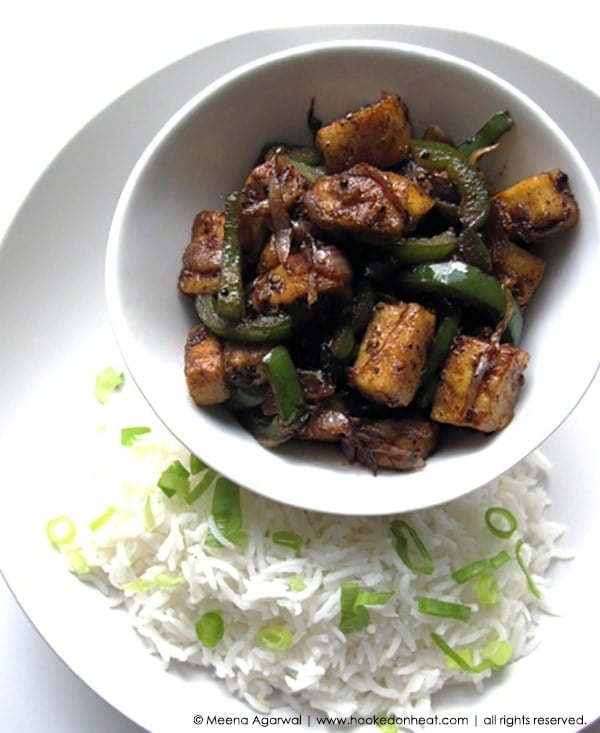 I shared my recipe of Chilli Paneer on this blog many years ago but decided to update you with another one today since I've now changed the way I make it for us at home. Chilli Paneer is a crowd favourite that pleases adults and kids alike. You'll probably find it on any Indo-Chinese menu as the vegetarian companion to Chilli Chicken. Don't you just love it when different cultures come together and produce a lip-smacking plate of food? Almost like a perfect marriage.
In India, Chinese food is nothing like what you get, well, in China. It's loaded with chillies, garlic, ginger, onions, a ton of various spices and a generous splash of soy sauce to finish off! Hubby Dear fondly tells me of the first time he walked into an authentic Chinese restaurant in Canada craving his regular favourites – Chilli Paneer, Gobi Manchurian and Pepper Chicken.
Not only was he disappointed to find out that they didn't serve either of these, but that whatever he ordered, lacked the familiarity of so-called Chinese dishes that he was used to back in India. It was only much later that he learned that restaurants serving Indianized Chinese food did exist and here in the GTA, they are often referred to as Hakka joints.
We do have our go-to Hakka places that we like to venture into a few times a month, but for the most part, I prefer making these dishes at home. That way, I can easily control the sodium and spice level that goes into it. Not to mention, my home-cooked recipes are very rarely deep-fried, not laden with copious amounts of oil and equally, finger-licking good.
I urge you to try this Chilli Paneer recipe if you're new to Indo-Chinese or Hakka food. And if, like me, you can't get enough of this amazing cuisine, then what's your excuse to not get cooking?
CHILLI PANEER (DRY)
Servings: 4
Ingredients
2 tbsp light cooking oil
1 tbsp finely chopped ginger
1 tbsp finely chopped garlic
2 medium onions thinly sliced
400 gms paneer cut into bite-sized cubes
1/4 tsp turmeric powder
1/2 tsp red chilli powder
1 medium green bell pepper thinly sliced
2 tbsp low-sodium soy sauce
salt and pepper to taste (add in extra pepper for that zing)
a handful of chopped green onions for garnish
Instructions
Heat oil in a large non-stick wok and add in ginger, garlic and onions. Fry for a few seconds till fragrant before adding in the paneer. Stir-fry paneer on high heat, tossing continuously, till the edges start to brown.

Lower the heat to medium and toss in the spices. Add in green pepper, soy sauce, season with salt and pepper, and stir-fry for a 2-3 minutes till everything is mixed well.

Garnish with chopped green onions and serve warm with plain rice of a side of Fried Rice.
If you like this recipe, then you will surely like my Black Pepper Chicken.
Tried this recipe? Leave a Comment and let me know, also Rate it by clicking the number of stars on the recipe card. Want to share your version with me? Tag me on Instagram @hookedonheat