I can spend a good chunk of time reading labels and getting acquainted with new-to-me products at the grocery store. This is mostly where I get the inspiration I need to create new recipes, like this Cranberry CousCous Salad. Somehow the sights, smells and sounds of the grocery store are exactly what get my creative juices going! Needless to say, my grocery shopping adventures often take a minimum of TWO hours.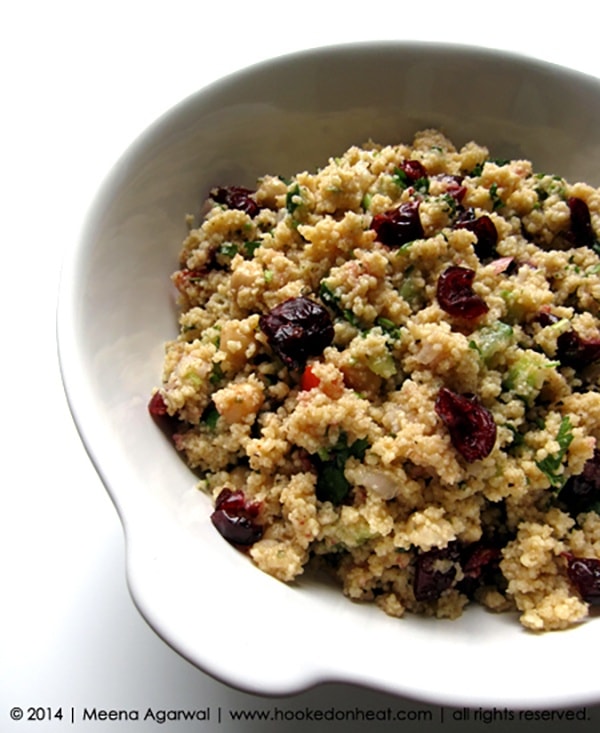 Once I get home, I spend the next couple of hours organizing my fridge, freezer and pantry with my new buys. Fruits and veggies are sorted, prepped and stored in a way to best make use of the longest possible shelf-life. Meats and cheeses are portioned out and stored according to when and how I plan to use them. Snacks and treats for the week too, get portioned out and stored accordingly.
By the time dinner rolls around, I'm ready to prop up my feet, plug in a movie and call in take-out! Now, don't get me wrong – I don't HAVE to spend as much time as I do shopping for and then organizing all our food for the week. I WANT to, it's what gives me a high and I honestly, thoroughly enjoy doing it. And if that just means that our Friday night dinners alternate between making a quick and simple meal like this Cranberry CousCous Salad, to getting some help from the numerous take-out joints around where we live, then I'm completely okay with that. And that is also exactly the reason why I am such a huge advocate of meal planning.
By planning my meals for the entire week, I can easily factor in my need for something that's stress-free on Fridays. One of my favourite quick fixes is to simply pick up a whole rotisserie chicken from the store during the day while I'm there. The chicken is made fresh that morning, and all I need to do later on is whip up a quick side dish or two, maybe even a salad, and we have a delicious, family meal that's perfect to welcome the weekend with! This couscous salad is something that we enjoy a lot as a family. I love to change up the flavours seasonally, and this version is cranberries is just perfect for the fabulous Fall weather we have looming over our heads.
CRANBERRY COUSCOUS SALAD
Servings: 4
Ingredients
1 1/2 cups chicken/vegetable stock
1 tbsp olive oil
1 cup dried couscous
1/4 tsp red chilli powder
1/4 tsp cumin powder
1/4 tsp garlic powder
1/2 cup dried cranberries
1 small onion, finely chopped
1 medium cucumber, finely chopped
a handful of fresh parsley, finely chopped
salt & pepper, to taste
2 tbsp fresh lemon juice
Instructions
Bring the chicken/vegetable stock to a boil and pour it out into a large deep bowl. Slowly, stir in the oil, couscous and spices, and cover the bowl tightly with cling-wrap. Set aside for 5-8 minutes till the stock is completely absorbed.

Once done, carefully remove the cling-wrap and mix in the rest of the ingredients. Make sure that all the ingredients and well distributed. Serve immediately warm or cool to room temperature.
If you like this recipe, you will surely like my Halloumi, Mango & Chickpea Salad.
Tried this recipe? Leave a Comment and let me know, also Rate it by clicking the number of stars on the recipe card. Want to share your version with me? Tag me on Instagram @hookedonheat