Sambhar is a traditional tangy and spicy lentil soup from South India, that can also be made with adding a variety of seasonal vegetables. It is often paired with crisp crepes called Dosas, or steamed rice cakes called Idlis.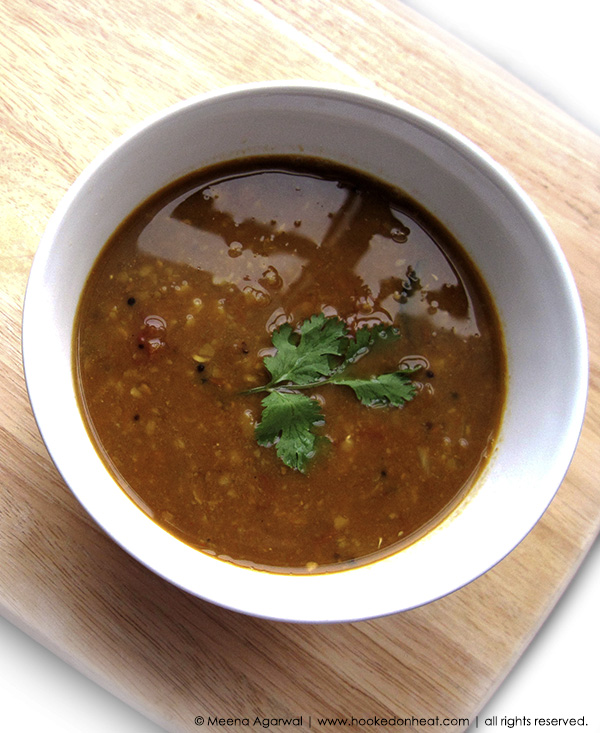 During my college years spent in Bangalore, a bunch of us would often hit the local café right by our college on Saturday mornings to gorge on a hearty breakfast of Masala Dosas and South Indian filter coffee. These Dosas, as I remember them, were delightfully thin and crispy, slathered on the inside with a spicy chutney, loaded with generous helping of perfectly seasoned mashed potatoes and folded into a triangle. The Sambhar that accompanied it had the perfect balance of sweet and tangy flavours. The combination of the Masala Dosa and filter coffee was a treat to my palate, and to date, remains one of my all time favourite ways to begin my day.
For the uninitiated, a Masala Dosa is an Indian crepe made by blending rice and lentils in to a smooth paste. The crepe is fried to a crisp, and often served with an array of sides ranging from Sambhar, spiced potatoes and various chutneys. While Dosas require expert technique (in my opinion, since I have tried and failed in multiple attempts at making them!), Sambhar on the other hand is child's play. Good quality Sambhar masala is readily available these days and this dish hardly takes any effort to make.
It's been quite cold this past few days and I've been craving hearty soups for dinner. So in I went into the kitchen, and 30 minutes later, I was warming my hands with a big bowl of this deliciously thick soup.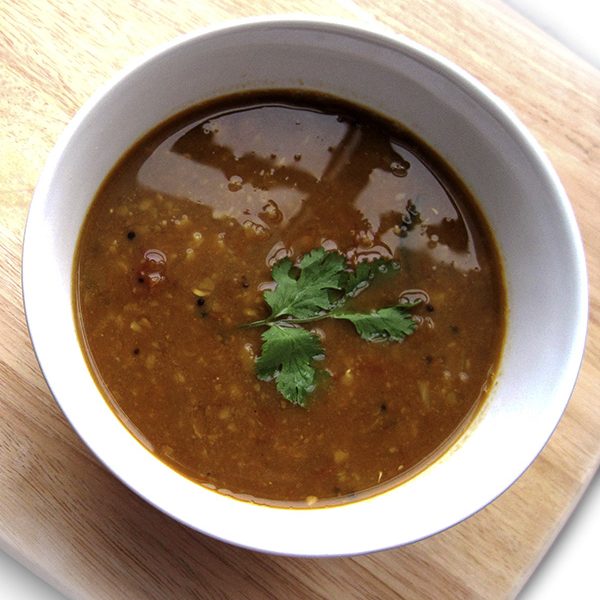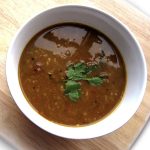 Print Recipe
Instant Pot Sambhar (Spiced Lentil Soup)
Servings: 4
Ingredients
2 tbsp light cooking oil
1 tsp mustard seeds
1 tsp cumin seeds
6-7 fresh curry leaves
1 tsp finely chopped garlic
1 tsp finely chopped ginger
1 medium-sized onion finely chopped
1 tbsp sambhar masala
1/4 tsp red chilli powder
1/4 tsp turmeric powder
1 tsp coriander powder
1 medium-sized tomato finely chopped
2 cups toor/yellow lentils
4-5 cups water
1 tsp tamarind paste
salt to taste
a handful of fresh cilantro leaves finely chopped for garnish
Instructions
Turn on the Instant Pot and set to Saute mode. Once it's heated, add in oil, mustard seeds, cumin seeds and curry leaves.

Once they start to sizzle, add in the garlic, ginger and chopped onions. Fry for a few minutes, stirring occasionally, until the onions start to brown.

Add in the spices and give it a quick mix. Add in chopped tomatoes and let it cook for a couple of minutes until the tomatoes start to soften and pulp.

Mix in the lentils and water, and let it come to a quick boil.

Add in the tamarind paste, season with salt and stir well to combine.

Put on the lid and set the Instant Pot to manual Pressure Cook mode for 5 minutes, making sure that the valve in on the sealing position.

Let the pressure release naturally before removing the lid. Give it a good stir and garnish with cilantro leaves before serving.
Notes
Once the Sambhar is done cooking, if you'd like the consistency on the Dal thinner, then set the Instant Pot to Saute mode, add in some water and let it come to a boil. If you'd like it thicker, then set the Instant-Pot to Saute mode and let it cook down slightly, stirring occasionally to avoid burning.
I've used my 6 Quart Instant Pot Duo 7-in-1 for this recipe, but any kind of electric pressure cooker will work.
This post was originally published in August 2016 and has been recently updated.
If you liked this Instant Pot Sambhar recipe, I'm sure you will love my Tadka Dal and my Chana Dal Masala as well.
Tried this recipe? Leave a Comment and let me know, also Rate it by clicking the number of stars on the recipe card. Want to share your version with me? Tag me on Instagram @hookedonheat