There was a time when the ONLY kind of baking I ever did came with instructions from the back of a box, and brownies were a favourite. As much I love cooking, I hated to bake. Now don't get me wrong, I'll take a slice of cake over a plate of pakodas any day! But baking over cooking? Not a chance!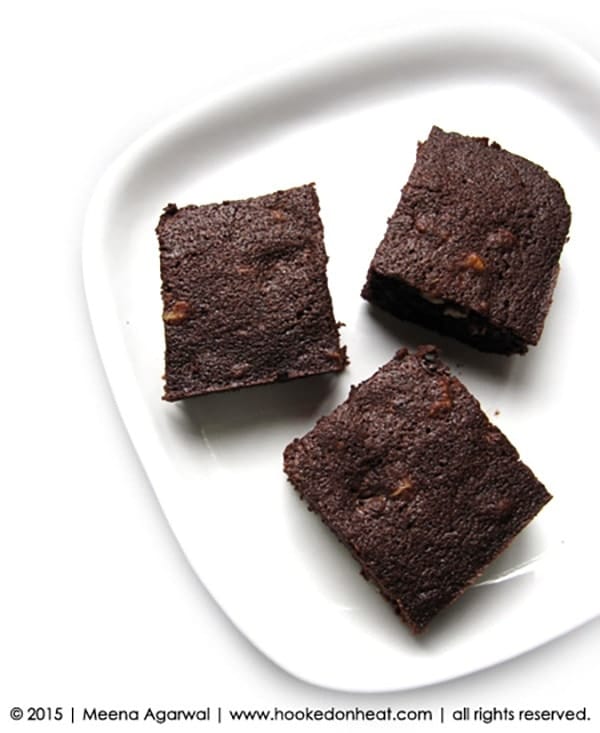 I think it always had something to do with how I perceived baking to be very systematic. You need to follow the rules exactly as stated, or else you'd fail. I didn't quite enjoy the fact that it left me with little to no opportunity to get creative. When it comes to cooking, I rarely ever follow a recipe. It's always the inspiration I get from reading a recipe: I imagine what it should taste like, how it should look, the flavours and textures it would impart, and then I set out to do my own thing. Baking, on the other hand, never allowed me that freedom.
Hubby Dear and I have always had a deep love for sweets, but our tastes couldn't have been more different. He loves the tooth-aching sweetness of traditional Indian mithais, I prefer the subtlety of a shortbread cookie instead. I salivate over anything citrusy, while he'd much prefer to opt for the butterscotch or nutty flavours. But brownies, that's one thing we can both agree on!
Up until a few years ago, we would often bust out a packaged brownie mix whenever a strong craving would hit. It was simple, no-fuss and quick. But all that changed once Baby Dear came along and had his first bite of the decadent deliciousness. There was no turning back then. As soon as I realized that this tiny person enjoyed cakes and brownies as much as I did, I took it upon myself to make sure that his treats, although far in between, would be made with love and the best ingredients I could manage. And that's when I stepped into foreign territory and haven't looked back since.
I learned a lot in the last couple of years, mostly from my Mom who always baked the most delicious cakes for us since we were kids, and also from books I've gathered along the way. This brownie recipe is a fairly simple one and one that the three of us love to enjoy warm, fresh from the oven, with a dollop of vanilla ice cream on the side.
WALNUT BROWNIES
Ingredients
1/2 cup melted butter
3/4 cup sugar
2 eggs
1 tsp vanilla extract
1/4 cup all-purpose flour
1/2 cup cocoa powder
1/2 tsp baking powder
1/4 tsp cinnamon powder
1/2 tsp instant coffee powder
1/2 cup chopped walnuts
Instructions
Preheat oven to 350 degrees.

In a large mixing bowl, beat the butter, sugar, eggs and vanilla extract till well mixed. Slowly fold in the flour, cocoa powder, baking powder, cinnamon, coffee and walnuts, and mix well.

Pour the batter into a greased 8-inch square baking pan and bake for 20-25 minutes till cooked through.
If you like this recipe, then you will surely like my Dark Chocolate Pecan Brownies.
Tried this recipe? Leave a Comment and let me know, also Rate it by clicking the number of stars on the recipe card. Want to share your version with me? Tag me on Instagram @hookedonheat