Friday mornings are usually when I take my own sweet time to grocery shop. Although it may seem like a mundane chore to some, to me grocery shopping is like my very own mini-retreat for the week. I always shop in the morning, right after I drop off Baby Dear to school.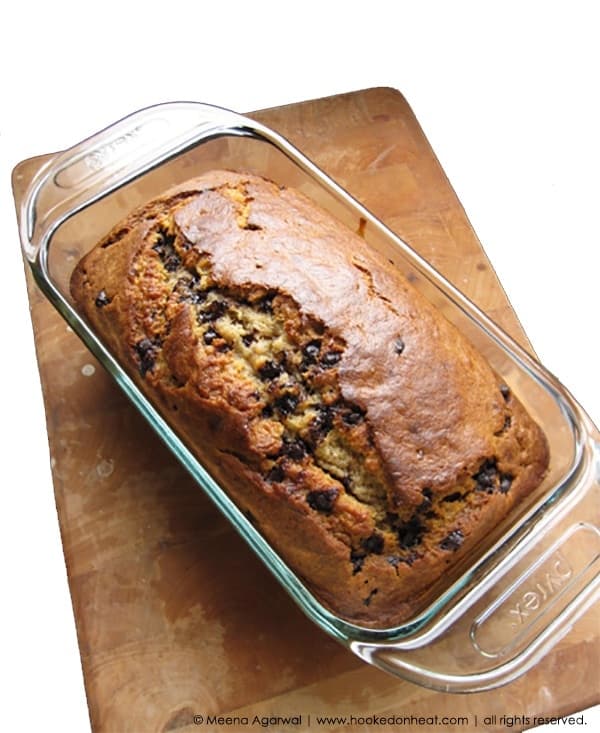 I start with treating myself to my favourite cup of coffee and armed with my grocery list that I took the time to make the previous night, I head out to my favourite store. The next couple of hours are when I completely engross myself in food thoughts. I take the time to read labels, I seek out new food trends and products in the market, and I fill my cart with goodies that will nourish and treat me and my family well. This is also the time when I think up new ideas and get inspired to create new recipes or revamp old ones, like this banana bread.
As much as I enjoy my Friday morning ritual, it's Thursday nights that often get my creative wheels spinning. The reason I mainly prefer shopping on Fridays is so that I can have my fridge-freezer-pantry well stocked and ready to go for the weekend. Playdates, impromptu get-togethers and tasty treats for weekend movie nights are a breeze to pull off. But in order to do so, I always make sure to clean out my fridge on Thursday night; which also means that our Thursday dinners often get quite creative using up leftover bits and bobs.
One thing that always needs to be used up in my kitchen is bananas. Now, it really doesn't matter how many I buy for the week – be it 2 or 20, we never seem to eat them all before the week is over! I usually freeze the over-ripe ones for quick smoothie breakfasts during the week. But my favourite way to actually use them is by making Banana Bread. Honestly, sometimes I feel that Hubby Dear and Baby Dear purposely stop eating bananas once there's 2-3 left in the hopes that a warm loaf of Banana Bread will magically appear at the breakfast table come Friday morning. But I'm not complaining – seriously, what's not to love about a slice of warm Banana Bread for breakfast on a chilly Friday morning? Now I know you probably don't need another Banana Bread recipe, but this is one I've used for the past 10 years and is always a hit with family and friends. So humour me this once and just try it, won't you?
CHOCO-CHIP BANANA BREAD
Ingredients
3 medium-sized over-ripe bananas, mashed to a pulp
2 eggs, beaten
1/3 cup plain yogurt, beaten till smooth
1/2 cup light cooking oil
1/2 cup sugar
1 tsp vanilla extract
1 tsp baking soda
1 1/2 cups all-purpose flour
1/2 cup semi-dark chocolate chips
Instructions
Preheat the oven to 375 degrees.

In a large mixing bowl, gently mix the bananas, eggs, yogurt, oil and sugar to form a smooth batter. Add in the vanilla extract and baking soda, and slowly fold in the flour to blend well.

Mix in the chocolate chips. Grease a rectangular bread baking dish and pour in the prepared batter.

Bake for 25-30 mins till the Banana Bread is completely cooked through. You can test it out by pricking in a wooden skewer in the middle – if it comes out clean, then your bread is done.
Tried this recipe? Leave a Comment and let me know, also Rate it by clicking the number of stars on the recipe card. Want to share your version with me? Tag me on Instagram @hookedonheat