It's the weekend just before Diwali and boy are we excited! Hubby Dear and Little Dude have taken it upon themselves to set up the lights all over the house and I've retreated into my kitchen – just the place I want to be this time of the year. I have a few classic treats that I always make for Diwali each year, like Samosas, Shakkarpare, Sooji Halwa, Dahi Bhallas, and of course, one of my personal favourites – Namak Pare!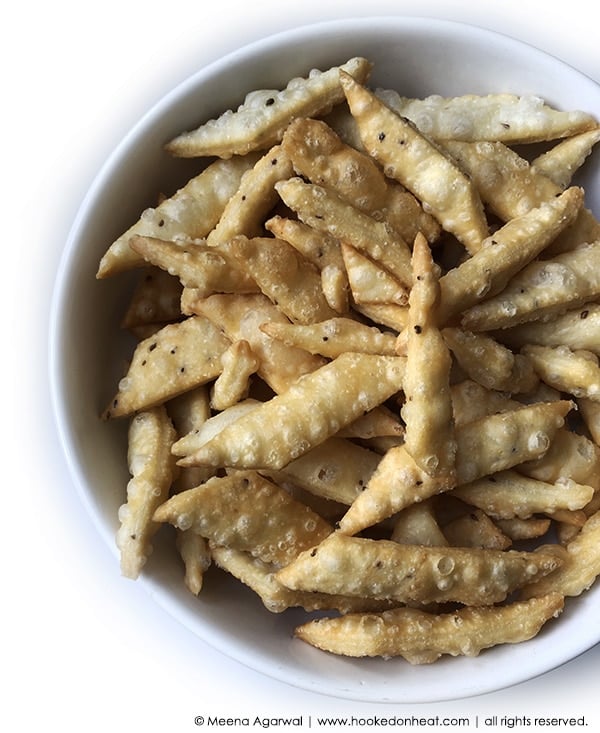 Namak Pare, like most homemade Indian treats, are very simple to make and hardly require much for ingredients. In fact, other than plain flour, salt and oil, the only crucial ingredient that you'll probably need to head over to the store to buy is ajwain, also known as carom seeds. And honestly, since ajwain IS an important ingredient in this super simple recipe – so much so, that I'll advise you to wait until you have it before deciding to make this – I really cannot share my Namak Pare recipe without first sharing THE story of Hubby Dear and ajwain.
You see, there was this one time many years ago when I had asked him to stop by the Indian grocery store on his way home and pick up a bag of cumin seeds. He happily obliged and was actually quite proud of himself for getting the 2 lbs bag which was way, way cheaper than the 1/2 lb one that I had asked for. In his mind, cumin seeds are mostly always used in Indian cooking and we'd easily go through the big bag quite quickly.
Fair enough. Except, what he actually handed me wasn't cumin seeds at all, but instead a ginormous bag of carom seeds – what we call ajwain. Now, ajwain is not used regularly in Indian cooking. In fact, I only use a tiny pinch of it while making puris or parathas – which, I rarely ever make at home. Or in Namak Pare – which again, I usually only make around Diwali.
I used as much of it as I could in the next few years, even taking it along to the two different houses that we've moved into since until I finally made peace with the fact that I would always be left with some to take with me to my grave. Then I tossed it into the bin! This past week, as I filled my grocery cart with some regular Diwali staples, I couldn't help but chuckle to myself as I tossed a tiny bag of ajwain into my cart.
These lovely treats can be stored in an air-tight container for about 2-3 weeks. That is if you resist them that long!
Here's wishing all my readers a Very Happy and Prosperous Diwali! For more special Diwali recipes, please click here.
Namak Pare (Savoury Fried Cookies)
Ingredients
2 cups all-purpose flour
2 tbsp semolina
1 tsp ajwain also known as carom seeds
1/2 tsp salt
1/4 cup light cooking oil
water as needed
oil for deep frying
Instructions
Mix flour, semolina, ajwain, salt and a 1/4 cup of oil with enough water to make a smooth firm dough.

Divide the dough into fist-sized balls and set aside for at least 30 minutes. Heat enough oil in a deep wok or pan for deep frying.

For each ball of dough, roll it out into a circle of about 0.5 cm thickness. Cut the rolled out dough into strips vertically, and then again horizontally at a slight angle, making bite-sized diamond-shaped pieces.

Fry the pieces in hot oil till they turn golden brown. Remove on a paper towel to drain excess oil, allow to cool, and enjoy!
Notes
These cookies can be stored in an air-tight container for about 2-3 weeks. That is if you can resist them that long!
If you enjoyed this recipe, then you will surely love my Shakkarpare recipe as well.
Tried this recipe? Leave a Comment and let me know, also Rate it by clicking the number of stars on the recipe card. Want to share your version with me? Tag me on Instagram @hookedonheat