This recipe for my Instant Pot Chole (Chickpeas Curry), is one that I often serve at my dinner parties. It's quick, simple enough to put together in a matter of minutes and absolutely, lip-smackingly delicious.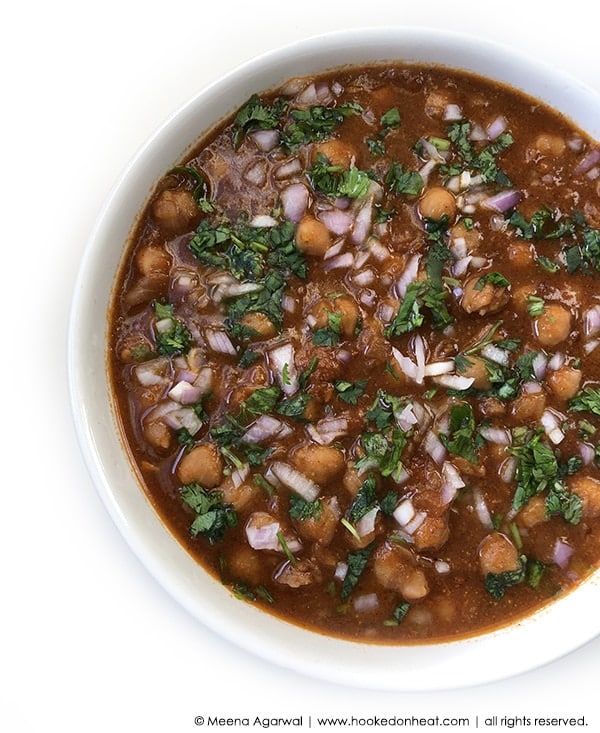 To this day, almost 17 years since we first met, Hubby Dear still relishes my Chana Masala with as much gusto as he did the first time I made it for him. I, on the other hand, cannot stand it as much. Although I do love chickpeas in other variations, Chana Masala does not quite top the list – but this recipe for my Instant Pot Chole? Oh boy! All I can happily say is, "Get the Bhaturas ready!"
It's funny how, when I look back now, it suddenly occurred to me how much Hubby Dear and I bonded over food during the start of our relationship. It took us a few weeks of regularly talking for hours on the phone before we actually had a chance to go out on our first date. There was nothing much we could do really, the distance was what kept us apart. We were both studying in different cities, a couple of hours away from each other. When he did finally drive down to officially take me out for the first time, we spent the day at the CNE. It was the first time either of us had been to it, and we've made it a ritual to visit every year since – now, with Little Dear in tow.
That first date was a memorable one. Hubby Dear was shocked to learn that I could eat Samosas anytime, anywhere, and as many times as it was available to me. I too, learned a few things about him that fateful day. One of which, that I figured out the hard way, of course, was that the man HATES to share his fries. Just as much as Joey honestly confessed on an episode of Friends that "Joey does NOT share food!". Yea, fortunately for him, I decided to look past that trait and solely focus on the fact that he was the ONE I could easily swindle a few designer bags from each year!
During the months we were dating long-distance, Hubby Dear and I would take turns visiting each other every weekend. On the times when he would drive down to see me, we would often make sure to visit some of the countless little ethnic eateries that the GTA is so well known for, including our favourite place for Chole-Bhature. Whenever I would take the train into his quaint student town, we would make a quick stop at the grocery store to pick up a few essentials that would enable me to cook a few simple meals that he could eat for the rest of the week. This was undoubtedly after my first eventful cooking experience for him, after which he deemed me absolutely fit and capable of dishing out meals for him for the rest of his life!
I've often heard that couples who've spent a long time together often change their tastes and habits to suit the other. For us, it was a matter of simply combining the two. It wasn't hard to fuse my love for all things tasty with Hubby Dear's undying addiction to all things edible. Truly, matches are made in Heaven, but I'd like to believe that ours was cooked up in a 5-star kitchen filled with everything a culinary goddess could only dream of having. For in a home where one finds it hard to understand how the other can own a few dozen handbags, and still find the need for more, this simmering Instant Pot Chole is always something the two will always look forward to.
Instant Pot Chole (Chickpea Curry)
Servings: 4
Ingredients
2 tbsp light cooking oil
1 tsp cumin seeds
1 cinnamon stick
2 black cardamom pods
1 large onion finely chopped
1 tbsp ginger-garlic paste
1 tsp chilli powder
1 tbsp coriander powder
1 tsp garam masala powder
1/2 tsp amchoor powder
2 tbsp tomato paste
2 medium tomatoes finely chopped
1 large can chickpeas drained and rinsed thoroughly
water as needed
salt to taste
a handful fresh cilantro finely chopped for garnish
2 tbsp finely chopped onion for garnish
Instructions
Set the pressure cooker to Saute mode and heat oil for a few seconds. Once the oil is warm, add in the cinnamon stick, black cardamom pods and cumin seeds. As soon as the cumin seeds start to sizzle, add in the chopped onion and fry for a few minutes till lightly browned.

Add in the ginger-garlic paste, spices and tomato paste, and fry for a few seconds to mix everything well.

Add in chopped tomatoes and let it cook for a few minutes till the tomatoes start to pulp and blend with the spice mixture. Keep stirring occasionally to prevent the bottom from getting burnt.

Mix in the chickpeas, season with salt and add about a cup of water or slightly more, depending on the thickness of curry you prefer. Close the lid of the pressure cooker and set it to the Pressure cooking mode. Set the timer to 3 minutes.

Once the time is done, allow the pressure to release naturally. Be careful while opening the lid, and give it a good stir. Garnish with fresh cilantro leaves and finely chopped onions and serve warm.
This post was originally published in January 2015 and has been recently updated.
If you liked this recipe, then you will surely love my Chana Aloo and Instant Pot Rajma recipe as well.
Tried this recipe? Leave a Comment and let me know, also Rate it by clicking the number of stars on the recipe card. Want to share your version with me? Tag me on Instagram @hookedonheat