The Indian festive season has begun, and kitchens in most Indian households have been buzzing with activity. Mine is no different. I've spent the past few days planning and re-planning various menus. I remember a time, not too long ago, when Hubby Dear and I would throw lavish Diwali parties. We'd have an extensive menu – which often included this delicious Sooji Halwa, which would have me begin the cooking process a day or two in advance. Those were the days!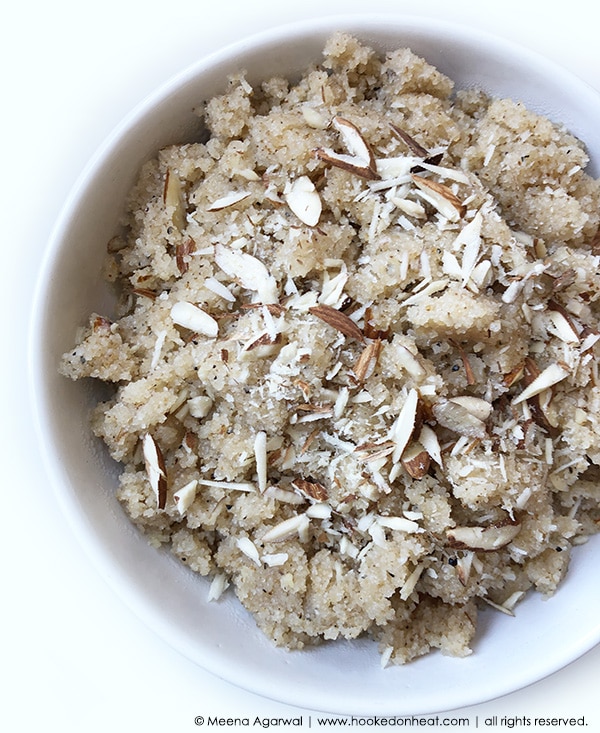 This year of course, we will keep it low-key with just family. But does this mean we skimp on the food? Of course not! I could never live with myself if I did. The cooking will still go on in full swing. We generally tend to have a very light breakfast, and I cook up a storm for our Diwali lunch – which usually includes some sort of a homemade sweet treat – and this year it will be Hubby Dear's favourite Sooji Halwa. Dinner will typically vary between different kinds of snacky or finger food while we all sit down to a competitive game of cards.
While traditionally, people tend to make the classic Indian desserts loaded with ghee, milk and dried fruits, I for one, never cared for them. I find them cloyingly sweet for my taste and often just give them a pass after a bite or two. This recipe I'm sharing with you today is a surprisingly quick version of the traditional Sooji Halwa, made completely dairy-free. It's delicious and you'll definitely want to fill your bowls up a second time. Try it, I promise you won't regret it!
Here's wishing all my readers a Very Happy and Prosperous Diwali! For more special Diwali recipes, please click here.
Vegan Sooji Halwa (Semolina Pudding)
Ingredients
1/4 cup light cooking oil
1 cup semolina
1/4 cup sugar add more if you like it really sweet
1 tsp cardamom powder
2 cups water
2 tbsp thinly sliced almonds for garnish
Instructions
Heat oil in a non-stick pan and fry the semolina till it starts to lightly brown. Be careful to stir often, so as not to let it burn.

Add in sugar and cardamom powder, and fry for a few minutes till the sugar starts to melt.

Slowly pour in the water and continue to stir till all the water dries up and starts to form a thicker consistency.

Toss in sliced almonds, and serve warm.
If you enjoyed this recipe, then you will surely like my Dairy-free Gajar Halwa recipe as well.
Tried this recipe? Leave a Comment and let me know, also Rate it by clicking the number of stars on the recipe card. Want to share your version with me? Tag me on Instagram @hookedonheat