The second I panic that I'm running out of story ideas to accompany a new recipe and rattle my brains to think of something funny to share, up pops an opportunity that's often quite hard to resist – and one that's perfect to pair with this Honey Garlic Noodles recipe. I'm often asked by readers, friends, and even family, if I ever get embarrassed putting myself and my life "out there" for everyone else to read. Truth be told, I rarely ever think of my life as something other than juicy material for this lovely 'ol blog!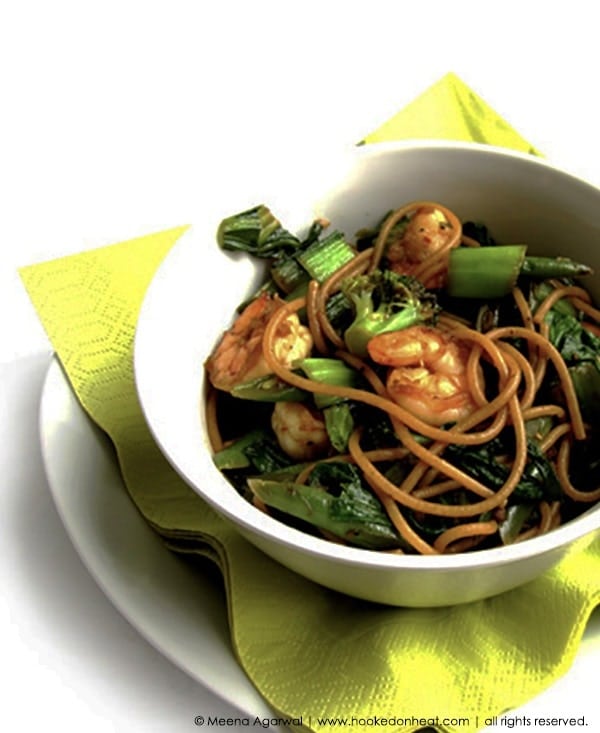 A day hardly goes by without me beaming and declaring that a certain incident would make a wonderful precedent to a recipe I had planned. I honestly believe my mind works this way for TWO main reasons:
I was painfully shy and the biggest introvert I know as a teen, and was easily embarrassed even when I was complimented on anything I had done well. As an adult, I now know who I am as a person and am confident enough to show my true self more often. I am still a bit of an introvert, but trust me when I say this is a huge improvement of what I once was!
Hubby Dear LOVES, and I use that word strongly – hence the caps and bold font, having a post revolve around him. Even the mere mention of him in a post makes him beam! And since he does play a MAJOR part in my life, it's hard to not have an anecdote without him.
Talking about this has inspired me to share some of my not-so-embarrassing-to-me things that I do often. So here goes:
I talk to myself ALL THE TIME! And not just a word here and there – I mean I have real conversations with myself, two-sided ones even. Which I why I'm rarely ever bored when alone. I am awesome company, if I may say so myself!
Every now and then I imagine myself being a rock star and rock on to my own tunes in the bathroom with a shampoo bottle as my mic!
Even though I grew up and spent the first 16 years of my life in Kuwait, I never tasted Hummus till I moved to Canada when Hubby Dear took me out for Lebanese food on one of our initial dates. I decided to give it a try to make him stop looking at me funny when I told him about it and found it delicious! Growing up, Hummus was a once-a-week show at our dinner table, but I always thought it looked gooey and honestly, how could a mash of beans EVER taste good? I kick myself every time I take a spoonful now for having to miss out on all those years of Hummus heaven.
When I wake up in the middle of the night and Hubby Dear is snoring away to glory, I always whisper "I love you" into his ear – just so he never forgets!
I love to dance. Not at a club or a party like all normal people do – but in all places considered odd; like at the mall, on the street, or in the car. I'm always doing a jig when I'm happy, and I try to be that most of the time.
I sometimes lightly kick Hubby Dear when he snores at night, keeping me up because of it. Then when he wakes up with a jerk, I pretend to be asleep. It almost always works and he goes back to sleep without snoring again!
Although it's been over five years since I started this blog, I still get overly excited and gush every time I receive a comment.
I must've erased at least three more confessions that I wrote before publishing this post. See, I told you I was still a bit introverted!
My, confessions sure make me hungry and I have just the right Noodles recipe for you today. Hubby Dear is away on business, and Baby Dear and his lovely Mama have been cuddled up in front of the fireplace in their jammies all day. One look at the dreary, snowy weather outside, and I knew I needed a big bowl of some warm and comforting noodles! Try it, and you won't be sorry.
Honey-Garlic Noodles with Shrimp & Greens
Servings: 2
Ingredients
2 tbsp light cooking oil
1 tsp finely chopped fresh ginger
1 tbsp finely chopped fresh garlic
1 small onion thinly sliced
1/2 tsp red chili powder
1/2 tsp white pepper powder
salt to taste
8-10 large shrimp shelled and deveined
1 cup chopped broccoli
2 cups chopped bok choy
1 tsp pure sesame oil
2 tbsp honey-garlic sauce
1 tbsp light soy sauce
1/2 cup chicken broth
2 cups cooked spaghetti
Instructions
Heat oil in a deep wok and sauté ginger, garlic and onions till fragrant and lightly browned.

Add in spices, salt and shrimp, and sauté till the shrimp starts to turn pink and firm up.

Add in broccoli, bok choy, sesame oil, honey-garlic and soy sauce, and stir-fry for 5-8 minutes till broccoli starts to soften a bit.

Add in chicken broth and noodles, mix well and let it start to bubble along the sides. Serve warm.
If you like this recipe, then you will surely enjoy my Curry Noodle Bowl.
Tried this recipe? Leave a Comment and let me know, also Rate it by clicking the number of stars on the recipe card. Want to share your version with me? Tag me on Instagram @hookedonheat