As I write this, calmly seated at my desk overlooking the big windows in my study feeling the excitement as the aroma of my Instant Pot Lamb Curry fills my home, I can't help but feel nostalgia creep up as I watch the rain pour down.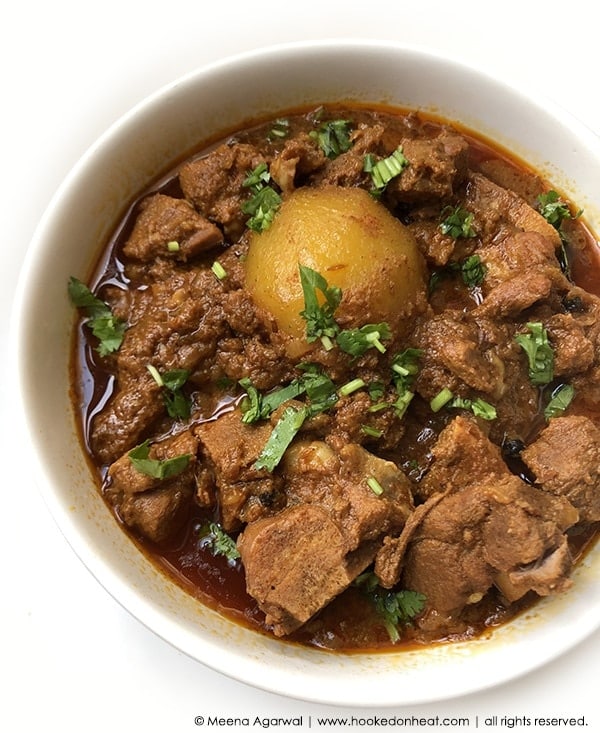 My fondest memory of rain is of this one particular season when as a rebellious adolescent, I snuck out of my Mom's watchful eyes and armed with a bright pink umbrella, tip-toed into our terrace. Terraces are a wonderful gift of many classic Indian houses. With the open space perfect for sun drying large bulks of laundry, it's also a wonderful go-to for those lovely late-night parties with an open feel. Children and adults alike can easily be spotted lazying on cool mats, soaking in the warm sun on fresh spring and summer days. A boon, those open terraces, especially for people like me who love to escape with a bright pink umbrella on a rainy day, if only to dance. And dance did I!
That day brings with it fond memories of me being soaked despite the umbrella, of Mom catching me doing my jig in the rain and pulling me back into the warmth of our living room. I clearly remember, as well, the aromatic Lamb Curry laid out on the dining table ready to be gorged on.
It's funny how every fond memory I have of my childhood always has some connection to food. But what's even more surprising is my craving for particular food at any given time, like this Instant Pot Lamb Curry today. And as I write this post looking out the window at the rain, I can't help but feel the warmth embrace me through the aroma coming from my kitchen. Yes, it's almost lunchtime, and I hear my plate calling.
Instant Pot Lamb Curry with Potatoes
Servings: 4
Ingredients
2 lbs bone-in lamb cut into 1-inch peices
1/2 cup plain yogurt
1/4 tsp turmeric powder
2 tbsp light cooking oil
1 tsp cumin seeds
1 cinnamon stick
2 whole black cardamom
6-8 whole black peppercorns
1 large onion finely chopped
1 tbsp finely chopped ginger
1 tbsp finely chopped garlic
1/2 tsp red chilli powder
1/2 tsp cumin powder
1 tbsp coriander power
1 tsp garam masala powder
salt to taste
2 tbsp tomato paste
water as needed
2 medium-sized potatoes cut into halves
finely chopped fresh cilantro leaves for garnish
Instructions
Marinade the lamb pieces with yogurt and turmeric powder, and let it sit for at least half an hour.

Set the Instant-Pot to saute mode, and add in the oil to heat. Add in the cumin seeds, cinnamon stick, black cardamom and whole peppercorns and let them start to sizzle.

Add in and saute the onions, ginger and garlic, stirring occasionally, till they begin to soften and turn slightly brown. Mix in the spices, salt and tomato paste, and fry for a minute or two to blend well.

Slowly stir in the lamb with all the leftover marinade and add in enough water to cover the meat. Put on the lid and set the Instant-Pot to Manual Pressure mode, and make sure that the valve is in the sealing position. Set the pressure timer to 20 minutes and let it cook.

Once the timer goes off, release the pressure manually, and carefully remove the lid. Add in the potatoes and stir the curry to mix well. You can add in a bit more water depending on the consistency of the curry you prefer. Close the lid and set the Instant-Pot to Manual Pressure mode for 5 minutes, making sure that the valve is in the sealing position.

Once the timer goes off, let the pressure release naturally, then give it a final stir and garnish with fresh cilantro leaves. Serve hot.
If you enjoyed this recipe, you will certainly love my Mutton Curry and Spiced Lamb with Green Peppers as well.
Tried this recipe? Leave a Comment and let me know, also Rate it by clicking the number of stars on the recipe card. Want to share your version with me? Tag me on Instagram @hookedonheat