These Almond Flour Cookies that I'm sharing with you today are super simple to whip up and are a perfect melt-in-your-mouth treat. They make a huge batch, so get ready to share!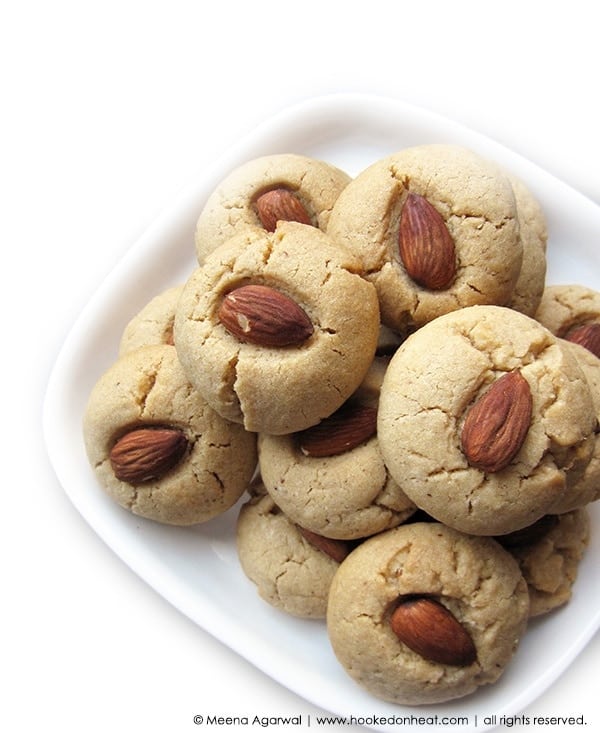 This recipe for Almond Flour Cookies was created in partnership with Breville Canada who provided me with a Scraper Mixer Pro to experience and test out at no cost to myself. All opinions, as always, are my own. I only write about and recommend products I use and love myself.
It's funny how every January we always look back and realise how fast time flew by. 2016 was no different – it came and went in a flash, and to be completely honest, I really don't have much idea of what went on the past 365 days. It all seems a blur now. Which is exactly the reason why I've decided to take it slow in 2017 and be more present in the moment.
For the last few years, I've noticed the trend of picking a word for the new year and using that as a guide to how you go on with your days. As much as I loved the idea, I was never able to bring myself to commit to a word and stick by it. Things happened, my focus changed and I just simply managed to run with the flow. But this year I want to do things differently. I want to have a purpose, make a difference and appreciate all that is in and around my life. I want to stop and smell the roses, literally, without worrying about the tons of emails and messages seeking my attention. I want to connect more with you, my wonderful, patient readers, who've given all the love and support that I need. I want to live in the moment and enjoy it, without thinking of my never-ending to-do list. And so, as I sat and thought about it, the one word that kept coming to my mind was – ME.
ME. A word so small and simple, yet so powerful. A word that makes me look deep down and inspires me to change, improve, do better. 2017 is going to be a year for ME. It's going to be the year where I try to take more control of life and learn to balance between home, work and life. It's going to be the year where I focus more on family and friends that have become family. It's going to be the year to create new meaningful relationships and solidify old ones.
2017 is also going to be the year where I take this blog to a whole new level. My focus is going to be on more local, seasonal and nutritious recipes – with a few treats thrown in for good measure. I was fortunate to work with some great brands in 2016 and I look forward to building more relationships in this new year. I also want to start addressing some of the emails I keep getting with regards to Indian cooking on the blog – so please don't hesitate to direct any queries my way. You can reach me at [email protected].
Here's hoping 2017 keeps our hearts filled with tons of love and laughter and our tummies filled with delicious food! What would you like to do differently this year?
ALMOND FLOUR COOKIES
Ingredients
1 cup butter melted
1 cup light brown sugar
1 egg
1 tsp vanilla extract
1 tsp almond extract
2 1/4 cup all-purpose flour
1 tsp baking powder
1/4 tsp salt
1/4 cup finely ground almonds (almond flour)
36-40 whole almonds
Instructions
Preheat oven to 350 degrees.Beat butter, sugar, egg, vanilla and almond extracts in a large bowl.In another bowl, mix flour, baking powder, salt and ground almonds to incorporate well. Slowly fold in the dry mix into the wet ingredients and fold in to combine.Divide batter into 36 equal portions. Shape each portion into a ball and place each ball on a greased baking dish or one that's lined with parchment paper with a distance of about 1-inch apart. Press each ball flat with an almond in the center. Bake for 10-12 minutes till done, depending on your oven power.These cookies are meant to be slightly soft and chewy when cooled, so try not to over bake them.
Tried this recipe? Leave a Comment and let me know, also Rate it by clicking the number of stars on the recipe card. Want to share your version with me? Tag me on Instagram @hookedonheat