Hubby Dear rarely cooks. In fact, the only time he ever enters the kitchen is to peek over my shoulder to see what's cooking. There was this one time a couple of years ago where I threw Hubby Dear a surprise birthday party with some of our closest friends and family. There were over 12 adults plus kids, and I had, as usual, planned a huge menu that included a super large Eggplant Parmesan as one of the main dishes. In order to make the recipe large enough to feed a hungry crowd, I bought 8 giant eggplants and stored them in the fridge for about two days before the party. And the man had no idea! Not even once in that week did he open the fridge. Thank God for that, or else I would've been stumped on what to say if he asked about the sudden over stocking of eggplants and the numerous jars of mixed olives and marinated mushrooms. So yea, the kitchen is pretty much my domain.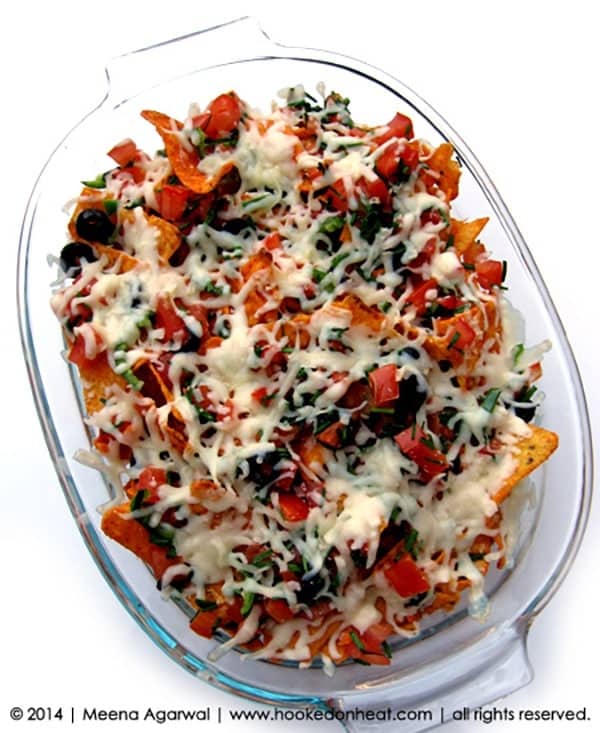 Well, except for when a strong craving of Nachos suddenly hits! That's when Hubby Dear takes over, and rightly so. You see, he has this gift when it comes to making THE best, cheesy, finger-licking Nachos. Anyone and everyone who's ever had a bite of Hubby Dear's Special Nachos swears by it! Friends and family request it anytime we get together and Baby Dear and I demand it for dinner 2-3 times a month. It is that good.
I've watched him make it a zillion times; shopped for the ingredients he needs, even helped in chopping them up. Trust me when I say this – it's the most simple and easiest way to make a platter of nachos. All the ingredients used are readily available and almost all can usually be found in your kitchen any given day. There's no "secret" ingredient. No "special" technique. Its just regular, everyday ingredients chopped up, layered and baked. So what makes it THAT good, you ask? I honestly don't know. Maybe it's the smile on his face when he proudly brings the platter to the table. Or maybe, just maybe, its the love that he puts in it – from the way he patiently tries to chop everything the same size, to carefully spreading it all out evenly so that each bite is a party in your mouth. I guess, now that I think of it, there may be a "secret" to it after all!

HUBBY DEAR'S FAMOUS NACHOS
Prep time: 10 min | Cooking time: 5 min | Serves: 4-6

Ingredients:

1 bag Doritos/tortilla chips of choice
2 medium tomatoes, deseeded and finely chopped
1-2 jalapenos, deseeded and finely chopped
1/2 cup sliced black olives
1/4 cup finely chopped scallions/green onion
1 cup shredded cheese of choice (we like a mix of cheddar, mozzarella and pepper jack)

Directions:

Preheat oven to 350 degrees. In a large baking dish, spread out tortilla chips. Layer with chopped veggies and spread evenly. Top up with shredded cheese and bake till cheese melts and chips are warm. Serve immediately.
Tried this recipe? Leave a Comment and let me know, also Rate it by clicking the number of stars on the recipe card. Want to share your version with me? Tag me on Instagram @hookedonheat