I love slow-cooked spiced lamb on chilly winter nights, and this recipe is a modern twist to an old classic.
I'm almost embarrassed to say what I'm going to say: I LOVE winter! Yes, I really, really, do. I love everything about it: the snow-covered rooftops, cashmere sweaters and scarfs, hot chocolate dunked biscotti, Hubby Dear moaning while scraping ice off his windshield… Okay, scratch that. Maybe I don't truly enjoy watching him do that, but it's just a part of the season I've come to reckon with, like baking cookies. Yes, quite like that, except not so rewarding. Well, you get what I mean!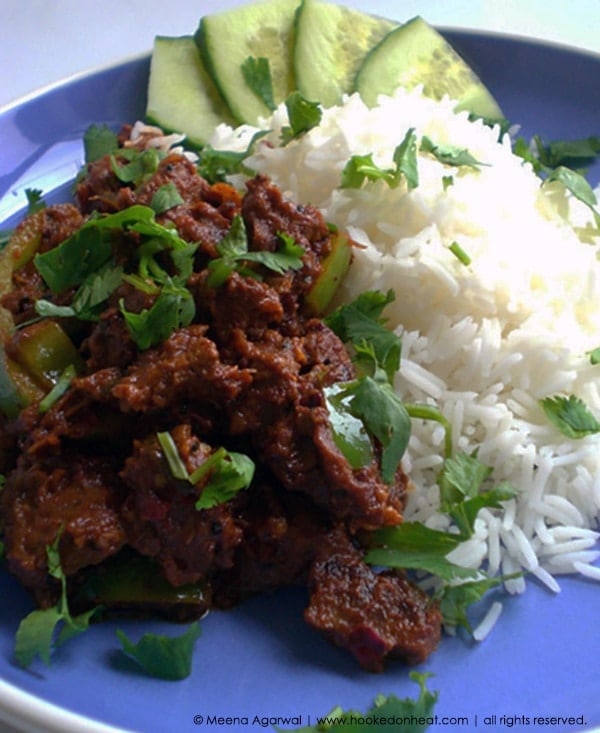 The reason for my embarrassment is because I seem to invite such odd looks from people when I say it. They all look at me in an 'are-you-serious-or-just-plain-crazy' kinda way. But I beg to differ! I mean, wouldn't you prefer engulfing yourself in soft warm fabrics and eating rich stews as opposed to sweating throughout the day? I do at least.
This past weekend, when we were snowed in with nothing to do other than cosy up by the fireplace and catch up on a couple of movies, I decided to cook a delicious, comforting dinner dor us. It was the perfect occasion for some lamb – the weather outside was cold and gloomy, and I had plenty of time on my hands to watch my curry simmer gently in my Dutch Oven.
Spiced Lamb with Green Peppers
Servings: 4
Ingredients
2 lbs boneless lamb cut into 1-inch cubes
1 cup plain yogurt
1 tbsp ginger paste
1 tbsp garlic paste
2 tbsp light cooking oil
1 tsp nigella seeds
1 tsp cumin seeds
1 large onion thinly sliced
1 tsp red chili powder
1 tbsp coriander powder
1 tsp garam masala powder
2 tbsp tomato paste
water as needed
salt to taste
1 green pepper sliced
fresh coriander leaves finely chopped for garnish
Instructions
Marinate lamb for at least an hour in a blend of yogurt and ginger and garlic pastes.

Heat oil in a deep heavy-bottomed pan and add nigella and cumin seeds. Once they start to sizzle, add in sliced onions and fry till lightly browned.

Stir in spices and tomato paste, and add in the marinated lamb along with the yogurt.

Cook covered on low heat for 35-40 minutes till lamb is tender, adding water in between if it starts to dry up and stick to the pan. Season with salt and add in sliced peppers, letting it cook for another 5-10 minutes.

Garnish with chopped coriander leaves and serve warm.
Notes
I would recommend using a Dutch Oven for this recipe.
If you like this recipe, you will surely like my Lamb & Potato Curry.
Tried this recipe? Leave a Comment and let me know, also Rate it by clicking the number of stars on the recipe card. Want to share your version with me? Tag me on Instagram @hookedonheat