This recipe for Tomato Pulao was created in partnership with KFC Canada. All opinions, as always, are my own. I only write about and recommend products I use and love myself.
When it comes to cooking a fulfilling dinner on any weeknight, my keyword, or should I say keywords, are QUICK and SIMPLE – just like this Tomato Pulao! I have often blogged on how much I love easy recipes that hardly take much time and effort and yet seem to please our over-demanding palates. Truly, coming home at five in the evening after a long and tiring day doesn't leave me even in the slightest mood to cook anything. But eat we must and that's where I make use of my instincts. A little bit of this, a splash of that, and dinner is on the table!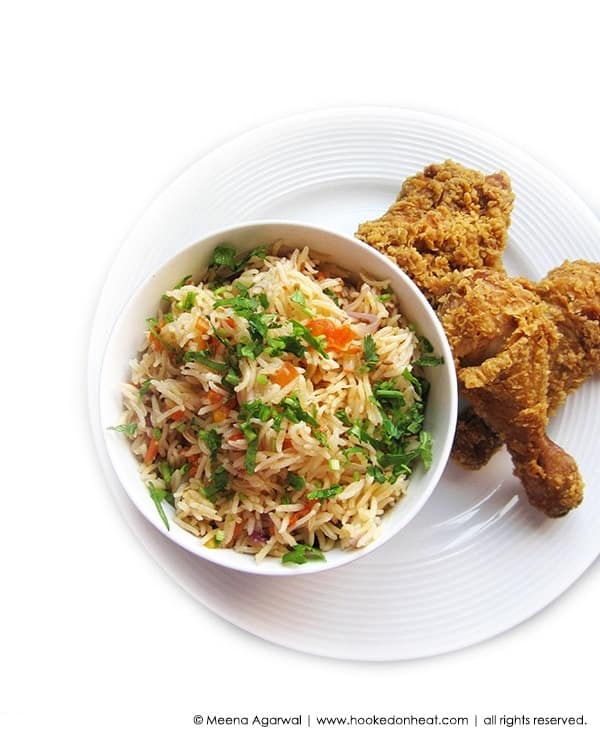 Sometimes, you just want to get away from the hoohaas and settle down with something simple and wholesome – like this Tomato Pulao. Most Fridays, our meals have comprised of anything and everything from being fancy to exotic. But today, I just felt like taking things easy. With the thick blanket of snow outside, I just wanted to cuddle on my couch, watch a good movie and have a simple and satisfying meal. And there's nothing simpler I can think of than a big bowl of warm flavoured rice, with a side of some delicious crispy chicken! So I texted Hubby Dear to pick up a bucket of our favourite fried chicken from the nearest KFC outlet on his way home and I got to work in my kitchen. Knowing that KFC chicken is real, Canadian, farm-raised chicken, made me feel good about serving it at my dinner table.
This Tomato Pulao took our fried chicken dinner to a whole new level.
It hardly takes any time and effort, but yet still feels like a meal fit for royalty. Throw in a fresh side salad, and you have a quick, wholesome and not to mention, a finger-lickin' good Friday night meal.
TOMATO PULAO
Servings: 4
Ingredients
2 tbsp light cooking oil
1 tsp cumin seeds
4-5 whole black peppercorns
2-3 fat cloves of garlic bruised
1 medium onion thinly sliced
1 large tomato chopped
2 cups Basmati rice rinsed thoroughly and drained
4 cups water
salt to taste
handful of fresh cilantro finely chopped for garnish
Instructions
Heat oil in a deep pan on medium-low heat and add in cumin seeds and peppercorns. Once they start to sizzle and become fragrant, add in garlic and onions, and fry for a few seconds till lightly browned. Be careful not to let it burn.

Add in the chopped tomatoes, and fry for a minute before adding in the rice. Stir fry the rice for a few seconds so that the grains get lightly toasted and flavourful. Add in water and salt, and once it starts to come to a slight boil, lower the heat slightly.

Let the rice cook on low heat, covered, till all the water evaporates and the rice is cooked through.

Garnish with fresh cilantro and serve warm.
If you like this recipe, you will surely like my Peas Pulao.
Tried this recipe? Leave a Comment and let me know, also Rate it by clicking the number of stars on the recipe card. Want to share your version with me? Tag me on Instagram @hookedonheat