I am a firm believer of meal planning. So much so, that every weekend I take a few hours to carefully plan our meals for the coming week. I grab a handful of cookbooks from my ever increasing library, a couple of sticky page tabs, my favourite pen and meal planning notebook (yes, I keep a notebook!), and get down to work.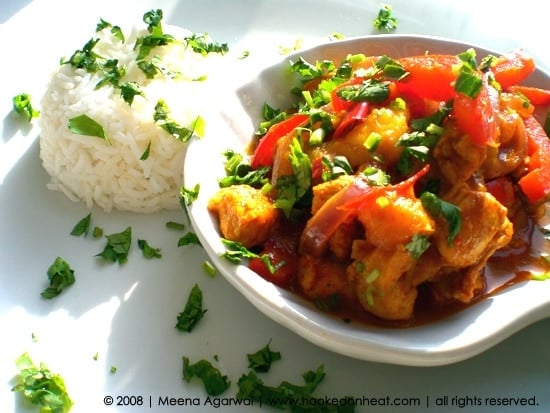 First, I skim through the pages of various cookbooks for inspiration and ideas. Then I make a list of what I think we'd like to eat that week. I then go about designating a theme for each day of the week. It doesn't have to be anything elaborate, I'm not one to cook a 4-course dinner everyday! Usually my themes would look something like this:
Monday: Chicken
Tuesday: Pasta Night
Wednesday: Dal, Roti, Sabzi
Thursday: Soup & Sandwich
Friday: Movie & Munchie Night
Having set themes for each night of the week makes it easier for me to decide and plan a meal, ensuring I maintain a good balance between protein, carbs and vegetables. I usually leave weekends free which allows us play it by ear. After all, it's good to some amount of spontaneity thrown in!
Once my meals have been decided upon (after due consulting with Hubby Dear on whether he promises to eat the Bok choy I have planned for one day), I create my grocery list. Now, as much as this may make me seem a very organized person, I assure you that it's not always the case. There are often days when I don't feel like keeping with the plan, when I absolutely refuse to have a cous cous salad for dinner, or days when all we want is some take-out pizza. It's especially when days like those happen, that my so-called organization gets thrown out the window.
Today was one such particular day. I had a lovely looking mango sitting lonely in my fridge since I had a mango salsa planned sometime during last week. Well, that didn't quite work out, so the darned fruit was shoved into this week's menu. As I sat to plan my meals for this week, I realized I felt a little adventurous and wanted to take a new recipe for a test drive. And thus this Mango Chicken was born. All I have to say about it though, is that if Hubby Dear comes home even a tad bit late tonight, I can't promise he'll have any left for him. I'm starving already, and the dish bubbling away seems to be calling my name. Oh how will I ever resist!
MANGO CHICKEN WITH RED PEPPERS
Prep time: 10 min | Cooking time: 20 min | Serves: 4

Ingredients:

2 large boneless chicken breasts, cut into bite-sized pieces
2 large mangoes, diced into cubes
1 red bell pepper, sliced
1 medium-sized onion, sliced
1-2 red chillies, finely chopped
1 tsp ginger-garlic paste
1/4 cup chicken stock/water
1/4 tsp turmeric powder
1/2 tsp red chili powder
1/2 tsp cumin powder
1/2 tsp coriander powder
2 tbsp light cooking oil
salt, to taste
fresh coriander leaves, chopped for garnish

Directions:

Heat oil in a large non-stick wok and saute chopped chillies, ginger-garlic paste and onions till lightly browned.

Add in chicken pieces, peppers and spices, and stir-fry till chicken is cooked through. Stir in chicken stock and mango, and allow to simmer for a few minutes.

Season with salt, and garnish with fresh coriander leaves.
Tried this recipe? Leave a Comment and let me know, also Rate it by clicking the number of stars on the recipe card. Want to share your version with me? Tag me on Instagram @hookedonheat