At any given time, my pantry shelves are decked with at least 5 different kinds of lentils, 3 different kinds of beans, 5 kinds of pasta, noodles and rice, and a basket full of spice mixes and sauces. Having such an elaborate pantry enables me to throw dinner on the table at the drop of hat when I'm in no position to shop for fresh supplies.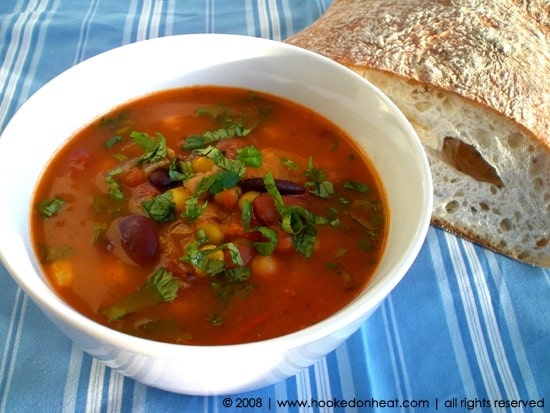 I recently talked about my love for menu planning, and I honestly believe that having a well-stocked pantry (which, in this case, I refer to my kitchen cupboards, fridge and freezer) makes the task a whole lot simpler and hence, possible to follow through.
Many people I know start out with making extravagant menu plans for their weeknight dinners, only to find themselves unable to keep up with it after the second day. The trick is to plan your weeknight meals in such a way, that you remove the stress out of making the meal entirely. And if that means I'm serving soup made out of pre-prepared ingredients, then so be it!
Although I would love to cook my daily meals, from scratch from the freshest produce available, I would only be kidding myself if I believed it could ever be possible. After a long day of work, the last thing on my mind is the need to spend gruelling hours chopping, dicing, slicing, pureeing and mashing ingredients for my dinner. Instead, I try and make use of my pantry items to complete my meal. However, I always try and ensure that I have at least one fresh vegetable on the table, even if it is a mere salad. But some times, as we all know, life decides to take its toll and even a simple bowl of sliced cucumbers seem highly unlikely.
A few days ago, I found myself scurrying from my office (even if it just a mere 10 feet away from my kitchen!) all starved and ready to shove the first thing edible I could lay my hands on. I'd had a long day, and yet the work was far from done. I only had just enough time to fix something quick and shove it in me before I would have to get back to my laptop. This soup is what kept me sane and gave me the extra boost of energy I needed. It was simple, quick and delicious, served with crusty warm garlic bread. All thanks to a well stocked pantry!
MIXED BEAN SOUP
Prep time: 10 min | Cooking time: 20 min | Serves: 4

Ingredients:

1 large can mixed beans, drained and rinsed
3 cups chicken/vegetable stock
1 medium-sized onion, chopped
2 tomatoes, chopped
1 cup frozen corn
2 large garlic cloves, minced
1/4 tsp red chilli powder
1/2 tsp coriander powder
1/2 tsp cumin powder
1/2 tsp cumin powder
1 tbsp light cooking oil
salt, to taste
fresh coriander leaves and lemon wedges, for garnish

Directions:

Heat oil in a large non-stick pot and saute chopped onions and garlic till tender.

Add in tomatoes, spices, and beans, and cook for few minutes to blend in spices. Stir in chicken stock and corn, and allow to simmer for 10-15 minutes.

Season with salt, and garnish with fresh coriander leaves and lemon.
Tried this recipe? Leave a Comment and let me know, also Rate it by clicking the number of stars on the recipe card. Want to share your version with me? Tag me on Instagram @hookedonheat