Growing up, I remember spending most of my vacation time in the summers pouring over mouth-wateringly tempting photographs of intricately designed cakes, cookies and other baked goodies, while stuffing my face equally delicious treats like these Rainbow Cupcakes. My mom had (or must I say, still does) this tendency to pick up wonderfully photographed cookbooks cramped with an even more delicious assortment of recipes. It's no wonder where I've caught the bug from.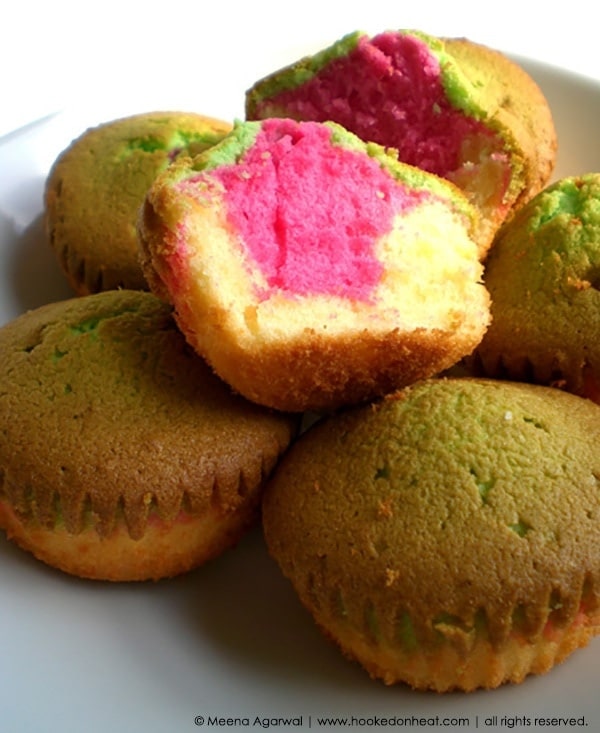 One look at the many overstocked shelves throughout my home will give you a slight idea of my fixation to them. Heck, who am I kidding! I have cookbooks peeping out from my pantry shelves, kitchen cabinets, on top of the fridge, and not to mention a few prized possessions that I deem only fit to snuggle on my bedside table. Yes, it's shameful I know. I'm addicted. Hi, I'm Meena, and I'm a cookbook addict. There, I said it. Now hopefully, we can all get on with our very normal or some not-so-normal lives!
Coming back to my Mom. I must say her favourites to collect included books on baking. And unlike me, who mostly drool over pages and pages of food talk, she actually dons her apron and puts those words into action. It's no surprise then to point out that she bakes some of the best cakes I know. And not one to let Mr. Opportunity walk past my door without so much as grabbing him with both arms and giving him a tight hug, I decided to learn a few tricks from her while she's here visiting me. And that's how we got to baking these Rainbow Cupcakes – her speciality!
It's been good so far. The food comes out from the kitchen faster than I can request them, and I find myself ravishing every spoonful with such passion. But the baking, oh the baking! I always thought of myself as not-a-baker. But she's adamant on making me one. She's even intent on getting me my very own stand mixer. So now I'll have no excuse for not trying out those wonderful holiday cookie recipes I set aside since two years ago.
What can I say? I caved. And I'm adamant to succeed.
Rainbow Cupcakes
Servings: 24 cupcakes
Ingredients
1 cup all-purpose flour
1 cup butter melted
1 cup sugar
5 large eggs
2 tbsp condensed milk
1 tsp baking powder
1 tsp pure vanilla essence
3-4 drops food colouring each for red, green and yellow
Instructions
Beat butter and sugar till well incorporated. Add in eggs one at a time while continuing to beat the batter lightly.

Fold in the flour a little at a time, till the batter is well mixed. Add in baking powder, condensed milk and vanilla essence.

Divide he batter into three separate bowls of equal measure. Add a different food colouring to each bowl.

Layer the cake batters one colour at a time on greased muffin cups. Bake in a 350 degree preheated oven for 20-25 mins or till done.
If you like these Rainbow Cupcakes, then you'll surely enjoy my Raspberry Yogurt Muffins.
Tried this recipe? Leave a Comment and let me know, also Rate it by clicking the number of stars on the recipe card. Want to share your version with me? Tag me on Instagram @hookedonheat